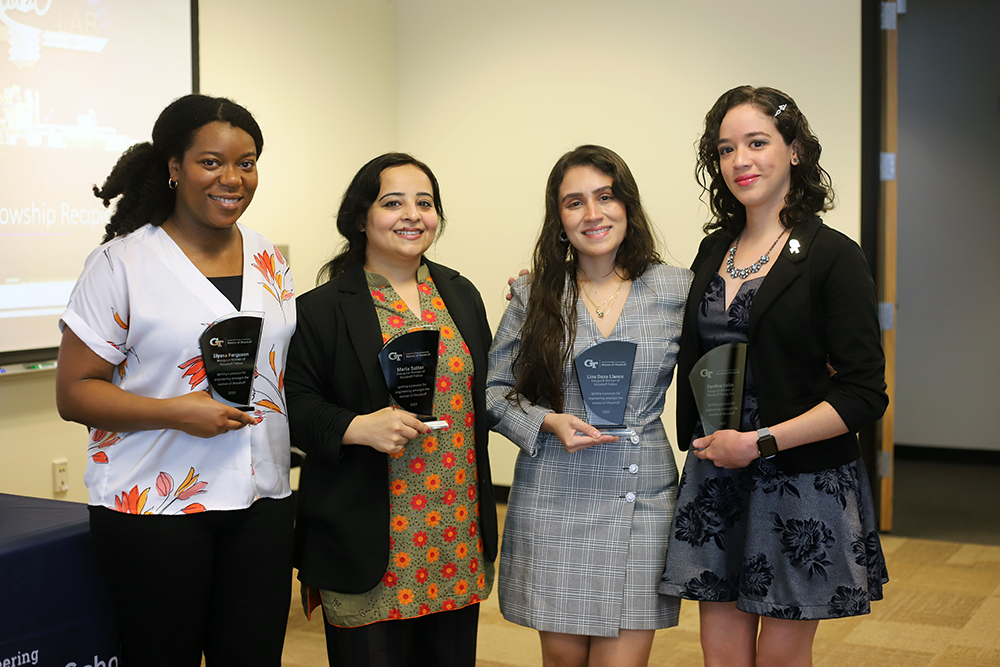 Pictured left to right: Inaugural WoW Fellows Elyssa Ferguson, Maria Sattar, Lina Daza Llanos, and Carolina Colón.
WoW Awards Inaugural Fellowships to Six Woodruff School Students
April 19, 2023
By Ashley Ritchie
Women of Woodruff (WoW), an organization made up of Georgia Tech College of Engineering alumnae and friends, has awarded six fellowships to female students in the George W. Woodruff School of Mechanical Engineering. The inaugural WoW Fellows include:
Carolina Colón

Lina Daza Llanos

Elyssa Ferguson

Alison Jenkins

Maria Sattar

Jordyn Schroeder
The fellowships, which are aimed at attracting, supporting, and retaining women students, were made possible by the founding members of WoW and through a generous commitment from Devesh Ranjan, Eugene C. Gwaltney, Jr. School Chair and professor.
"As an advocate for inclusive excellence and increasing the number of women graduate students in mechanical engineering, Dr. Ranjan's commitment to supporting female students has been instrumental in helping WoW achieve its goal of empowering women at the Woodruff School," said Jaimie Hayes, Senior Director of Development.
The fellowships are just one way WoW is working to support female students, and the group plans to continue growing its membership and impact in other areas. To become a member of WoW, donors must make a five-year funding commitment of $500-$1,000 per year.
"It's exciting to be able to give back to Georgia Tech and the Woodruff School after everything both have done for us," said Rebeccah Brown (MS ME '01, PhD ME '03), Vice President of Global Regulatory Affairs at MiMedx Group, Inc., Vice-Chair of the Woodruff School Advisory Board, and founding member of WoW. "Any resources we spend helping female students maintain their endurance and drive to come out positive and successful at the end of their student experience is a resource well spent."
The fellowship recipients were honored at WoW's spring event, held April 15, 2023, on the Georgia Tech campus. For more information on WoW or to become a member, visit https://www.me.gatech.edu/wow.
 
About the Fellows
 
Carolina Colón
Carolina Colón is a first-year, first-generation bioengineering Ph.D. student in the Woodruff School at Georgia Tech. She was born and raised in Puerto Rico then moved to Florida where she earned her A.A. in engineering at Valencia Community College. She then transferred to Florida Tech, earning a B.S. in aerospace engineering at Florida's Space Coast.
As an undergrad, she participated in multiple Georgia Tech summer REUs focused on cell therapy manufacturing and tissue engineering (CMaT and SURE program). As a result, her research interests lie in merging both fields of aerospace and bioengineering to create enhanced devices and enable cell therapies in the space environment for astronauts in long-term space missions. Her interdisciplinary vision earned her the inaugural Woodruff School Interdisciplinary Research Fellowship (IRF) allowing her creative freedom to make this merger a reality. While attending school, Colón also developed a career with Marriott hotels for 10 years where she honed her technical presentation and communication skills. 
Currently, Colón is co-advised by Professor Todd Sulchek and Principal Research Engineer Jud Ready and her research includes studying the mechanical properties and damage responses of CAR-T cell therapies using microfluidic devices and finding ways to translate them to space. She is also a full GEM fellow and has been awarded the Presidential and FOCUS Fellowship for her program at Georgia Tech. 
Throughout her educational career, Colón has participated in and presented at various conferences. During her free time, Colón loves mentoring and helping others learn about graduate school at her former community college or through SHPE and SWE. She also likes to watch anime, learn languages, play video games, write, swim, do volunteer work, and read and arrange her many books.
Upon receiving the fellowship Colón said, "Receiving the WoW Fellowship is something I cannot express with words alone. Being a double minority student and the first in my family to pursue a graduate degree, opportunities were often out of reach for me. Throughout my journey, I have faced many trials that have tested my perseverance toward achieving my dream such as working since the age of 13 and even being homeless for some time. As a result, receiving this fellowship not only allows me to make this dream a reality by attending Georgia Tech as the first Ph.D. student in my family but it is also a recognition of my determination and spirit to never give up which I value greatly. This fuels my belief that difficult paths are reserved for those strong enough to walk on them."
---
Lina Daza Llanos
Lina Daza Llanos is a graduate student in the Woodruff School at Georgia Tech. She holds a B.S. in chemical engineering from University of Puerto Rico, Mayaguez. After graduating, Daza Llanos worked as an Associate Specialist Engineer, Process Engineer at Merck & Co., Inc. in Elkton, Virginia
During her undergraduate studies, Daza Llanos interned at NASA and quickly realized her dream was to work as a scientist there. Her internship exposed her to mechanical properties of materials, and as a result, she decided to study mechanical engineering. She is currently a GEM Associate Fellow and is advised by Professor Olivier Pierron.
Daza Llanos also has a strong track record in leadership and outreach activities. Her involvement and leadership at the University of Puerto Rico Mayaguez included mentoring freshmen students and helping students affected by the aftermaths of Hurricane Maria. In addition, she was a Summer Undergraduate Research in Engineering (SURE) Graduate Coordinator at Georgia Tech last summer. In this role, she oversaw 45 underrepresented undergraduate students who came to Georgia Tech to conduct research.
---
Elyssa Ferguson
Elyssa Ferguson is a first-year M.S. student in the Woodruff School at Georgia Tech. She is a GEM Fellow, Renewable Bioproducts Institute (RBI) Fellow, and Women of Woodruff (WoW) Fellow. She holds a bachelor's degree in mechanical engineering from the University of Maryland, Baltimore County (UMBC). 
Ferguson aspires to improve people's lives and the environment. For her master's thesis, she is designing carbon-sequestering, bio-based structural insulated panels (SIPs) to replace traditional carbon-intensive building materials with the guidance of Assistant Professor Akanksha Menon and Associate Chair for Faculty Development and Rae S. and Frank H. Neely Professor Kyriaki Kalaitzidou, and in collaboration with Assistant Professor Joe F. Bozeman III. Ferguson is also involved in the Georgia Tech Black Graduate Student Association (GTBGSA) and WoW. In addition, she enjoys dancing, exploring new places, trying new foods, and art, especially photography.
"WoW is a newly formed organization that supports women in the Woodruff School. I am glad that the founders have come together to form this organization to address the needs of women in mechanical engineering and to help them thrive holistically. It is wonderful to be recognized and supported by WoW. I am very thankful for the fellowship funding, which will help me alleviate some of the costs of living in this expensive city," Ferguson said.
---
Alison Jenkins
Alison Jenkins is a Ph.D. candidate in the Woodruff School at Georgia Tech with a major focus in robotics and a minor focus in control with a bio-robotics certificate. Additionally, she has taken additional coursework related to aerospace, applied physiology, computer science, and public policy. Her dissertation research focuses on developing control of haptic motors for intuitive touch sensation. 
Jenkins is passionate about engineering education, developing engineering teams, and serving her community. She has developed her teaching skills with the Center for Teaching and Learning Tech to Teaching Certification with a co-teaching position for the graduate and undergraduate mechanical engineering/aerospace engineering mechatronics course. She has also served as a graduate teaching assistant for the mechanical engineering experimental methods course. She considers teaching to be the most important and individually impactful activity that she has done. 
In addition, Jenkins has served as a graduate research assistant on a project sponsored by Google. She is a National Science Foundation Fellow, LEAD Fellow, former President of Woodruff School Graduate Women (WSGW), former Vice President of Professional Development in the Graduate Student Government Association, former Secretary of the Graduate Student Development Committee for the Woodruff School, Founder and former President of the Research Papers Club (now called Research Insights Club), Certified Advanced Open Water Diver with Georgia Tech SCUBA Diving, Private Pilot student with the Yellow Jacket Flying Club, and Georgia Tech Housing Resident Assistant for two years. She continues to provide insight and mentorship to current students and student leaders into how research teams can develop real solutions to problems that graduate students face within their labs and within the department to create an even more productive and thriving environment for student researchers. 
Upon receiving the fellowship Jenkins stated, "The Women of Woodruff (WoW) Fellowship recognizes my contributions to improving the department and serving my fellow student researchers. I am thankful to be a recipient of this fellowship, because it allows me to spend more time on my research. I have been able to see the positive impact that WoW has had on the lives of the current graduate student researchers in the Woodruff School, and the impact is that financial stress is decreased and focus on research is improved. I am very thankful to WoW who has contributed in both mentorship and financial ways to make donations that support the incredible researchers we have in the Woodruff School. It is amazing to see women from the various businesses and careers contribute to supporting the research of the graduate women at Georgia Tech. Thank you!"
---
Maria Sattar
Maria Sattar is a Ph.D. candidate in the Woodruff School at Georgia Tech and a Fulbright 2020 Grantee from Pakistan. She is a USAID alumnus who graduated as an energy systems engineer from the National University of Sciences and Technology, Islamabad, Pakistan, and Oregon State University, Corvallis, USA. 
Sattar has multidimensional engineering expertise as she has been part of the team who designed a microchannel heat exchanger at Oregon State University for application in energy systems. She is a graduate fellow in Associate Professor W. Hong Yeo's Bio-Interfaced Translational Nanoengineering Group and is working on developing a wearable thermoelectric generator to power a health monitoring system. She aims to innovate technology for the betterment of human beings so that every individual can prosper and become a productive part of a healthier community. Sattar also serves as President of Woodruff School graduates Women to build leadership skills and create long-lasting relationships. She loves to play badminton and bowling pin. 
Being a WoW fellow encourages Sattar to continue her research confidently and passionately. Such considerations ignite the passion for thriving and doing something great for the community. 
"The WoW fellowship will help me focus on my research without worrying about finances," she said. "I appreciate the Woodruff School and WoW for initiating the fellowship."
---
Jordyn Schroeder
Jordyn Schroeder is a Ph.D. candidate in the Woodruff School at Georgia Tech. She is a member of the Physiology of Wearable Robotics (PoWeR) Laboratory, led by Associate Professor Gregory Sawicki. She holds a bachelor's degree in mechanical engineering from University of Maryland, Baltimore County. 
Schroeder's dissertation research seeks to expand our knowledge about human-device interaction and long-term impacts of exoskeleton use. She is passionate about expanding access to STEM and improving the higher education experience. She has served on the College of Engineering Graduate Student Advisory Council, Georgia Tech Graduate Student Development Committee, and the American Society of Biomechanics Diversity Committee. Schroeder has mentored students through the Designing with Real Engineering and Mentors (DREAM) program and Project ENGAGES. She has also served as a mentor to several undergraduate students in the PoWeR Lab and tutored students through the Georgia Tech Office of Minority Education and Development (OMED). 
Schroeder's career goals are to develop education and research systems that are fundamentally restructured to center students, educators, and scientists. She is passionate about creating environments without traditional systemic barriers to equitable, accessible, high-quality science and education. She is a FLAMEL Fellow, Alfred P. Sloan Scholar, and a recipient of an NIH Ro1 Diversity Award.  
Upon receiving the fellowship Schroeder said, "I am honored to receive the Women of Woodruff Fellowship. I hope the impact I've left on the department inspires others to expand access and support for traditionally underrepresented students. The WoW fellowship will provide financial support as I finish my dissertation work and transition to the next chapter of my career."