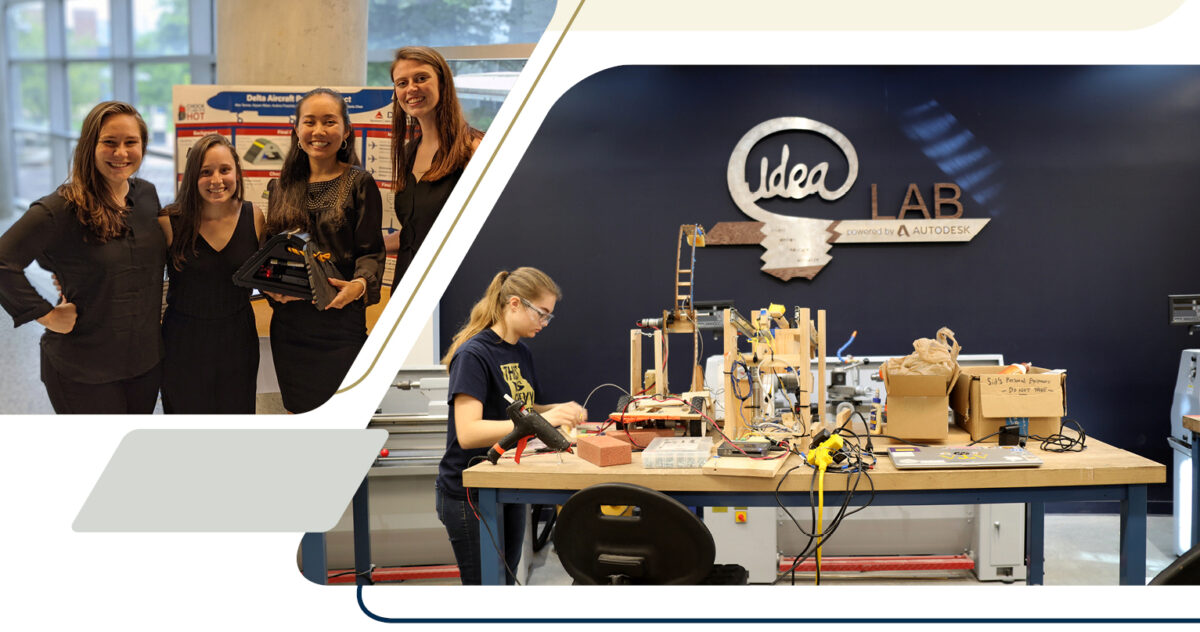 Women of Woodruff: ME Launches New Initiative to Ensure Women Thrive at Georgia Tech
August 31, 2022
By Ashley Ritchie
Since 2009, Georgia Tech has annually led the nation in engineering degrees awarded to women. This past spring, 32% of graduates were female. It's fed a national trend — according to the National Science Foundation (NSF), the number of women earning engineering degrees has more than doubled over the past two decades.
However, the nationwide ratio is just 1 in 5. In addition, according to the Society of Women Engineers, only 18% of tenured/tenure-track faculty in engineering are women.
Devesh Ranjan, Eugene C. Gwaltney, Jr. School Chair and professor in Georgia Tech's George W. Woodruff School of Mechanical Engineering, wants to ensure that women students and faculty have equal and equitable opportunities within the Woodruff School. One of his top priorities since becoming chair in January has been to increase access to engineering education, as well as teaching and research opportunities, amongst women.
"To support the Woodruff School's strategic vision of becoming an inclusive and equitable community, we are striving to increase the number of women graduate students to 30% by 2030," said Ranjan.
It's the reason why Ranjan and the Woodruff School are launching a new initiative called Women of Woodruff (WoW). WoW, which is still in development, is an organization made up of College of Engineering alumnae and friends who are committed to ensuring women mechanical engineering students and faculty have the tools they need to thrive at Georgia Tech.
WoW's overarching goal is to provide resources and programming that will allow the Institute to attract, support, and retain women students and faculty in mechanical engineering. To meet this goal, the organization, along with Woodruff School leadership, has identified three key areas of focus:
Recruitment: WoW will ignite a passion for mechanical engineering amongst female students and faculty and increase interest in becoming part of the Woodruff School community through various recruitment efforts. Members of WoW will participate in recruitment fairs, student and faculty visits, and in conjunction with the communications department, tell their stories to attract more women to the field.
Retention: WoW will improve the mechanical engineering student and faculty retention rate amongst women through mentorship. WoW will recruit role models (faculty, staff, alumnae, and friends in the profession) who will share their experiences to help women students make informed decisions about their academic and extracurricular experiences while at Georgia Tech. Mentors will also provide career guidance to women in the Woodruff School, connecting them to leaders in industry and academia. In addition, mentors will help address any personal and emotional challenges women students and faculty may face, serving as a support system every step of their journey.
Rewards: WoW will reward outstanding women mechanical engineering students through scholarships. Scholarships will give women students the momentum to start and continue their studies in mechanical engineering. They will help affirm that these women are on the right path, that their efforts and sacrifices are paying off, and they have the ability to advance technology and improve the human condition. WoW believes the scholarships will have a philanthropic effect on those who receive them, and in turn, inspire future female engineers to give back in their own lives. WoW will also provide research funding for women faculty members and establish a WoW faculty liaison position.
"WoW will give us an opportunity to directly impact the experience of female engineers at the Woodruff School, not only financially, but by being a support structure – recruiting, retaining, and being role models for these women is our goal," said Rebeccah Brown (MS ME '01, PhD ME '03), Vice President of Global Regulatory Affairs at MiMedx Group, Inc. and Vice-Chair of the Woodruff School Advisory Board. "I can imagine that engaging in WoW will also help us engage with each other, reinforcing existing relationships and developing new ones."

The Path Toward WoW
When Ranjan shared his goals of increasing opportunities and resources for women with the Woodruff School Advisory Board, he received an outpouring of support, and a new collaboration began.
Advisory Board Chair Larry Montgomery (ME '78), who serves as President of the Montgomery Family Foundation, told Brown about an organization at Auburn University dedicated to the future of women in engineering. They connected with the group called 100+ Women Strong, set up an on-campus meeting, and learned more about the organization's initiatives. With a desire to give back to the school that propelled their careers, Montgomery, Brown, and other board members started discussing the idea of launching a similar organization in the Woodruff School.
"We are around the 50th anniversary of the Woodruff School's first female graduate, Mary Kirkpatrick (ME '70, MS '72), so launching this new organization now, when we are celebrating this significant milestone, just feels right," said Linda Gilday (ME '83), Deputy Program Director of the Shipyard Infrastructure Optimization Program at United States Navy and the newest member of the Woodruff School Advisory Board.
When Gilday joined the discussions, she offered an idea for an organization name based on another program she and her husband Adm. Mike Gilday launched for the U.S. Navy, called the WIN program. Shortly after, WoW was born.
 
Women in Engineering Leadership Lecture Series
As part of WoW, and beginning this fall, members of the Georgia Tech community will have the opportunity to network with talented female scholars and innovators in the field of engineering through a newly established Women in Engineering Leadership Lecture Series. Each semester, the Woodruff School will host talks featuring notable women engineers who are creating a better future for our community — locally, nationally, and globally.
The Woodruff School will kick off the lecture series with Robyn Gatens, director of the International Space Station (ISS) in the Space Operations Mission Directorate at NASA Headquarters. As ISS director, Gatens leads strategy, policy, integration, and stakeholder engagement for the space station program at the agency level, including the use of the station for research and technology demonstrations including to support NASA's Artemis missions, and activities to secure an ongoing U.S. presence in low-Earth orbit (LEO) by enabling a successful, long-term private sector commercial LEO space economy. She holds a Bachelor of Chemical Engineering degree from Georgia Tech.
Additional speakers for the 2022-23 academic year will be announced in the near future.

Looking Ahead
Off to a successful start, WoW has nine founding members who have made a gift of $1,000 for the next five years. Founding members include:
Rebeccah Brown

Kyriaki Kalaitzidou

Fredda Lerner

Emily Muhlberger

Shweta Natarajan

Angela Sherman

Nzinga Tull

Kumuda Ranjan

Tracy West
To become a member of WoW, donors must make a five-year funding commitment of $500-$1,000 per year. As WoW expands, the organization strives to award 25 scholarships to female mechanical engineering students by the end of 2022.
"It's exciting to be able to give back to Georgia Tech and the Woodruff School after everything both have done for us," said Brown. "Any resources we spend helping female students maintain their endurance and drive to come out positive and successful at the end of their student experience is a resource well spent."
For more information on WoW or to become a member, visit https://mygeorgiatech.gatech.edu/giving/me-wow.