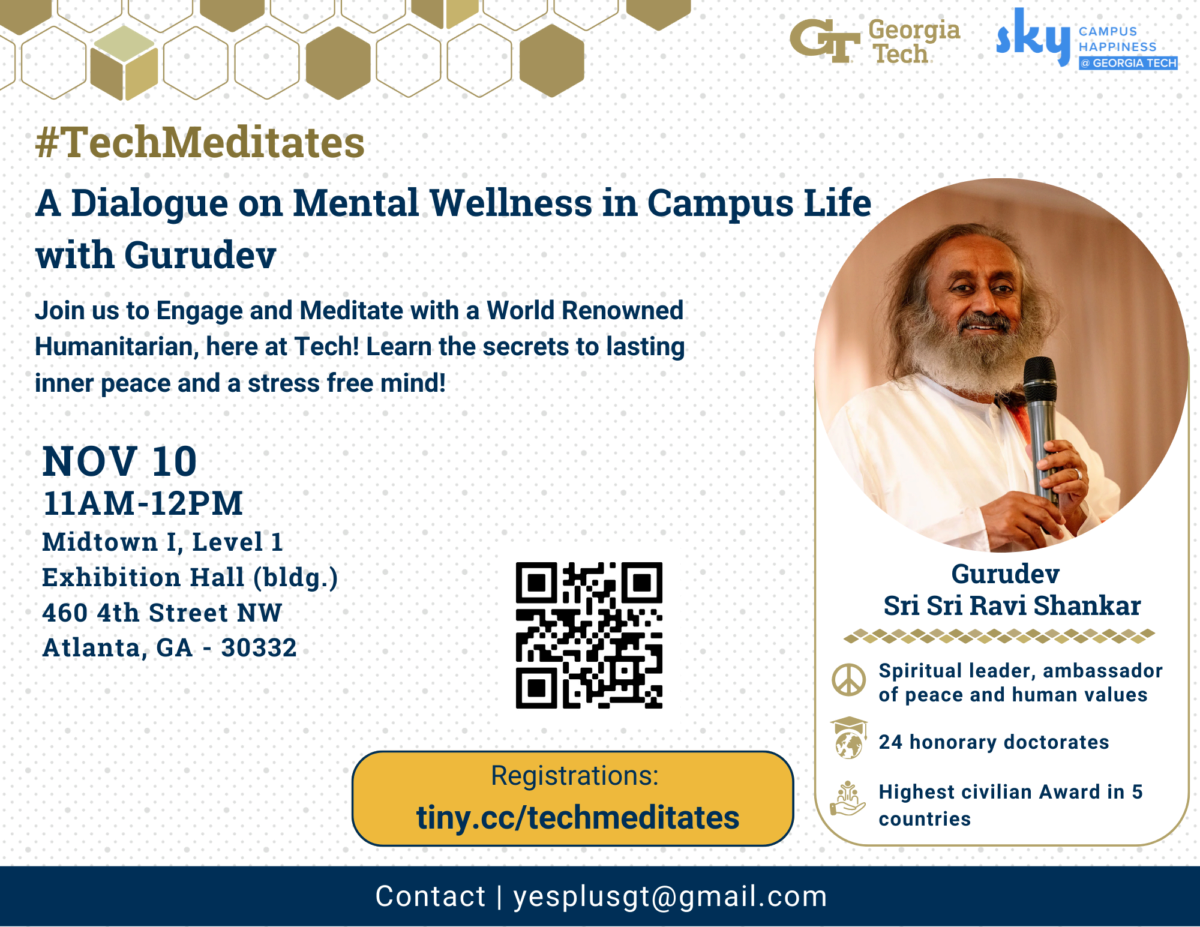 #TechMeditates – a Dialogue on Mental Wellness with Gurudev Sri Sri Ravi Shankar
November 3, 2022
By Ashley Ritchie
SKY at Georgia Tech will host Gurudev Sri Sri Ravi Shankar, a globally revered humanitarian leader who has spearheaded an unprecedented worldwide movement for a stress-free, violence-free society, to engage in a conversation regarding managing stress and developing mental resilience.
The event, "#TechMeditates – a Dialogue on Mental Wellness with Gurudev Sri Sri Ravi Shankar," will take place on Thursday, November 10, from 11 a.m.-12 p.m. in the Exhibition Hall Midtown Ballroom and is open to the entire Georgia Tech community. Registration is required.
SKY at Georgia Tech is a student organization that focuses on the mental health and wellbeing of students, staff, and faculty on campus. In addition to the student organization, several campus leaders played an integral role in inviting Gurudev Sri Sri Ravi Shankar to visit Georgia Tech: Shatakshee Dhongde, Associate Dean for Academic Affairs in the Ivan Allen College of Liberal Arts; Devesh Ranjan, Eugene C. Gwaltney, Jr. School Chair and Professor in the George W. Woodruff School of Mechanical Engineering; and Arijit Raychowdhury, Professor and Steve W. Chaddick School Chair in the School of Electrical and Computer Engineering.
Dhongde, Ranjan, and Raychowdhury extended the invitation in an effort to support one of the six focus areas in Georgia Tech's Strategic Plan, Cultivate Well-Being. In addition, the visit supports one of the Woodruff School's priorities in the capital campaign, Woodruff Strong.
Through the Woodruff Strong initiative, the Woodruff School aspires to transform and strengthen support for the School across three key areas over the next five years and beyond. Focusing on academic wellbeing, the Woodruff School aims to expand mental health services by giving students, faculty, and staff access to online counseling and hosting mental health events like #TechMeditates.
Registration for #TechMeditates is required. Click here to register.
---
About Gurudev and SKY
Gurudev Sri Sri Ravi Shankar is a global humanitarian, spiritual leader, and peace envoy who has been teaching breath-based meditation techniques for health and well-being for more than 40 years. Through his life and work, Gurudev Sri Sri Ravi Shankar has inspired millions around the world with a vision of a stress-free and violence-free world.
Gurudev cognized the SKY Breath Meditation technique in 1982 which is now backed by research. SKY Breath Meditation has been implemented in schools, corporations, and retreat centers around the World. More than 127,000 students on 101 university campuses in the United States have participated in the SKY Campus programs and reported improvement in depression, stress, mental health, and social connectedness.
Gurudev has been invited to share the stage with several eminent global organizations and leaders in the past including the United Nations, WHO, and European Parliament, among others. He also hosted the largest global event series called the World Culture Festival (WCF) which brought together millions of people and thousands of artists from over 150 different countries to celebrate unity in diversity.