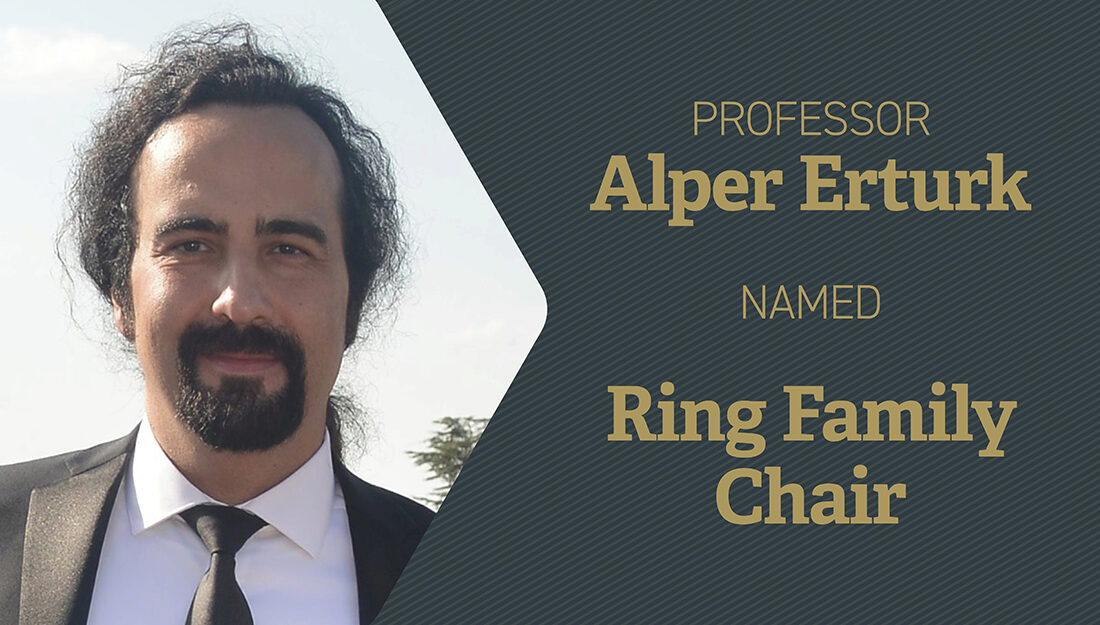 Alper Erturk Named Ring Family Chair
Erturk began his five-year term on July 1.
July 12, 2022
By: Ashley Ritchie
Woodruff Professor Alper Erturk has been named Ring Family Chair in the George W. Woodruff School of Mechanical Engineering.
Supported by the Ring Family Faculty Endowment Fund, the position was created to enhance the Woodruff School's ability to attract and retain eminent teacher-scholars to a position of academic leadership. Erturk, the second faculty member to hold the Ring Family Chair title, was selected for his outstanding research accomplishments, leadership in his field, and the contributions he has made to Georgia Tech and the Woodruff School.
"I am truly honored and excited to receive this next level of endowment to support our research activities," said Erturk. "Funds from the Carl Ring Family Endowed Chair will facilitate our research growth in new areas, especially for interdisciplinary research and collaborations."
Erturk will be provided with discretionary funds to support his research which aims to understand, control, and leverage vibration and wave phenomena across geometric scales, disciplines, and applications.
"I would like to thank the Ring Family for their generous donation and the selection committee for this recognition. This would not have been possible without the outstanding research of my former and current students and many wonderful collaborators, exceptional staff support, as well as the support of my mentors, friends, and, above all, my loving family," said Erturk.
Erturk began at Georgia Tech in 2011 as an Assistant Professor. He was promoted to Associate Professor with tenure in 2016 (and Woodruff Faculty Fellow in 2017-2019) and became a full Professor (and Woodruff Professor) in 2019. Prior to joining Georgia Tech, he worked as a Research Scientist at Virginia Tech (2009-2011), where he received his Ph.D. in Engineering Mechanics in 2009. 
Erturk's sponsored research topics at Georgia Tech have covered a broad spectrum including energy harvesting from vibrating and other dynamical systems, leveraging nonlinear dynamics in smart structures, bio-inspired piezoelectric actuation/locomotion, mechanical and electromechanical metamaterials for elastic wave control and vibration attenuation, elastic/acoustic wave guiding using phononic crystals, wireless (ultrasonic) power and data transfer, understanding and exploiting vibration and wave phenomena in biomechanical systems (e.g. human skull-brain system), among other topics. He has published 125 journal papers, 130 conference proceeding papers, 5 book chapters, and 2 books (with nearly 19,000 citations and an h-index of 60), and has given numerous invited lectures/seminars, plenary, and keynote talks. 
Erturk is a recipient of various awards including an NSF CAREER Award in Dynamical Systems, ASME C.D. Mote Jr. Early Career Award for "research excellence in the field of vibration and acoustics," ASME Gary Anderson Early Achievement Award for "notable contributions to the field of adaptive structures and material systems," SEM James Dally Young Investigator Award for "research excellence in the field of experimental mechanics," and numerous journal and conference best paper awards. Erturk also holds Invited/Adjunct Professor positions at Politecnico di Milano (POLIMI) and at Korea Advanced Institute of Science and Technology (KAIST). He is a Fellow of ASME and SPIE.
"I'd like to congratulate Alper on this highly-deserved honor. Since joining the Woodruff School, he has distinguished himself as a leader and researcher, and I am excited that he will have the opportunity to further his work through this endowed position," said Devesh Ranjan, the Eugene C. Gwaltney Jr. School Chair in the George W. Woodruff School of Mechanical Engineering. "As the inaugural Ring Family Chair, I will always be grateful to the Ring Family for their support and commitment to the Woodruff School."