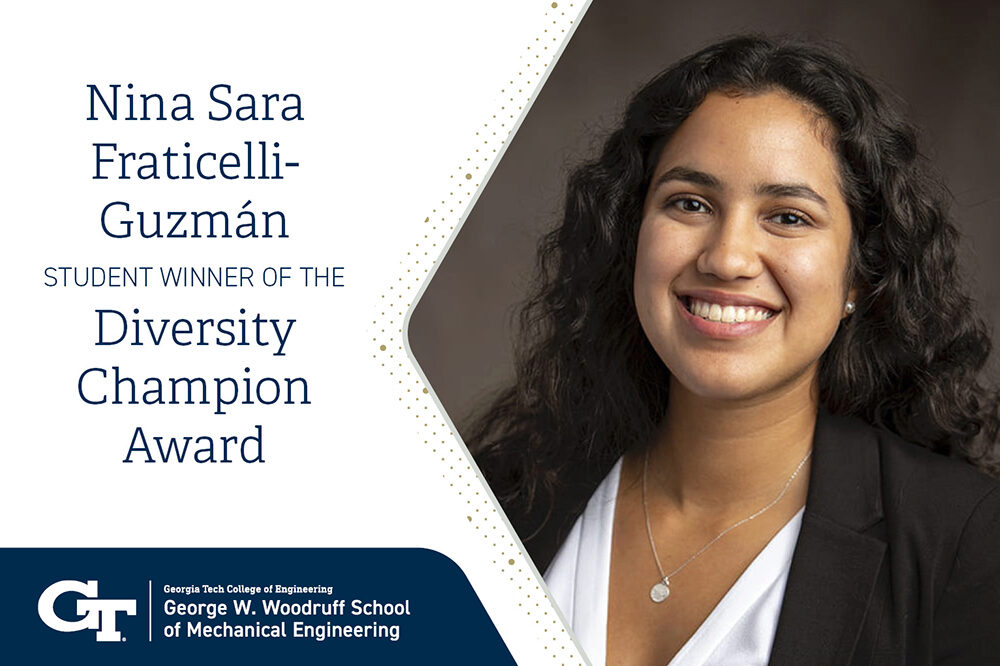 Woodruff School Student Recognized with 2022 Diversity Champion Award
September 22, 2022
By Ian Sargent
Nina Sara Fraticelli-Guzmán, a fourth-year bioengineering Ph.D. student in the George W. Woodruff School of Mechanical Engineering, was named the student winner of the 2022 Diversity Champion Award at the 14th Annual Georgia Tech Diversity Symposium. The award recognizes a student who has excelled in promoting the concepts of diversity, equity, and inclusion at Georgia Tech.
Since arriving in 2019 Fraticelli-Guzmán has thoroughly involved herself in the wider Georgia Tech community, serving as a member of the Fellowship of Christian Graduate Students and as a Leadership Fellow with the Leadership Education and Development office. Her work with the Latino Organization of Graduate Students (LOGRAS) particularly underscores her wholehearted commitment to inclusion and equity, helping the organization expand its membership and broaden the scope of its community engagement.
Fraticelli-Guzmán is originally from Dorado, Puerto Rico, a town on the island's northern coast, and her time there was formative in shaping her appreciation for inclusive spaces. "I've always loved my culture and where I grew up," she says. "Through the experiences I've gained from many conversations, I learned we can grow closer, gain new friendships, fresh perspectives, new ideas, and through that, find innovative solutions to help improve our communities. So, it's always been important for me to help foster spaces where that exchange could occur from a cultural and social perspective."   
Prior to becoming president of LOGRAS, Fraticelli-Guzmán served as a member of the organization's External Outreach committee before taking over as chair. For many, it would be easy to settle for little victories while leading a public-facing committee amid a global pandemic, but Fraticelli-Guzmán and her committee made a special effort to provide online workshops to over 1200 students. She also organized and produced videos about life in college and graduate school, which were shared during an annual youth conference held for Latino high school students.
Fraticelli-Guzmán was keen to acknowledge the role her LOGRAS peers played in helping her accomplish so much in the organization. "Through it all, I had the pleasure of helping lead a great group of individuals, alongside my vice-president, Kenneth de Jesus, as we worked to bring opportunities to the Latino community and beyond, so, this award belongs to them as well."
In addition to prioritizing community engagement, Fraticelli-Guzmán sees providing strong, positive leadership as an invaluable part of her commitment to diversity. She helped create a mentorship program within LOGRAS that pairs its members with industry mentors. "I think role models are key," she says. "It's important to expose younger students to STEM professionals from similar, underrepresented cultural, ethnic, and even financial backgrounds."
Winning the 2022 Diversity Champion Award is a fitting epilogue to Fraticelli-Guzmán's time as president of LOGRAS. The organization—which won organization of the year at the 2022 Up with the White & Gold Celebration—has thrived under her leadership, securing future funding to ensure continued commitment to the Georgia Tech and wider Latino community.
Currently, Fraticelli-Guzmán works as a graduate research assistant under Assistant Professor Andrew Feola's guidance, where she investigates the potential impact of menopause on glaucoma development. Her volunteer work will continue, as will her appreciation of her time and experience with LOGRAS. "They challenged me to become a better communicator and facilitator, and I'm grateful for the opportunity I was given to grow as a leader."