October 25, 2021
Where are you from?
I am from Lawrenceville, Georgia. With Tech being here in Atlanta only a 40-minute drive from my home, I can study while still being at a place close to home.
What made you choose Georgia Tech?
I decided to go to Georgia Tech because after visiting the campus and seeing the student life around this environment I was excited to be a part of it. With it being in Georgia I also got all the benefits of going to one of the best universities for engineering without having to leave my home state. 
What got you into mechanical engineering?
I was always interested in science and math, but never really knew how I wanted to apply it. From a young age, I had a knack for working with tools from helping out my parents with their own projects. What really got me interested in engineering was taking physics/engineering in high school. I got to work on our science fair project and created our own engineering project where I really fell in love with engineering as a whole.  
What was the hardest thing about transitioning to Georgia tech?
I would say that my transition to Tech was a very different experience from most given that it was during the COVID pandemic, and I would say that has been the most difficult part. The requirements of masks and social distancing was something that I quickly got used to but the transition to online classes must have been the biggest shock to me. But after being here for a whole year I've gotten used to remote learning and actually miss having remote and recorded lectures.
In your time being a student here what unique opportunities have you gained from being a student at Tech?
I would have to say that in the short time that I've been here I think that the most unique opportunities would have to be the maker spaces, social events, and career opportunities available to me as a student. There are places like the Flowers Invention Studio where I can come in and work on my projects whether it's for class or simply a side project that I'm working on. I've been able to print out my own designs or cut and build my own tools. Tech has also had lots of memorable events where I've been able to meet more people and de-stress after a long week, such as nights at Six Flags, the Georgia Aquarium, and more. I've also gotten to talk to a lot of recruiters for internships through Tech and their career fairs. 
What about mechanical engineering interests you?
I really enjoy working with different engineering issues and taking on interesting problems in which I am able to design and build systems, using devices and software to solve them. Personally, I really enjoy the design process behind engineering, and the iterative steps that we take to gradually improve whatever we're working on.
What is the most important thing that you think that you've learned while being a student here?
The most important thing that I think I've learned here has been how to manage my time properly. As students, we are given lots of responsibility for how we want to structure our days and that's a great thing to have, but balancing clubs, classes, and a social life can get strenuous at times. That stress can make it easy to get into bad habits and let things fall through the cracks, like sleep. Therefore, keeping my own schedule on track has been the biggest thing from this semester and is something that I would continuously work on throughout my entire academic career.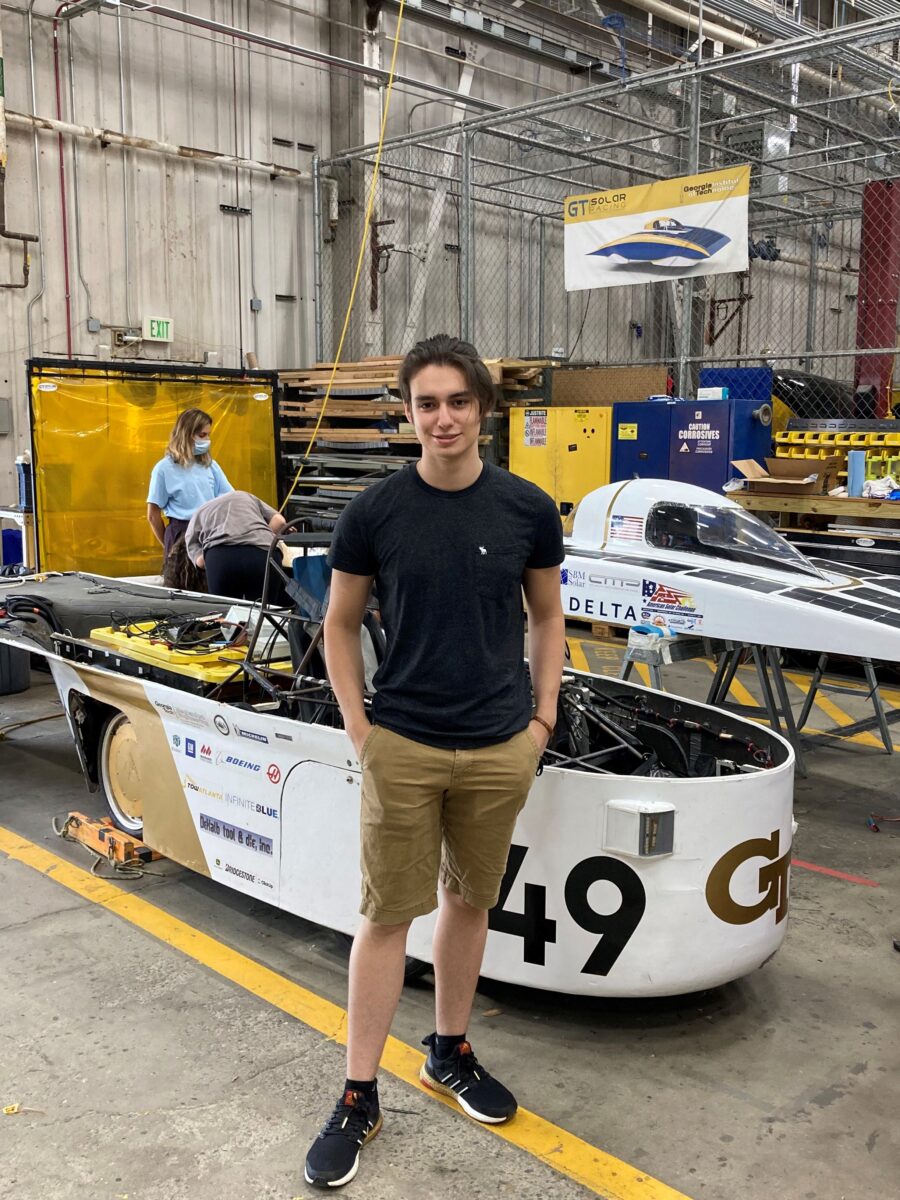 What clubs or after-school activities have you taken part in, and what was that experience like? 
Currently, I am a part of the Georgia Tech Solar Racing team. It's a competition team tasked with creating a vehicle that is completely powered by the sun to compete in time trials and long-distance drives across the country. I've gotten to meet with so many people through it, as well as put the skills I've acquired through my classes to use.
What hobbies do you take part in?
I have lots of hobbies that I end up doing often while I either have some free time or with friends. Recently I've been enjoying rock climbing as it's a very fun activity to do with friends, and since there's a wall at the CRC it's a great thing to do either before or after a light workout. I've also taken up skateboarding as it's a quick way to get between classes on a busy day. 
What's your favorite thing about campus?
It definitely has to be the hammocks that are available around campus. It's a relaxing place to sit back and get some work done for a bit in between classes. There are also some right next to the CULC which is also a very communal space to get work done with others. There are lots of comfortable seating areas as well as close access to some coffee, which makes it an amazing place to be whenever I need to get some late-night studying in.
What do you look forward to doing in the future? 
Going forward I want to go ahead and expand my horizons. I plan to continue my path down the design concentration and possibly pick up a computer science minor. I hope to take on internships and research in a way that improves my understanding of engineering as a whole. But in the long term, I hope to be able to continue working in design doing and working on projects I believe in and support. 
How would you describe your experience with the honors program?
The honors program was a great thing to be a part of. Even though most of last year was remote or socially distanced they were still able to have some fun social events. It was a great opportunity to meet and live with other first years and meet a bunch of people that I might not have met otherwise.