July 29, 2021
In Senior Capstone Design, students apply what they have learned during their educational journey at Georgia Tech and work in teams to solve real world problems. On Tuesday, July 27 the eight mechanical engineering teams participating in the Summer 2021 Hybrid Capstone Design Expo presented their projects to attendees in person and online, and thrilled sponsors in the process.
Delta Airlines sponsored three teams. Two focused on improving the equipment and process used for chocking airplanes when parked while the third worked on a way to improve cleanliness in plane lavatories.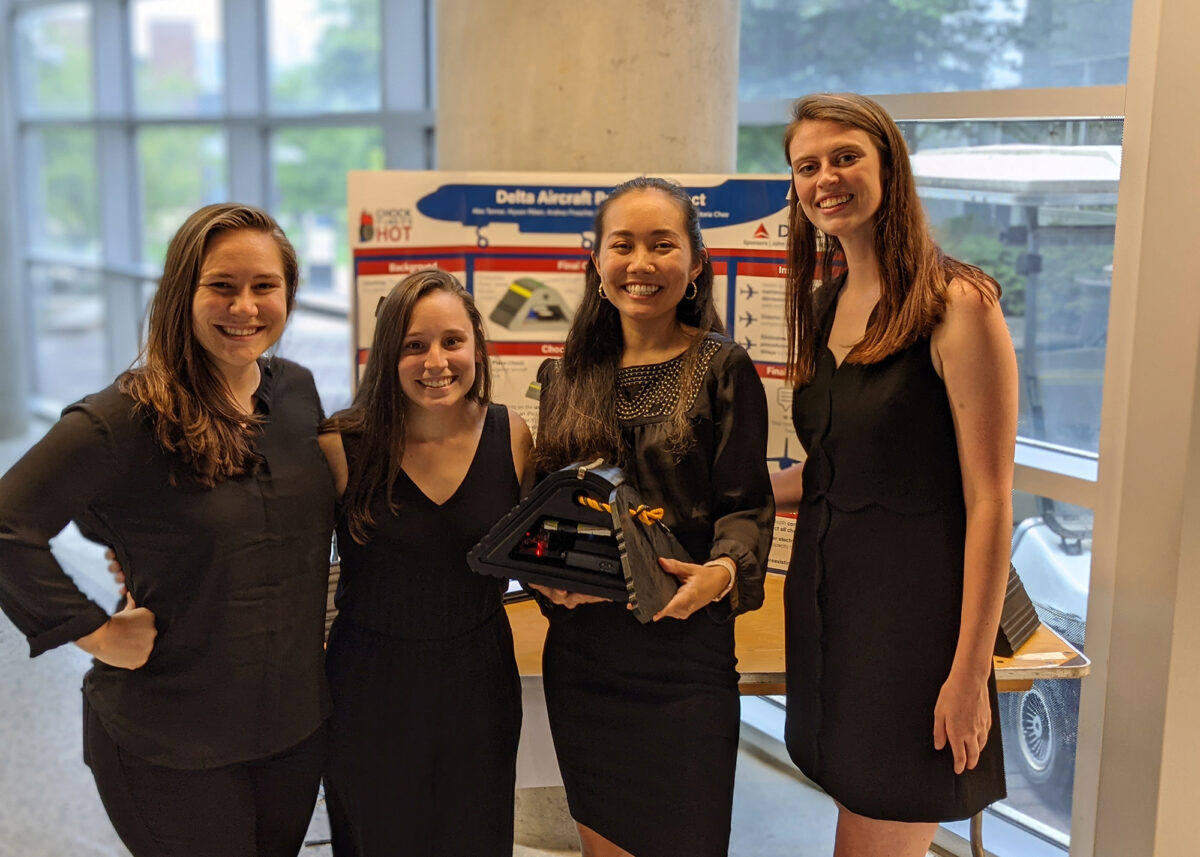 Chocking, which is the act of placing an object in front of a plane's tires to prevent movement, is a significant challenge for Delta. Improper procedures can lead to increased wear and tear on aircraft parking brakes as well as delays, both of which lead to higher costs. Team Chock It Like It's Hot developed sensor-embedded chocks that notify the ground crew when they are properly placed, and for their efforts they won the award for best in-person project. 
Delta technical liaison John Mathis, a Georgia Tech aerospace engineering graduate, appreciated the hard work  of both chocking teams.
"The smart chock systems proposed by the capstone teams have been designed to ensure aircraft are secured while parked at airport gates so that airlines like Delta can deliver safety within a risk-critical environment," he said. "It was a privilege to work with such a talented group of students on a project that allowed for design, engineering, and product development."
Techtronic Industries (TTI), the maker of Ryobi power tools, also sponsored three teams, which were asked to come up with improvements for Ryobi's battery-powered trimmer, leaf blower, and chainsaw. Project E.L.O. earned second place in the in-person competition for their chainsaw oil pump design that helps reduce lubricant leakage while Origami Chainsaws earned first in the online competition for their low-cost passive vibration dampening solution for string trimmers.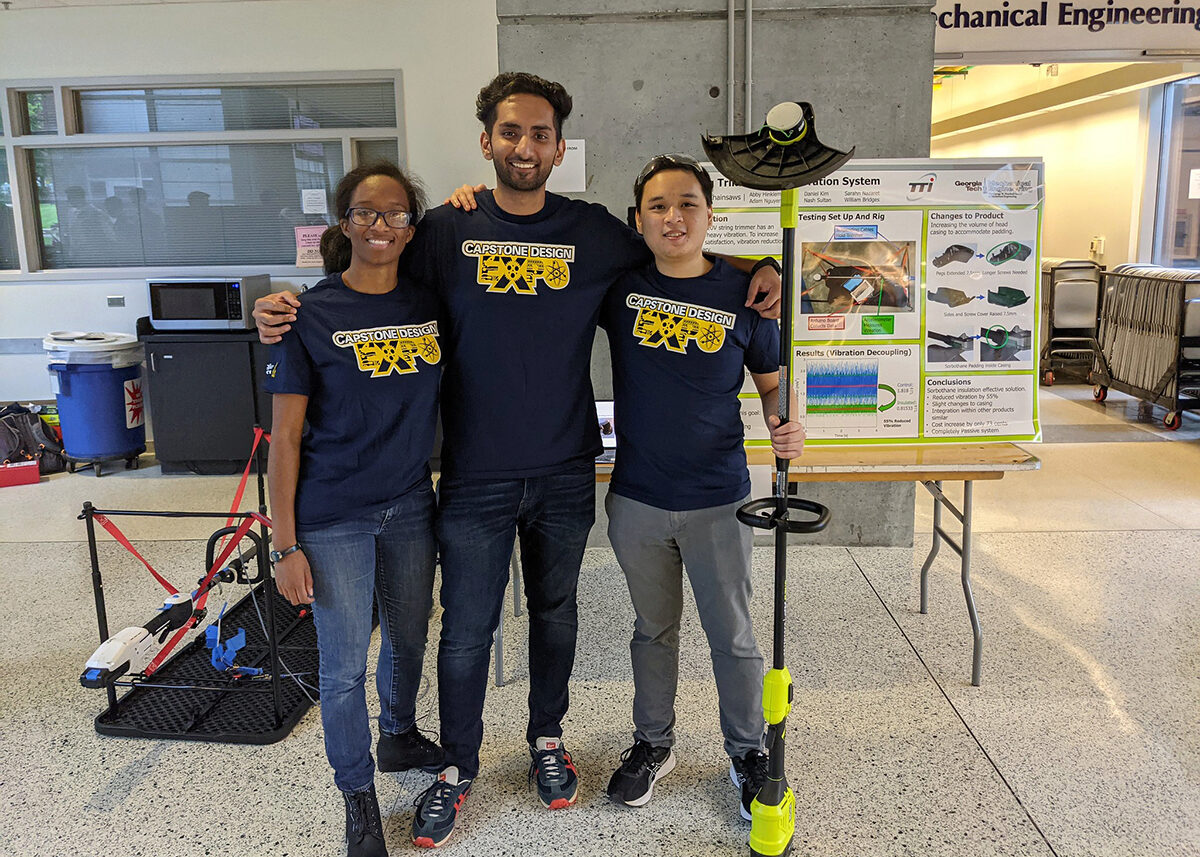 Woodruff School graduate Fahad Vora, who is a project engineer at TTI, was the point of contact for the students working on Ryobi projects and he explained why the company sponsors Capstone projects.
"TTI is a fast growing company and we're constantly looking for great talent," he said after the expo. "Georgia Tech Capstone is the perfect avenue for TTI to not only hire bright minds, but to also engage with students for a dynamic exchange of ideas and solutions on real world problems. The solutions that students have come up with over the last two semesters have helped make TTI's products better and have addressed long-standing issues. Out of this collaboration thus far, we have hired two students full-time and have applied for provisional patents for other impactful projects that have come out of this class. TTI is looking forward to our continued partnership with Georgia Tech."
Nowsherwan Sultan, from Origami Chainsaws, said his team was successful because of effective communication and goal setting.

"We distributed tasks between the team member so experimental testing and computer modeling can be done in parallel," he added. "And we are extremely grateful to Fahad Vora who made himself completely available to the team. He was really responsive to our questions and concerns which allowed us to achieve our goals in a timely manner."
Alyson Riben from Chock It Like It's Hot echoed that timeliness was a huge actor in their project as well, acknowledging that the best solutions aren't always achievable within the given time constraints.
"It was a challenge to understand what could realistically be accomplished in such a short duration while still wanting to create something that we could be proud of by the end of Capstone," she explained. "A lot of times, teams go in thinking they can create something extremely revolutionary and highly innovative, like a robot that can place the chocks autonomously. In reality, it's still possible to create something innovative that has never been done before, like our Smart Chocks, that takes the current product and turns it into Chock 2.0 instead of thinking we can go straight to something so advanced such as Chock 5.0 or higher."
Riben and her team will present their prototype to the Delta leadership and engineering teams next week and are excited about the possibility that their solution could be implemented.
The awards were rounded out by Rowbotics, an entrepreneurial team that earned second place in the online judging competition with a technological system to collect motion data while a rowing machine user rows, with the goal of analyzing the user's rowing motion and providing useful, real-time feedback to supplement the use of personal trainers.
Despite the Summer Capstone Expo being a small affair, 11 judges participated in person and 11 more judged projects online, allowing teams to hone their face-to-face and online presentation skills. 120 spectators attended, split evenly between a physical or online presence as well. With fall semester quickly approaching, plans are underway for Capstone's return to McCamish Pavilion on Tuesday December 7. Sponsors and those interested in judging can contact Amit Jariwala for more information.
Winners
First Place: In-Person Judging
Alexander Tanner- Mequon, WI
Alyson Riben- Yardley, PA
Andrea Preacher- Peachtree City, GA
Bruce Bowers- Chatsworth, GA
Jasmine Hornbeck- Jacksonville, FL
Victoria Chee- Atlanta, GA
In-Person Judging: Second Place
Andrew Burden- Newnan, GA
Bahiru Woldemariam- Atlanta, GA
Daniel Yameen- Quincy, MA
Isabel Novak- Asheville, NC
Miles Hsu- Marietta, GA
Online Judging: First Place
Abby Hinkleman- Lilburn, GA
Adam Nguyen- Long Beach, CA
Jong Kim- Lawrenceville, GA
Nowsherwan Sultan- Lahore, Pakistan
Sarahn Nazaret- Atlanta, GA
William Bridges- Tallapoosa, GA
Online Judging: Second Place
Alexandra Ford- Braselton, GA
Andrew King- Beverly, MA
Elizabeth Perego- Houston, TX
Ethan Arnall- Blue Ridge, GA
Hannah Phillips- Swainsboro, GA
Mitchell Garrett- Suwanee, GA
People's Choice Awards
Chock It Like It's Hot
Rowbotics
Variable Velocity Design Group