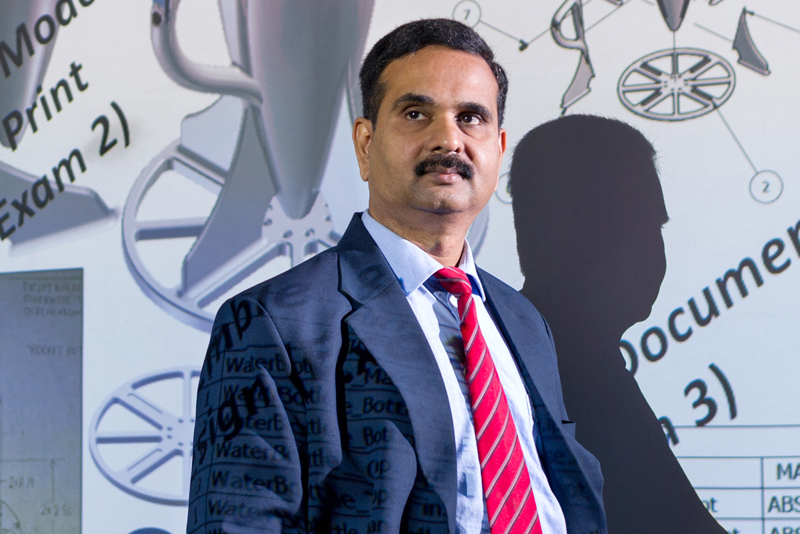 Raghuram V. Pucha Named 2023 Zeigler Outstanding Educator
May 19, 2023
By Ashley Ritchie
Raghuram V. Pucha, principal lecturer, has been selected by his peers in the George W. Woodruff School of Mechanical Engineering to receive the Zeigler Outstanding Educator Award. He will deliver the Jack Zeigler Outstanding Educator Lecture during the 2023-24 academic year.
Created in 1999, the award recognizes an outstanding educator among the Woodruff School's academic faculty and is a lifetime achievement award that a person can receive one time.
"This award recognizes the outstanding contributions made by Raghu in the development of systematic evidence-based teaching methods to teach mechanical engineering knowledge using real-world projects with context that further motivates his students towards engineering design and manufacturing," said Devesh Ranjan, Eugene C. Gwaltney, Jr. School Chair and professor.
Pucha teaches engineering graphics, CAD/CAE, mechanics, and manufacturing-related courses. He has been recognized with various awards during his career including the inaugural College of Engineering Outstanding Teacher Award (Midcareer/Senior) in 2022, the Scholarship of Teaching and Learning Award in 2020, the Geoffrey G. Eichholz Faculty Teaching Award in 2015, and the Undergraduate Educator Award in 2012 from the Center for Teaching and Learning (CTL) at Georgia Tech.
He also directs the Integrated Analytical and Computational Tools (IntACT) Laboratory. His research focuses on developing upfront computational tools for the design, analysis, and manufacturing of advanced materials and systems for various applications.
Pucha joined Georgia Tech in 2000. Prior, he held post-doctoral research positions at Nanyang Technological University, Singapore and Purdue University, West Lafayette. He received B. Tech. in 1988 from Nagarjuna University, India; an M.E. in 1990 from Madras Institute of Technology, India; and a Ph.D. in 1995 from Indian Institute of Science, Bangalore.
 

About Jack M. Zeigler
Jack M. Zeigler received his bachelor's degree in mechanical engineering in 1948 after interrupting his education with 3.5 years of service in the U.S. Army. While at Georgia Tech, he was a co-op student at two companies, where he worked primarily as a draftsman. In one company he earned $1.25 an hour; this was a raise from $0.55 per hour at the other company.
Zeigler, who passed away at the age of 93 on May 28, 2016, was the retired president and owner of Fabrication Engineering Service Company, Inc. (FESCO). FESCO specializes in the made-to-order fabrication business using high-quality alloy steels to produce tanks for the chemicals industry and pressure vessels for textile manufacturers.
Until his retirement in 1989, Zeigler was a registered professional engineering in Alabama, Georgia, North Carolina, South Carolina, and Virginia, and he was a lifetime member of the American Society of Mechanical Engineers and the American Welding Society.
Zeigler was very supportive of Georgia Tech. He was the chairman of the Charlotte Regional Campaign Steering Committee of the Georgia Tech Centennial Campaign, a member of the Alexander-Tharpe Fund Board of Trustees, a member of the class of 1948 40th Reunion Fund Committee, and past president of the Charlotte Georgia Tech Club.
He was also the recipient of the 1994 Woodruff School Distinguished Alumnus Award and the 1994 Distinguished Engineering Alumnus Award sponsored by the College of Engineering at Georgia Tech. Zeigler was born in Thomasville, Georgia, and resided with his wife, Sarah, in Charlotte, North Carolina.