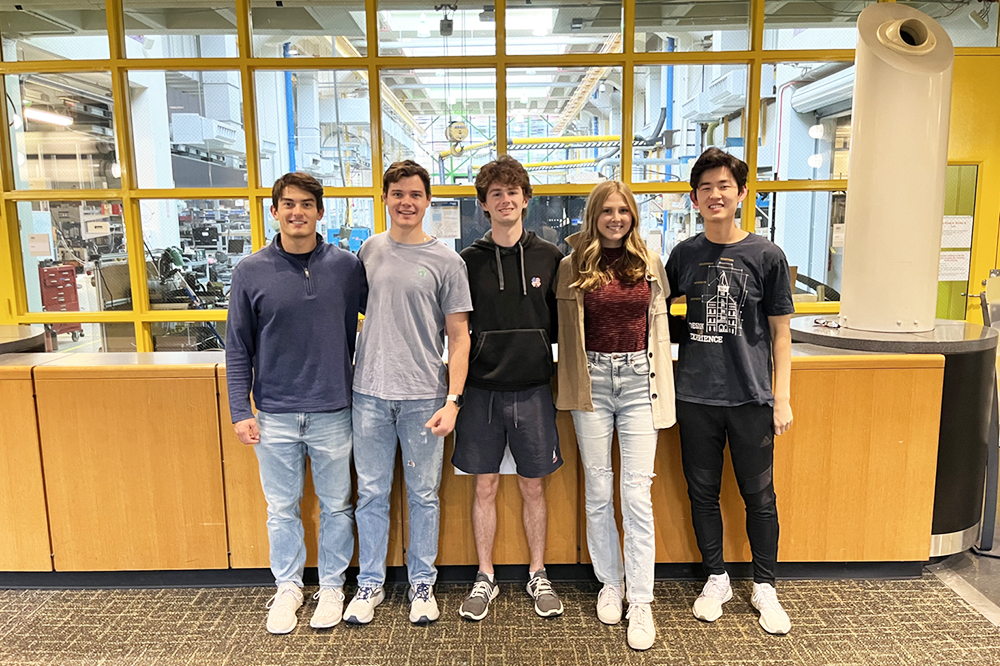 Meet Fall 2023 Capstone Design Team, Raise the Ratio!
November 16, 2023
By Ashley Ritchie
Get to know mechanical engineering Capstone Design team Raise the Ratio! who is developing a low-cost, modular rocket test bed capable of autonomous self-landing for the Fall 2023 Georgia Tech Capstone Design Expo. Advised by Professor Yan Wang, the team's open-source product would give researchers, students, and hobbyists the tools to implement control theory and build upon it for further experiments.
1. Can you tell us about your team and project?
Our team, Raise the Ratio!, is made up of a passionate group of mechanical engineering students who want to bring about the next generation of low-cost self-landing rocketry research. The major barrier to entry within this space is a test bed for control theory implementation. Thus, to bridge this gap, we have developed a cheap, modular, low-risk test bed that is open source, and easily constructible for research groups.
Team members include:
Joshua Brient – Wayland, MA
Lillian Cooper – Cumming, Georgia
Charles Finn – Arlington, VA
Samuel Liu – Peachtree City, GA
Robert Van Zyl – Peachtree City, GA
The majority of the team has work experience within companies that have a history of making things fly and a few members are pursuing minors in computer science. This places us with a unique advantage in the software-hardware integration that is needed to make this dream a reality. 

2. What is your team's design process, how do you go about separating different tasks, and what are some of the biggest challenges you have faced?
The team started this project with a large period of ideation. Market research was performed, numerous prospective customers were talked to, engineering codes were analyzed, and a function tree and morph chart were created. From here we could directly contrast designs using a House of Quality and decision to determine our optimal solution path.
Moving forward with a rough design in mind, the team was able to assign lead engineers to maintain ownership over the various subsystems of the rocket build. Sam became the lead on sensor integration, Lily took over the drone motor system, Josh handled the full body structure and various mounts required, while Charlie and Robbie tackled the thrust vector control mechanism. 
Some of the biggest challenges we have faced thus far are component compatibility, maintaining a low-cost system, finding an effective thrust control mechanism, and keeping the overall rocket mass low enough for an adequate thrust-to-weight ratio.  

3. Have there been any highlights while working on your project?
The biggest highlight for our team thus far has been getting deeper into the prototyping stage. What was once just ideas on paper are starting to become real and tangible and the entire team is excited to continue to see where this goes. We are quickly approaching our first flight tests which will be a large step towards the validation of our overall system. 

4. What team attributes have contributed the most to your success?
Everyone on the team is individually a hard worker and exhibits a great level of technical background. This level of aptitude everyone holds within the realm of engineering paired with an extremely positive team mentality have been the most positive attributes towards our success as a team. We have all been friends for years, taken numerous classes, and spent hours both in school and out getting closer to one another. This not only simplifies working as a unit but also adds a whole new level of comradery within the group. No one wants to let their friend down, and if someone does happen to fall behind there is no apprehension to ask for help.

5. If you could go back in time, what advice or message would you give your team on day one?
Going back in time, we would tell ourselves on day one to work towards prototyping as soon as possible. We have found so much learning has come from the rapid iteration process and many of the problems that we have run into would have never exposed themselves during conceptual analysis. Furthermore, specifically for this project scope, creating a physical prototype is a huge step toward this Capstone being a success.  
---
The Fall 2023 Georgia Tech Capstone Design Expo will be held on Monday, December 4, 2023, at McCamish Pavilion on the Georgia Tech campus. At the Expo, over 600 seniors from various disciplines of engineering and industrial design will showcase their innovative projects designed and built during their Senior/Capstone Design course. Register to attend here!