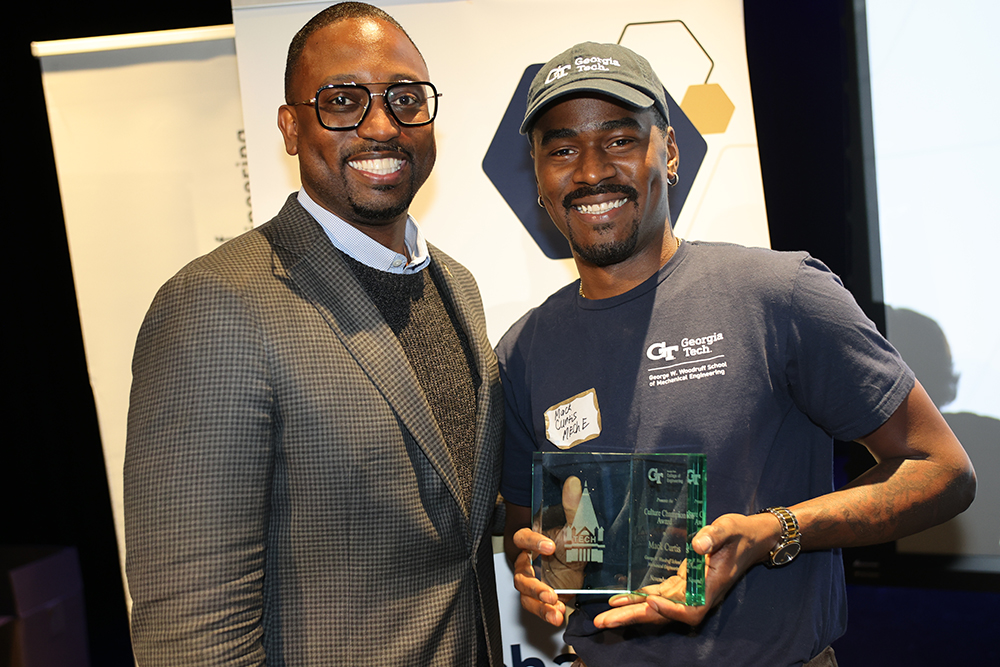 Mack Curtis Receives COESCAC Culture Champion Award
November 17, 2023
By Ashley Ritchie
Mack Curtis, a staff member in the George W. Woodruff School of Mechanical Engineering, has received the College of Engineering Staff Culture Advisory Council (COESCAC) Culture Champion Award for striving to build a better culture in the School and in the College.
"Mack's everyday actions facilitate a nurturing culture of collegiality and inclusion for students, faculty, and staff — one where everyone is embraced and enabled to be the best version of themselves," said Associate Chair for Faculty Development Kyriaki Kalaitzidou.
The COESCAC Culture Champion Award was given to a staff member from each School at the Georgia Tech College of Engineering (CoE) Staff Engagement Day event, held November 15 at the John Lewis Student Center. Recipients of the award are advocates for a positive and productive culture and work to support and/or develop successful cultural practices. They truly strive to make a difference.
Curtis has been a part of the Woodruff School's Office of Student Services for the last four years. As an academic assistant II, he is the first person students see when they walk in the door with questions. 
"Not only does Mack sharply focus on finding a meaningful solution to the problem at hand, but also imparts to the students a sense of hope that things will be alright. In the challenging academic environment of Georgia Tech, this personal touch is essential to support the mental health and well-being of our students," said Associate Chair for Graduate Studies Andrei G. Fedorov in his nomination letter for Curtis. 
Curtis is dedicated to creating a community that unites graduate students with faculty and staff. He has actively served on committees and planned various events to bring the Woodruff School community together. For example, he has collaborated with the Mechanical Engineering Graduate Association (MEGA) to organize student recruitment visits; planned several graduate student appreciation events; and organized weekly social hours.
"Mack goes above and beyond in connecting with mechanical engineering grad students by actively engaging with all students at department events and getting them involved in activities. He also has a magnetic personality that makes it easy for students of all backgrounds and personalities to reach out to him and makes grad school a less isolating experience," said Timothy Chen, Ph.D. student and previous MEGA president.
Curtis is also a frequent user of the Flowers Invention Studio, spending his free time getting to know and learning from prototyping instructors (PIs), and building creative memorabilia to give to participants during Woodruff School events.
As part of the COESCAC Culture Champion Award, Curtis received a certificate and a desk plaque. He will also have his name added to a wall plaque in the Woodruff School. 
---
The College of Engineering's Staff Culture Advisory Council (COESCAC) serves the College by advocating for the staff and promoting equity, diversity, and inclusion in its culture. COESCAC will partner with college staff to build and foster a community that is adaptive, creative, empowering, ethical, and innovative.