November 14, 2022
By Anne Wainscott-Sargent
Today, more than 1.7 billion people still do not have basic sanitation services, such as private toilets or latrines, according to the World Health Organization. Without proper sanitation, half a million children under the age of five die every year from preventable diarrheal disease.
And while the developing world shoulders most of the disease burden of poor sanitation, even developed countries face an aging sewage infrastructure and water shortages that could force municipalities to rethink how human waste gets processed.
The Georgia Institute of Technology and its partners around the world, funded by a grant from the Bill and Melinda Gates Foundation, have advanced the Generation 2 Reinvented Toilet (G2RT) and completed designs for two prototypes as the team readies for field tests next year. The solution is a product initiative of the Reinvented Toilet Challenge, which established a goal to create a toilet that would not rely on input or output water or sewer infrastructure — and would ideally cost five cents per user per day for users in low-income countries once the systems are scaled globally.
We can't do this without a true global collaboration. There are a lot of parts that have to work well together," said G2RT Director Shannon Yee, associate professor in the George W. Woodruff School of Mechanical Engineering.
Developing a cost-effective, globally scalable toilet with built-in sewage treatment required unprecedented collaborative problem solving from the three main engineering and industrial design teams: Georgia Tech Research Institute (GTRI); EOOS NEXT in Vienna, Austria; and Helbling Technik in Wil, Switzerland.
Yee said the G2RT team has filed five provisional patents since completing the design and planning phase a year ago and developing two prototypes this past June. Now researchers are refining and testing prototypes to begin field trials early next year in household test sites in South Africa, India, and China. 
"We identified early on that one toilet wasn't going to provide a solution for all the different users [based on cultural differences in how people use the bathroom]," said Daniel Morton, G2RT's managing director, who works closely with Yee and leads the project teams to keep timelines moving.  
"We need to rethink toilets as not just feeding sewer systems but being a home appliance," said Harald Gründl, managing director of EOOS NEXT, a social design enterprise spinoff from EOOS best known for furniture and product designs, which developed the common frontend used in both toilet prototypes.
EOOS designed the frontend like a traditional commode that flushes but uses only one cup of water and assisted vacuum suction. The design saves over 95% of the water typically used to flush a U.S. toilet. The system also efficiently separates urine and feces, which are processed in the backend. 

User Experience is King
While ensuring the frontend system performed as expected, the EOOS NEXT team remained equally focused on understanding users.
"At the end of the day, it's all about user experience," said Gründl.
He  applauded Yee for recognizing that while this is a big engineering challenge, it made sense to give the lead for the frontend to designers and not engineers, a philosophy embraced early in the program.
"Our main challenge is human perception," said Gründl, noting that in field tests of earlier prototypes, user reactions were negative when it came to urine stream being recycled into water. "They didn't trust in technology that recycles water on site."
The importance of user attitudes in the bathroom is paramount, added Lotte Kristoferitsch, EOOS NEXT project manager. Kristoferitsch noted that surveys of people's bathroom preferences in emerging markets are "to flush and forget."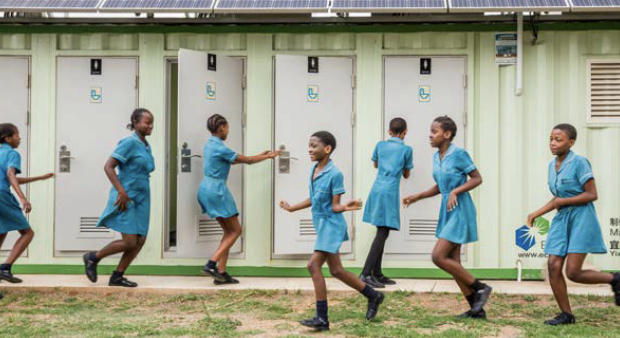 A Tale of Two Toilets
Unlike the user-friendly frontend, the backend functions like a mini water treatment system the size of a large washing machine. The two G2RT prototypes process waste differently:
GTRI's Volume Reduction (VR) process uses a pasteurizer to kill the fecal pathogens. The system's filter press module flattens and squeezes excess moisture out of the feces; this creates small cakes that are then dried further.
Helbling's micro Super Critical Water Oxidation, or mSCWO, takes the fecal waste through a miniature reactor until the water reaches a "super-critical" temperature of 375 degrees Celsius and 220 bar, at which point the feces spontaneously combust and turn into ash.
More than 20 GTRI researchers are engaged in the G2RT effort.
"G2RT represents a really exciting mechanical engineering challenge," said Kyle Azevedo, GTRI senior engineer overseeing the mechanical team. "We have to continually walk the line from something that you can observe in a laboratory to something that you would be comfortable and confident having in your home."

Fail Fast Philosophy 
All the teams took a "fail-fast" approach to quickly test assumptions in the design. Roland Lehmann, Helbling's senior project manager for sanitation solutions, noted that early on the research teams didn't have much information so they relied on assumptions, which they later validated. 
A key technical goal is to operate the toilet with just one kilowatt hour per day in a single-family home. The teams have been continuously refining the system design toward this goal. The energy targets remain a significant challenge when you consider the ever-changing and variable waste streams with which these systems are expected to operate. For example, in scenarios where there are large volumes of flush water and/or waste, the system will operate at a much higher energy demand. 
"We needed to reduce the amount of water used," said Lehmann. Water is "a very special liquid" that carries a high caloric value when heated, which leads to a lot of energy demands.
"Because water has such a high heat capacity, the energy consumption scales with the amount of water," Lehmann said. "That's why we applied a vacuum in our earlier prototype to reduce flush water, and EOOS NEXT reincorporated the vacuum concept in their industrial design."
Stephanie Richter, who leads GTRI's verification and validation team, tests the volume reduction system's performance.
"We compare performance to ISO 30500 chemical and biological parameters," said Richter, a microbiologist by training with a background in poultry food safety. "At the end of the drying tunnel, we want the cakes to be below 30% moisture content."
Richter explained it's important to minimize the amount of moisture to prevent pathogen regrowth. Naturally existing feces contain more than 10 billion cells per gram.

Common Modules by Design
Common modules — backend systems that apply to both systems — were designed by both GTRI and Helbling engineers. These systems include the buffer module, the urine and wastewater treatment module, the concentrator, and the dryer belt.
A key enhancement with the waste treatment process common to both prototypes was reducing the number of filtration stages in the urine and wastewater treatment module from four to two, which helped drive down the module's costs. Although it did increase the complexity in the first stage, Morton explained.
"By adopting a strategy where we have modules common across the two different systems, both teams had to solve problems not only based on their needs but also on the needs of the other system," he said. "This has driven solutions that otherwise would never have been considered."
Helbling built the buffer module used in both prototypes. It acts as a junction box where the frontend meets the backend. It enhances the frontend's separation of liquids and solids and stores the streams in two tanks before sending the material to other treatment processes.  Both systems recycle water to support flushing, which uses a weak vacuum compared to toilets on airplanes and trains.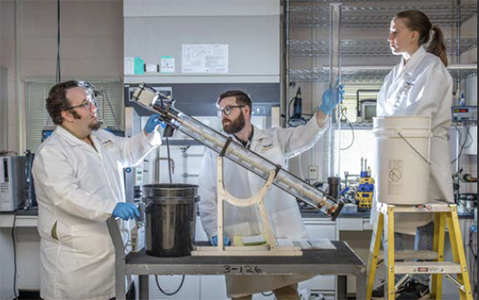 The overall team said G2RT presented a unique opportunity to collaborate. Georgia Tech credited Helbling for "bringing a great pace of innovation to keep focused on both schedule and cost while still meeting objectives," while Helbling pointed to the common ground both teams share "to solving technological problems."
"That is one of the big advantages we have and makes this collaboration work well – we're all going for the same goals," said Christian Seiler, head of Development Process Technologies for Helbling Technik.
"Engineers are speaking the same language," said Lehmann. "We grew together; we solved problems together."
Helbling's Process Technologies group focuses on incorporating new technologies into products for general consumers. The group's home appliance department designed Nestle's espresso capsule coffee machines and has applied a similar concept of high-temperature presses from its coffee designs into the G2RT's backend.
Besides making their system as low cost as possible with the fewest prototypes and the lowest number of experiments, Seiler said, "We should do it with a future vision of the client already in mind."
Academic partners play a pivotal role in the project. GTRI worked closely with test site partner, Duke University's Center for Water, Sanitation, Hygiene and Infectious Disease (WaSH-AID), a specialist in wastewater treatment research.
"We all come from such different disciplines," said Richter. "We get to kick ideas around and come at problems from a different angle. It's been amazing — it's the kind of work you want to be doing knowing it's going to make an impact."
---
Key academic partners supporting the G2RT project include:
Cranfield University: Filtration design lead and lead for field testing coordination across all G2RT testing sites
Duke University Center for WaSH-AID: U.S. laboratory testing and analysis lead, providing expertise in the design, engineering, and field-testing of onsite waste treatment technologies
University of Kwazulu-Natal (UKZN): Coordination and laboratory analysis for G2RT's South African field-testing campaign
Birla Institute of Technology & Science Pilani: Coordination and laboratory analysis for G2RT's Indian field-testing campaign
University of Science and Technology Beijing (UST-Beijing): Coordination and laboratory analysis for G2RT's Chinese field-testing campaign
Colorado State University (CSU): Expert in design and experimental testing for G2RT's combustor module, which facilitates the safe and efficient combustion of processed waste
Washington University in St. Louis (WUSTL): Professor Anne Marie Knott is crafting commercialization strategies for how the toilets can be moved out of the laboratory and into manufacturing