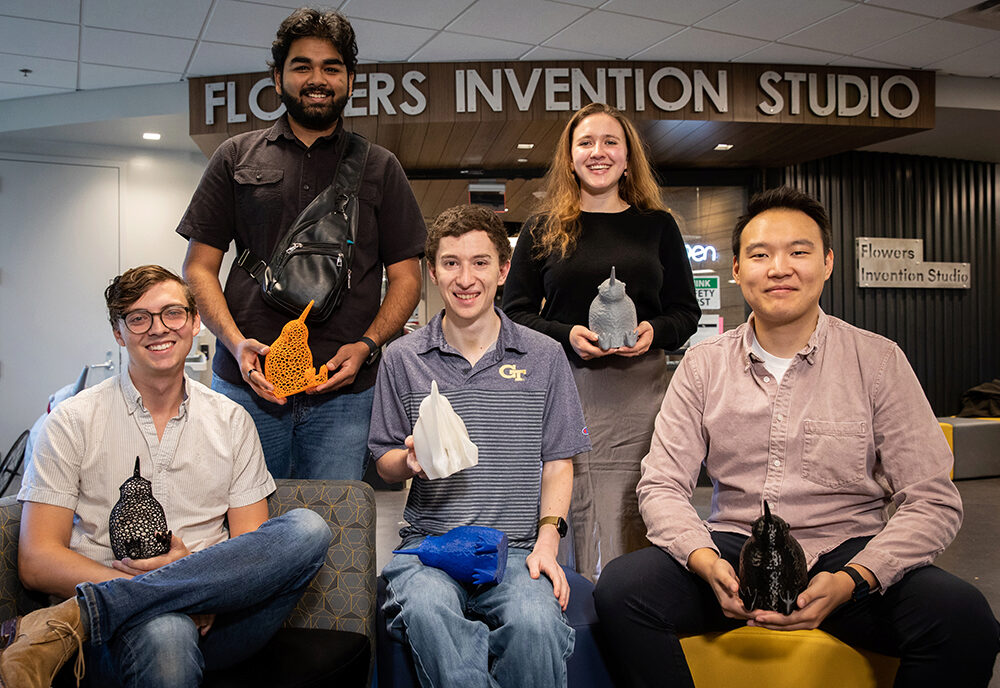 The Friday Five with Capstone Design Team The Kiwis
November 18, 2022
Get to know mechanical engineering team The Kiwis who will showcase their project, "Hedge Trimmer with Removable Blades," at the fall 2022 Capstone Design Expo.
1. Can you tell us about your team and project?
Our Team is made up of five mechanical engineering majors:
Amara Jargalsaikhan from Ulaanbaatar, Mongolia

Alex Vitale from Marietta, Georgia

Michael Dean from Tampa, Florida

Hasanain "HK" Karim from Karachi, Pakistan  

Mary Judson from Bonaire, Georgia
Our project is to work with Techtronic Industries (TTI) to help reduce the shipping costs of their RYOBI Hedge Trimmers. We're doing this by reducing the current packaging size in order to accommodate a larger number of tools per pallet. The hedge trimmers currently ship with their blades attached, and the tool must be re-designed in a way to temporarily reduce the existing tool length for shipping to be re-sized by users upon purchase of the tool.

2. What was your team's design process, how do you go about separating different tasks, and what are some of the biggest challenges you have faced?
Our team uses an iterative and concurrent engineering design process, starting with brainstorming and concept ideation and using evaluation matrices to make quantitative and unbiased decisions. CAD design, rapid prototyping, analysis, and testing are then performed to validate designs, and the entire process is repeated concurrently to refine designs and make changes as needed throughout the project duration.
One of the biggest challenges our team has faced has been designing for manufacturability at scale without increasing manufacturing costs above the amount of money saved by package size reduction. Having a goal to save money has constrained the design process.
Additionally, as this is a user product, safety and ergonomics have been of high priority throughout the design process and added additional considerations when brainstorming and ideating concepts.

3. Have there been any highlights while working on your project?
The biggest highlight of the project so far was producing a metal prototype of our design concept and having it work the way we expected and designed it to. Taking apart the original tool in order to facilitate reverse engineering was also a great experience and a highlight at the start of the project.

4. Can you tell us about your experience working with a sponsor?
Working with our sponsor, TTI, has been a supportive and inspiring experience. It doesn't feel like working with a large corporation as we have been protected from bureaucratic issues; we have been freely offered resources, guidance, and encouragement as needed throughout the design process. Being able to discuss our project with a team of design engineers on a regular basis has provided us with a wealth of information for our design process.

5. What team attributes have contributed the most to your success?
Communication, positive outlooks, flexibility – being able to pivot to tackle different concerns as needed—and task distribution. We also have a good perspective on at-scale manufacturing, enough to have productive conversations on the subject with our sponsor.
---
The fall 2022 Georgia Tech Capstone Design Expo will take place on Monday, December 5, from 4-8 p.m. at McCamish Pavilion on the Georgia Tech Campus. At the Expo, over 600 seniors from various disciplines of engineering and industrial design will showcase their innovative projects designed and built during their Senior/Capstone Design course. Register to attend.