Students Overcome Turbulence to Shine at Capstone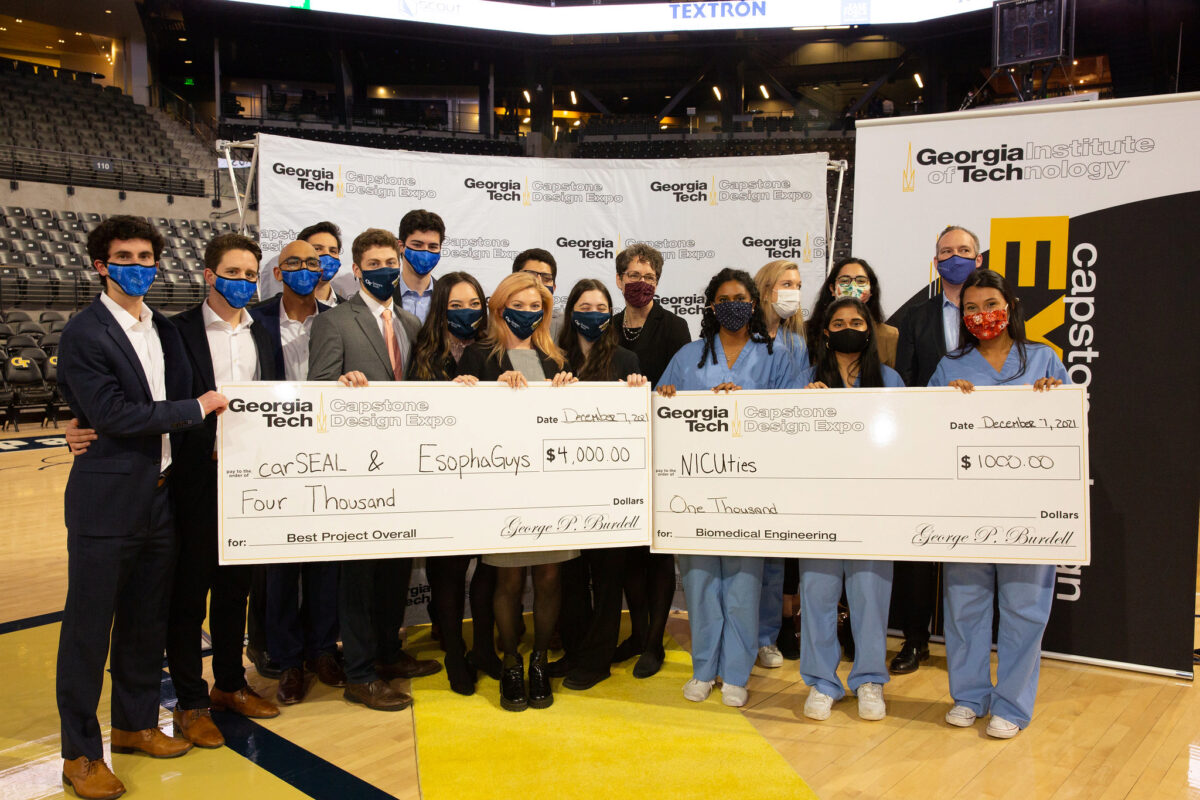 December 7, 2021
The Capstone Design Expo returned to McCamish Pavilion for the first time since the fall of 2019, with more than 500 students broken into 118 teams from seven schools and three colleges participating. While most participants were in-person, teams also had online representatives who were available to talk to online judges who could participate from anywhere in the world, broadening the judging pool. 
Recognizing the unique setup, extra awards were given out in two categories for those who impressed the online judges. At the end of the night biomedical engineering teams took home both Best Overall Awards, and also had a student on one of the Best Interdisciplinary Project teams. Mechanical engineering also had a strong showing, with students on both Best Interdisciplinary Project teams earning awards along with prizess for best mechanical engineering project and best industrial design and mechanical engineering project.
Towtal Package stood out as the top mechanical engineering project for tackling a problem for Delta Air Lines. Delta uses twelve different tow bars for its fleet of aircraft and had a desire to simplify their towing equipment. "We worked to simplify the problem of the pushback experience, making the job for the operator a little easier," explained John Alexander, from Gainesville, Georgia. "We really enjoyed our project."
After abandoning a flawed design with just a few weeks left in the semester, Towtal Package was able to create a tow bar attachment compatible with all of Delta's aircraft, giving gate crews flexibility and eliminating the need to search for the right tow bar for the right aircraft.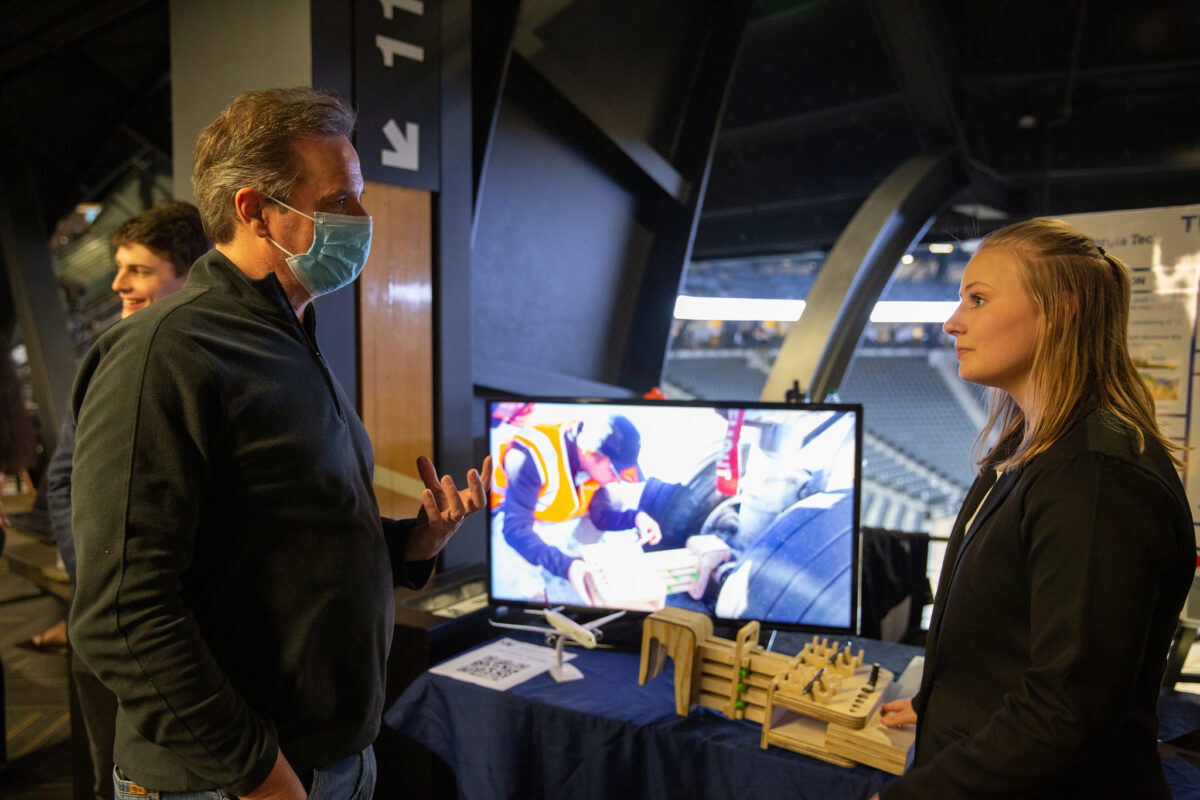 "We worked really well together as a team," said Mary Bergin (above right), from Cumming, Georgia. "I think we tackled the challenges together and kind of tried to play to each other's strengths and divide up the work and conquer our problems, which we called turbulence. We would talk to our advisor, Dr. Tequila Harris, and tell her what turbulence we encountered each week, but we always made it through it."
Over the years the number of sponsored projects at Capstone has grown, with this year's sponsors including TTI, NASA JPL, The Home Depot, Amazon, Atlanta Department of Transportation, General Motors, Novelis, and a wide range of medical doctors and health companies.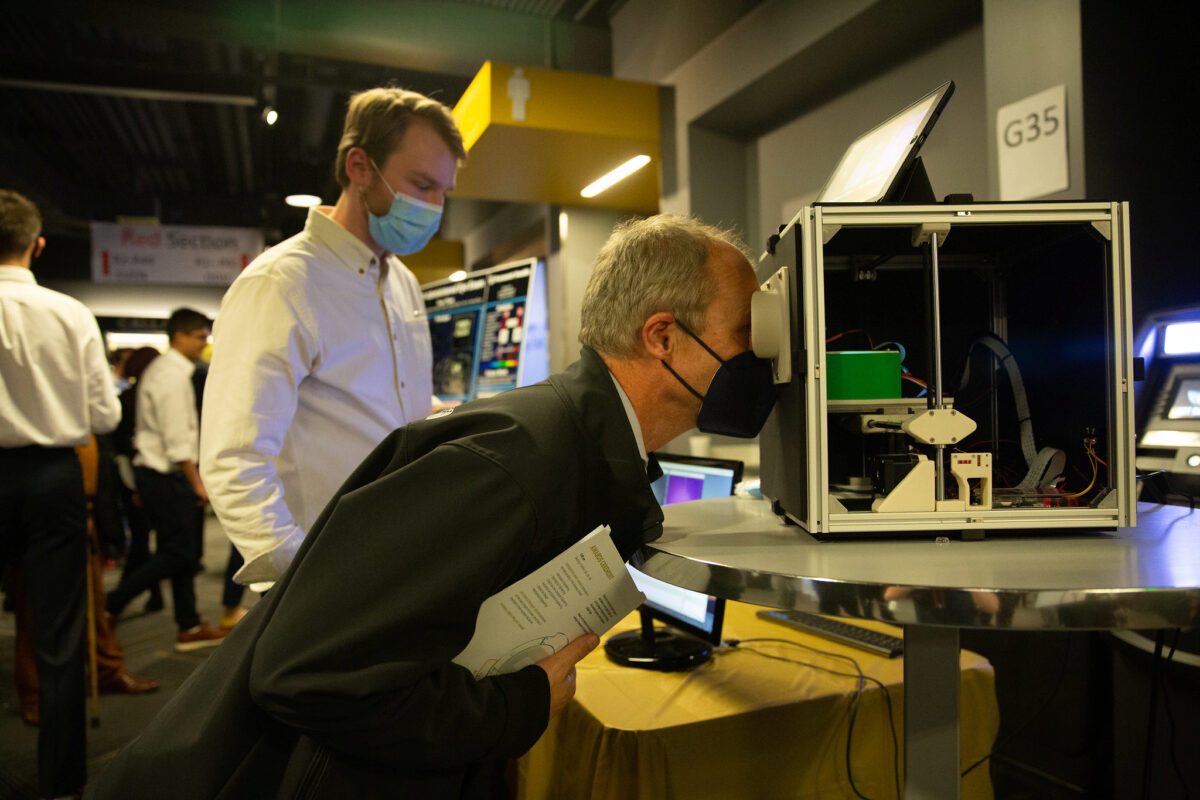 Mayo Clinic sponsored carSEAL, who earned one best overall project award, while Emory University and Children's Healthcare of Atlanta sponsored EsophaGuys who won the second best overall project award, as determined by the online judges.
Team carSEAL worked closely with the Mayo Clinic to develop a device that can seal the carotid artery after a thrombectomy. Such a device doesn't exist on the current market, and carSEAL had already won two Mayo Clinic competitions. 
"The great thing about this device is, it not only closes the carotid artery — one of the most difficult blood vessels to close — but it'll close any other blood vessel, which makes it an extremely competitive product," said team member Joshua Cruz. "We designed ours for neurosurgeons, but we think it'll have applications for interventional cardiologists, radiologists, and others."
EsophaGuys developed a device that combines a balloon dilator with a nasogastric feeding tube, which could allow doctors to treat multiple pediatric esophageal strictures during a single session instead of requiring children to make multiple visits to a hospital over several years.
"These children go to the hospital to have their esophagus dilated, the most common treatment for strictures," said student Madeline Beatty. "Currently, patients undergo multiple procedures under general anesthesia, which can lead to some severe neurological deficits down the line."
The Spring 2022 Capstone Expo will be held on April 26.
Capstone Results
Christopher Languell (AE) - Rolesville, NC
Cody Brown (AE) - Gainesville, GA
Jonathan DeLozier (AE) - McDonough, GA
Joshua McElveen (AE) - Springfield GA
Paul Trevidic (AE) - Edison, NJ
Biomedical Engineering- NICUties
Caroline Alting (BME) - Atlanta, GA
Kiran Varadarajan (BME) - Alpharetta, GA
Oriana Mateu Bastidas (BME) - Alpharetta, GA
Shaefali Padiyar (BME) - Peoria, IL
Benjamin Bogard (EE), Sarasota, FL
Dakota Cobb (EE), Lawrenceville, GA
Michael Probst (EE), Leesburg, VA
Nicholas Meyer (CmpE), Johannesburg, South Africa

Industrial Design and Mechanical Engineering- FARDOT
Darye Ji (ID), Lawrenceville, GA
Divita Chillakuru (ID), Alpharetta, GA
Juo Shuen Lee (ME),Singapore, Singapore
Lulu Gao (ID), Tucker, GA
Samantha Weinberg (ID), Marietta, GA
Anneliese Conrad (IE), Canton, GA
Bradford Peterson (IE), Fayetteville, GA
Carolina Howell (IE), Marietta, GA
Ellie Johnson (IE), Columbus, GA
Libbee Stallone (IE), Columbus, GA
Nico Knutzen (IE), Buenos Aires, Argentina
Niral Jagtap (IE), Kennesaw, GA
Sofia Laval (IE), Marietta, GA
Ethan Shaeffer (ME), Palmetto, GA
Federico Roma (ME), Milan, Italy
Jackson Eubanks (ME), Albany, GA
John Alexander (ME), Gainesville
Madeline Gorke (ME), Suwanee
Mary Bergin (ME), Cumming, GA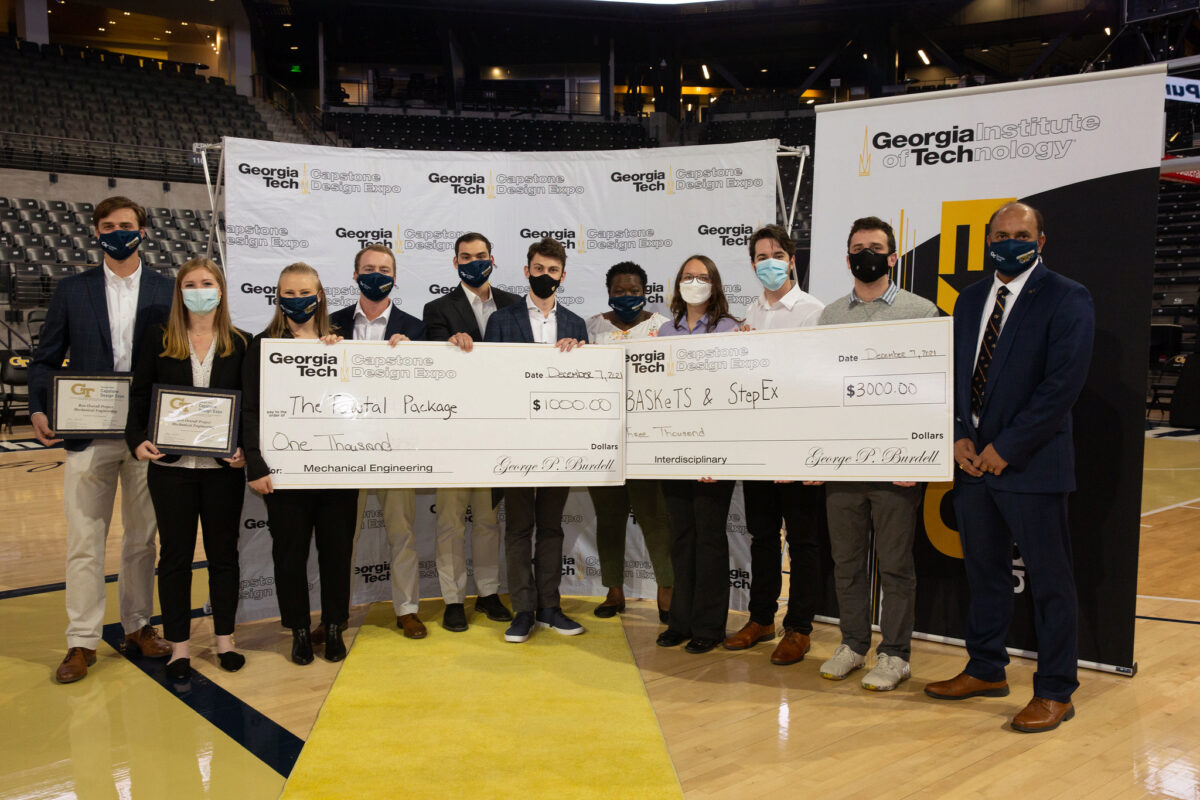 Interdisciplinary, In-person- BASKeTS
Alena Plaskett (BME), Suwanee, GA
Brittney Krajcovic (ME), Lawrenceville, GA
Kennedy Houston (CmpE), Lawrenceville, GA
Sydney Streib (ME), Cranberry Twp., PA
Sydney Grant (ME), Savannah, GA
Townley Meeske (ME), Coral Springs, FL
Interdisciplinary, Online- StepEx
Allen Zhou (ME), Selkirk, NY
Corben Miles (ME), Acton, MA
Evan Ortiz (ME), McDonough, GA
Nirosha Beekhuysen (ME), Herndon, GA
Sarah Tate (ME), Dacula, GA
Sofiya Vyshnya (BME), Atlanta, GA
Best Overall, In-person- carSEAL
Derek Prusener (BME), Arlington Heights, IL
Giancarlo Riccobono (BME), Weston, FL
Joshua Cruz (BME), Tampa, FL
Nicholas Lima (BME), Loveland, OH
Shovan Bhatia (BME), Miami, FL
Best Overall, Online- EsophaGuys
Madeline Beatty (BME), Peachtree City, GA
Maxina Sheft (BME), Vienna, VA
Samuel Gallemore (BME), Maryville, TN
Sydney Rosenberg (BME), Jupiter, FL