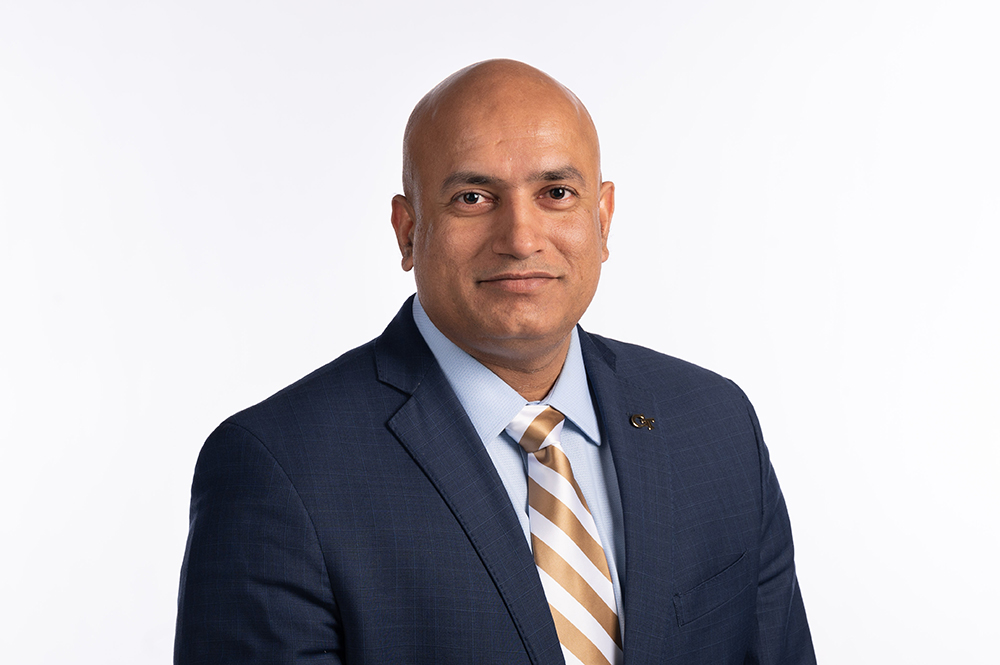 Devesh Ranjan Selected to Receive 2023 ASME Gustus L. Larson Memorial Award
May 9, 2023
By Ashley Ritchie
Devesh Ranjan, Eugene C. Gwaltney, Jr. School Chair and professor in the George W. Woodruff School of Mechanical Engineering at Georgia Tech, has been selected to receive the 2023 Gustus L. Larson Memorial Award from the American Society of Mechanical Engineers (ASME) and Pi Tau Sigma. The award is presented to an engineering graduate who has demonstrated outstanding achievement in mechanical engineering, within ten to twenty years following graduation.
"I am humbled and honored to have been selected for this prestigious award," said Ranjan. "I am grateful for my students, colleagues, and collaborators who have given me ongoing support throughout my career."
Ranjan's research focuses on the interdisciplinary area of power conversion and complex fluid flows involving shock and hydrodynamic instabilities. He also studies the turbulent mixing of materials in extreme conditions, such as supersonic and hypersonic flows. Ranjan serves as a co-director of the Department of Defense-funded University Consortium for Applied Hypersonics (UCAH). The UCAH is comprised of a network of universities, including Georgia Tech, that work with government, industry, national laboratories, and federally funded research centers to deliver the innovation and workforce needed to advance modern hypersonic flight systems in support of national defense.
Since joining the faculty in 2014, Ranjan has held a number of leadership positions at Georgia Tech. He served as interim vice president for Interdisciplinary Research, overseeing all interdisciplinary activities including the Interdisciplinary Research Institutes and Interdisciplinary Research Centers. He was also co-chair of Georgia Tech's hypersonics task force, which developed the Institute's blueprint for enhancing the campus's research capability in the field. Prior to being named Chair, Ranjan served as Associate Chair for Research and Ring Family Chair in the Woodruff School and also chaired the Fluid Mechanics Research Area Group.
Ranjan is an ASME fellow and has received numerous awards for his scientific contributions. He was Georgia Tech's first recipient of the Department of Energy's Early Career Award, received the National Science Foundation's CAREER award, and the U.S. Air Force Office of Scientific Research Young Investigator award.
He currently serves as the director of the Shock Tube and Advanced Mixing Laboratory. Ranjan's research group has published more than 100 research articles in peer-reviewed journals and conference proceedings. During his career, he has mentored more than 25 graduate and postdoctoral students and has received numerous awards for his educational efforts and mentorship activity. He has served as a Provost's Teaching and Learning Fellow, a Governor's Teaching Fellow, and a Diversity, Equity and Inclusion Fellow.
"Professor Ranjan is an outstanding scholar, who through his active student mentorship, diverse and inclusive student program development, and classroom teaching serves as an exceptional role model for both his students and other faculty," said President Emeritus and Regents' Professor G. P. "Bud" Peterson in his nomination letter.
Before coming to Georgia Tech, Ranjan was a director's research fellow at the Los Alamos National Laboratory and the Morris E. Foster Assistant Professor in the mechanical engineering department at Texas A&M University. He earned a bachelor's degree from the National Institute of Technology-Trichy in 2003, and a master's degree and a Ph.D. degree from the University of Wisconsin-Madison in 2005 and 2007 respectively, all in mechanical engineering.
The Gustus L. Larson Memorial Award presentation to Ranjan, normally conducted during the ASME International Mechanical Engineering Congress and Exposition, will be announced at a later date.
The award, established in 1974, honors Gustus L. Larson, ASME Fellow and founder of Pi Tau Sigma at the University of Wisconsin. He was a recognized leader in heating, ventilating, and air conditioning and was a former president of the ASHVE.