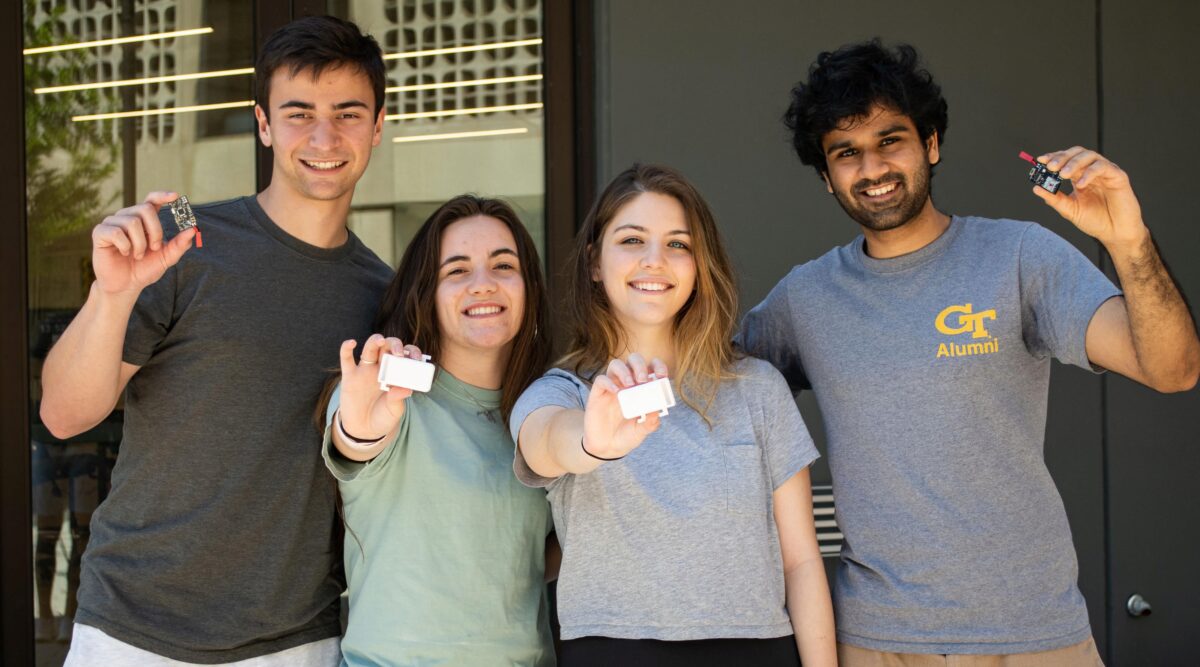 2021 Spring Capstone Expo Results
April 28, 2021
971 students spread across 186 teams competed in the Spring 2021 Capstone Design Expo, vying for a range of awards as they showcased their semester-long projects. They represented 10 schools from four of Georgia Tech's six colleges, with some pursuing their own projects while others tackled problems pitched by sponsors that included Coca-Cola, USAID, Amazon Freight, Atlanta Department of Transportation, Emory Healthcare, Robins Air Force Base, and a host of Georgia Tech researchers. Almost 2400 people attended the virtual Spring Capstone Design Expo which was hosted by Georgia Tech startup Gatherly for the third time. 
Working under challenging circumstances brought on by the ongoing pandemic, students had to balance safety concerns and the challenges of working remotely or in small, distanced groups when circumstances permitted.
"The biggest challenge to our Capstone project was the pandemic," said Melissa Rosenhauer, whose Ramblin' Wrecks team won the award for best mechanical engineering project. "Each team member was on a different schedule and some team members were even working remotely. It was hard making sure the workload was distributed evenly and that everyone was on the same page. Team members who worked remotely faced technology issues while team members who worked on campus faced Covid-19 related restrictions."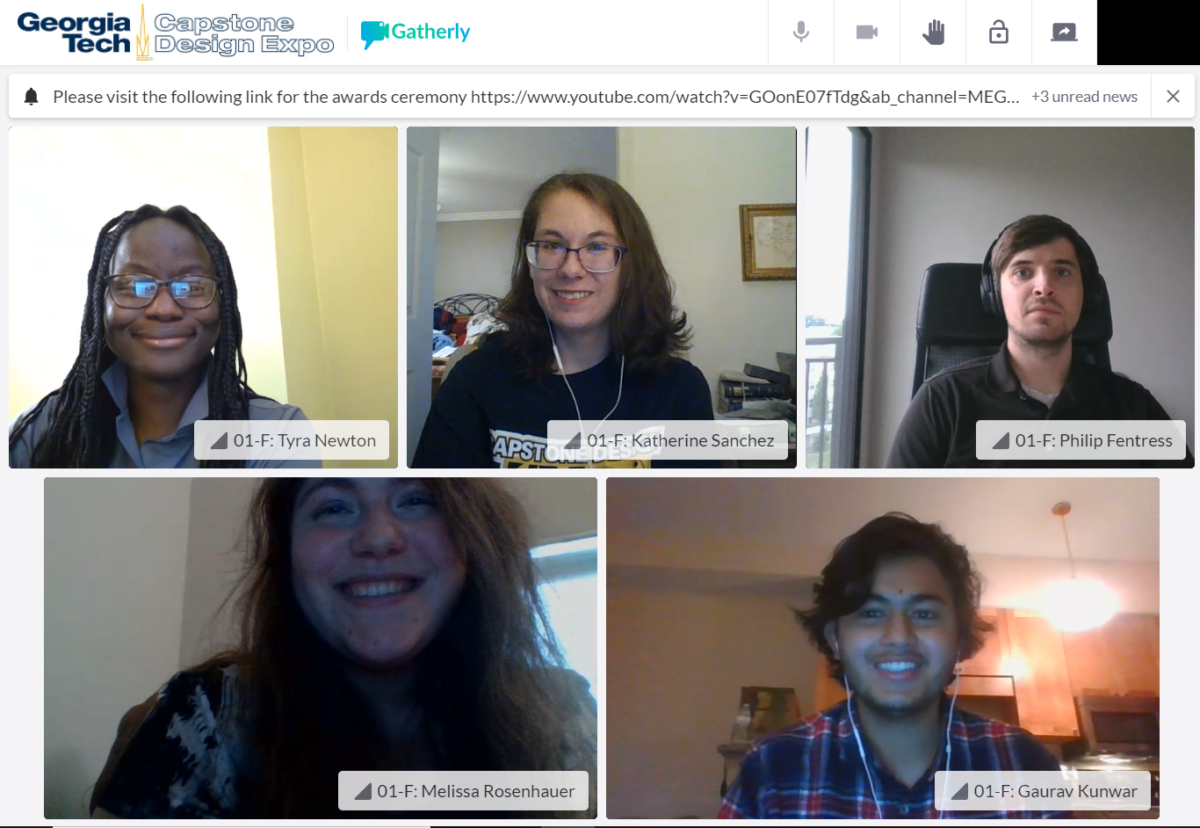 Those challenges didn't stop them from completing their sponsored project for TTI, the parent company of brands that include Ryobi, Milwaukee, HomeLite, Hoover, and Dirt Devil. The six teammates, who are all from Georgia, designed and built a modular system capable of comparing the integrity of individual fans for TTI tools across batches from different times and productions.
The Grass Gurus also worked on a sponsored project for TTI and took home the prize for top interdisciplinary project. The team of computer and mechanical engineering students developed a low cost sensor for Ryobi electric lawnmowers that notifies the user when the grass bag attachment is full. The sponsors were thrilled with the design and are exploring how to implement it in their products.
The award for best overall project went to StrideLink, an unsponsored interdisciplinary team of four students who set out with an ambitious goal of developing a low-cost gait analysis tool for physical therapists.
"We talked to 15 physical therapists and 12 researchers about gait analysis and we were able, as engineers, to look at how they did their jobs," said computer engineering major Marzeah Khorramabadi. "A large part of their job is watching people walk using only their naked eye, and hearing their frustrations we were really motivated to build a device that would actually change the way that they help people."
The team got to work designing a custom circuit board and 3D printed housing and built a wearable device that could go on a user's shoe to measure their gait. Over the course of the semester they worked with Georgia Tech research scientist Kinsey Herrin in Assistant Professor Aaron Young's EPIC Lab to validate their device by comparing it to results from a $40,000 research grade gait analysis system. Their team's results fell within their target range, varying from the research grade equipment's results by just 0.5%, which was an impressive outcome considering that StrideLink built their device for less than $20. Those results impressed the CREATE-X program, and StrideLink will participate in Startup Launch in the coming months in an effort to commercialize their project.
Like StrideLink, the team that earned the award for best electrical and computer engineering project plans to keep working long after the semester ends. There were actually three teams tasked with developing a low-cost, neonatal incubator for a hospital in Ghana. It had to be easy to debug and capable of being manufactured locally, which posed challenges for the groups.
"Creating a product that can be fabricated, assembled, and used in a place that's so different from the one that we are building it in is a really important design constraint and one that I think that we tackled very well," said Kyle Heiss.
The three groups became so emotionally invested in the project that they all want to see it through to completion.
"Meeting with the doctor and talking to him about his problem, and seeing how important it was for him and his team and hospital, and then being able to deliver designs and documentation to him is really important to all of us," said electrical engineering major Breanna Ivey.
"This is type of work that I think many of us are studying engineering for," added Srijan Duggal, a mechanical engineering student. "This is why we got into engineering- to make an impact through some physical solutions that can really change people's lives."
Award Ceremony Video
Results
Best Overall Project - StrideLink
Cassandra McIltrot (BME) - Sykesville, MD
Marzeah Khorramabadi (CmpE) - Birmingham, AL
Neel Narvekar (CmpE) - Arcadia, CA
Tony Wineman (EE) - Woodstock, GA
Austin Hatch (AE) - Kennesaw, GA
Benjamin Cohen (AE) - Dunwoody, GA
Christian Waegelin (AE) - Atlanta, GA
Samuel Williams (AE) - Wakefield, RI
Virinchi Puligundla (AE) - Marietta, GA
Arthima Chaisiri (Arch) - Norcross, GA
Chris Geng (Arch) - Atlanta, GA
Biomedical Engineering - Milk Maids
Amanda Wijntjes (BME) - Annapolis, MD
Austin Stachowski (BME) - Milton, GA
Emma Kate Costanza (BME) - Columbus, GA
Gabrielle Lonsberry (BME) - West Palm Beach, FL
Simran Dhal (BME) - Milton, GA
Alton Stovall - Memphis, TN
Breanna Ivey - Macon, GA
Dorsey Beckles - Lithonia, GA
Hunter Ellison - Evans, GA
Jacques Crawford - Atlanta, GA
Joel Mathew - Grayson, GA
Benjamin Leverett - Douglasville, GA
Hussain Miyaziwala - Seattle, WA
Huy Hoang - Stockbridge, GA
Ismael Dondasse - Atlanta, GA
Michelle Ray - Puerto Rico
Ruth Pavoor - Duluth, GA
Cassidy Fountain - Cochran, GA
Karinne Bernanke - Charlotte, NC
Kyle Heiss - Wilmington, DE
Paige Gohr - Laguna Niguel, CA
Srijan Duggal - New Orleans, LA
Zachary Byrd - Brooks, GA
Alyssa Hearn (ME) - Cumming, GA
Elizabeth Goetz (ME) - Germantown, TN
Leah Cohen (ME) - Dallas, TX
Madelyn Principe (ID)- Conyers, GA
Sapan Desai (ME) - Lawrenceville, GA
Shani Genosar (ID) - Suwanee, GA
Harper Power (IE) - Lanett, AL
John Raj (IE) - Cumming, GA
Kathryn Otte (IE) - Atlanta, GA
Matthew Oswald (IE) - Canton, GA
Rahil Manji (IE) - Alpharetta, GA
Vishal Hansalia (IE) - Atlanta, GA
Derek Doolittle (ME) - Hampton, GA
Gaurav Kunwar (ME) - Warner Robins, GA
Katherine Sanchez (ME) - Blairsville, GA
Melissa Rosenhauer (ME) - Lawrenceville, GA
Philip Fentress (ME) - Memphis, TN 
Tyra Newton (ME) - Gainesville, GA
Materials Science and Engineering - No Pressure
Aaron Thomas (MSE) - Corning, NY
Alexander Chen (MSE) - Whippany, NJ
Dustin Johnson (MSE) - Signal Mountain, TN
Eleanor Turaski (MSE) - Friendsville, TN
Matthew Kuner (MSE) - Los Angeles, CA
Music Technology - RT60
Connor Dowd (MT) - Atlanta, GA
Gus Campbell (MT) - Brookhaven, GA
Jordan Chatfield (MT) - Decatur, GA
Collin Dunn (NRE) - Spokane Valley, WA
Jeffrey Wang (NRE) - San Marcos, TX
Lucien Ewane (NRE) - Atlanta. GA
Luke Black (NRE) - Winder, GA
Ousmane Ndiaye (NRE) - Decatur, GA
Andrew McGraw (PubP) - Wayne County, GA
Colin Masterson (PubP) - Cumming, GA
Josette Vanderlaan (PubP) - Las Vegas, NV
Madeline Bruning (PubP) - Athens, GA
Mira Kaufman (PubP) - Atlanta, GA
Anne Hardin (PubP) - Atlanta, GA
Dalton Booker (PubP) - Pulaski, GA
Grace Fletcher (PubP) - Thomasville, GA
Peter Tilly (PubP) - Roswell, GA
William Marchant (PubP) - Sandy Springs, GA
Alex Field (ME) - Brookhaven, GA
Eli Tiemann (ME) - Millstadt, IL
Joshua Shafran (CmpE) - Kingston, NY
Maxwell Koerner (ME) - Penn Valley, PA
Phillip Holloway (ME) - Atlanta, GA
Samuel Kiley (CmpE) - Duluth, GA
Haolin Ye (IE) - China
Heewon Jeong (IE) - Korea
JIANZHE (Andy) Xu (IE) - Beijing, China
Joan Saheb (IE) - Amman, Jordan
Juan Redondo Albertos (IE) - Ponferrada, Spain
Marc Al Haj (IE) - Beirut, Lebanon
Mukram Aljandali (IE) - Homs, Syria
Baran Usluel (EE) - Ankara, Turkey
Bing Guo (ME) - North Potomac, MD
Josiah Keene (ME) - Demorest, GA
Karl Andraos (ME) - Beirut, Lebanon
Mark Faingold (CmpE) - Saint Petersburg, Russia
People's Choice - BarMobil
Aaron Cahn (ME) - Cleveland, OH
Emil Muly (ME) - Sandy Springs, GA
Madison Harrill (ME) - Jesup, GA
Trevor Daino (ME) - Waxhaw, NC
Zachary Elrod (ME) - Moreland, GA