Education
Ph.D., Ghent University, Belgium, 2005
M.Sc., Katholieke Universiteit Leuven, Belgium, 2000
B.Sc., Katholieke Universiteit Leuven, Belgium, 1996
Background
Dr. Declercq began at Tech in 2006 as an Assistant Professor.  Prior, he was with Ghent University as a Postdoctoral Fellow of the Belgian National Science Foundation.
Research
Acoustics and Dynamics; Ultrasonic nondestructive evaluation, physical acoustics, acousto-optics,  materials characterization, acoustic microscopy and phononic crystals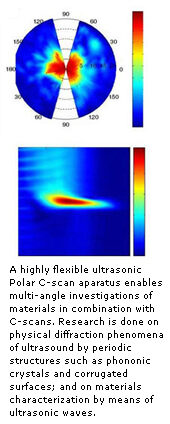 Declercq is conducting research in acoustics to develop new techniques for ultrasonic nondestructive evaluation (US-NDE) of novel complex materials (NCM) that are developed to solve some major engineering challenges. Examples include the determination of the structural integrity of aircraft (transportation) or of composite hydrogen storage tanks (energy), and imaging of interfacial properties in semiconductors (electronics). The NCMs of interest often have a periodic structure, can be isotropic or anisotropic, are pure materials or composites and appear in emerging technological areas such as nanotechnology and semiconductors. Characterizing the mechanical properties, determining the formation of internal stress and defects is important during design and development (for materials science), during production (for quality control) and during the life cycle (for periodic NDE). In principle US is capable of imaging the exterior and interior structure of NCMs, as is X-ray imaging, but US can also determine the bonding quality between different constituents, interfacial stress (for instance due to atomic lattice mismatch), local stiffness, etc. In practice, however, the interaction of sound with NCMs is extremely complex.
Declercq's research is particularly devoted to investigating the different acoustical phenomena taking place during the interaction of sound with NCMs. Each phenomenon is studied separately, usually beginning with large structures, followed by miniaturization, with the aim of ultimately understanding the entire interaction of US waves with NCMs, and with the overall goal of developing useful NDE techniques. As a result Declercq solves problems in different areas of physical acoustics and specializes in theoretical, numerical and experimental research. 
European Union PromoDoc Ambassador
President of the 2015 International Congress on Ultrasonics, Metz, France
President of the steering committee of the International Congress on Ultrasonics, 2013-2015
European Union PromoDoc Ambassador
Sigma Xi (Georgia Tech Chapter) Young Faculty Award, 2008
International Commission on Acoustics Early Career Award, 2007
The NOVOFER Foundation for Technical and Intellectual Creation (Hungary) International Dennis Gabor Award, 2006
OPTIMESS 2007 (Optical Measurements Techniques for Structures & Systems) Scientific Committee Member, Leuven, Belgium, 2006
Associate Editor European Journal of Acoustics (Acta Acustica United with Acustica)
Ultrasonics Guest Editor, Elsevier, 2005
Representative Publications
Jingfei Liu and Nico F. Declercq. 2012. Air-Coupled ultrasonic investigation of stacked cylindrical rod.  Journal of the Acoustical Society of America 131(6), 4500-4507.
Rayisa P. Moiseyenko, Sarah Herbison, Nico F. Declercq, Sarah Benchabane, Vincent Laude. 2012."Phononic crystal diffraction gratings", Journal of Applied Physics 111(3), 034907.
Nico F. Declercq, Katrien Dewijngaert, Katelijn Vanderhaeghe, Patricia Verleysen. 2011.  An acoustic diffraction study of a specifically designed auditorium having a corrugated ceiling : Alvar Aalto's lecture room.  Acta Acustica United with Acustica 97(4), 599-606.
Sarah Herbison, Nico Declercq, and Mack Breazeale. 2009. Angular and Frequency Spectral Analysis of the Ultrasonic Backward Beam Displacement on a Periodically Grooved Solid. Journal of the Acoustical Society of America 126(6), 2939-2948.
Jorge Antonio Cruz Calleja, and Nico F. Declercq. 2009. The Acoustic Raindrop Effect at Mexican Pyramids: The Architects' Homage to the Rain God Chac?, Acta Acustica united with Acustica 95(5), 849-856.
Vitaly Voloshinov, Nataliya Polikarpova, and Nico F. Declercq. 2009. Reflection of Plane Elastic Waves in Tetragonal Crystals with Strong Anisotropy. Journal of the Acoustical Society of America 125(2), 772-779.
Nico F. Declercq, et al. 2004. Theory of the Backward Beam Displacement on Periodically Corrugated Surfaces and Its Relation to Leaky Scholte-Stoneley Waves. Journal of Applied Physics 96(11), 6869-6877.
Nico F. Declercq, et al. 2004. A Theoretical Study of Special Acoustic Effects Caused by the Staircase of the El Castillo Pyramid at the Maya Ruins of Chichen-Itza in Mexico.Journal of the Acoustical Society of America 116, 3328-3335.