Acoustics/Dynamics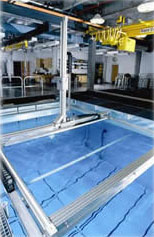 The graduate research program in Acoustics and Dynamics is devoted to an exploration of vibratory phenomena that are encountered in structural systems, in the air, and in the water. In fluid media, these vibrations are called sound, so the area is referred to as acoustics, but many of the questions and research tools are common to all areas. The basic objective shared by the projects is to understand the mechanisms by which the vibration or sound is initially generated, or modified as it propagates, or detected by the receiving transducer. In many cases, this information can be used to characterize the propagation medium. In some cases, this will lead to concepts for reducing the signal, but there are many situations where it is desirable to enhance it.
A recent project has explored the measurement of vibration using laser Doppler techniques. The concept is to make noncontact, high resolution measurements of surface motion by exploiting the Doppler shift that results when a laser beam reflects off a vibrating body. The technique is being used to characterize the rubber-like coatings used to quiet submarines. A very different line of research is devoted to using ultrasonic signals to detect defects in structures, for example, helicopter parts. A project that combines ultrasonics with laser techniques is material characterization by noncontact laser ultrasonics, that is, when ultrasound is generated and detected by laser beams. An interesting biological project is exploring the effects of loud signals in the water, with the objective of assisting navy divers. One of the uses of the anechoic testing facility is to improve analysis and measurement techniques for reducing noise in various systems; for example, interior cabin noise in aircraft or automobiles, or fan and pump noise. It is also being used to study and calibrate acoustic sources and receivers, and acoustic materials. A recent use of the facility included the assessment of the impact of protective clothing, such as an air-fed plastic suit, on the ability of a wearer to hear an alarm signal.
A novel project is exploring the use of wedges to produce shock absorbers that are effective for both vibration reduction and shock isolation, which present conflicting requirements for design. A recent project has begun to examine concepts for experimental modal analysis that would be suitable for heavily damped and rotating systems, as well as systems that have closely spaced natural frequencies. Each of these applications presents significant difficulties for current techniques.
Research funding is derived primarily from the Office of Naval Research, the National Science Foundation, the National Aeronautics and Space Administration, and industries such as Ford Motor Company, Cummins Engine Co., Lockheed-Martin Corporation, Newport News Shipbuilding, and Tenneco.
| | | | | |
| --- | --- | --- | --- | --- |
| Primary Academic Faculty |   | Associated Academic Faculty |   | Research Faculty |
---
Research Facilities

Active Control Laboratory
J. Erskine Love Jr. Manufacturing Building
(Faculty and graduate student offices and labs)
Integrated Acoustics Laboratory
Laboratory for Functional Materials at Georgia Tech Lorraine
Underwater Acoustics Research Laboratory

 

Testimonials

 

Related Acoustic Sites