Education
Ph.D., University of Houston, 1992
M.S. (Ingenieur), University of Twente, The Netherlands, 1987
Research Areas and Descriptors
Background
After completion of his master's thesis in mechanical engineering, Dr. Bras was hired as a full-time research associate at the Maritime Research Institute Netherlands' (MARIN) Design Research Department and was sponsored by MARIN to complete a doctoral study in the United States. Upon completion of his Ph.D., he received a postdoctoral grant from the Institute of Space Systems and Operations at the University of Houston. He began at Tech in Fall 1992 as an Assistant Professor. In 2001 he was appointed Director of the Institute of Sustainable Technology and Development.
Research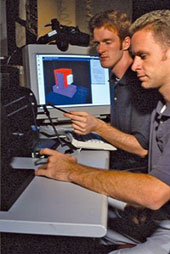 Dr. Bras's research focus is on environmentally conscious design and manufacturing, design for de- and remanufacture, activity-based costing and environmental management, and industrial ecology. His primary research question is how to reduce the environmental impact of companies while increasing their competitiveness, that is, how to promote sustainable development. The increasing awareness of environmental issues has challenged engineers to create more environmentally benign products and processes. For example, European takeback mandates and voluntary agreements have forced manufacturers who operate globally to take back their products after use and demanufacture them for recycling.
One specific research thrust focuses on assessing the total environmental and economic impact of products and processes during their life, and how these tools and technologies can (best) be integrated in engineering and business practice. He is currently working with colleagues in Industrial and Systems Engineering and research engineers in the Manufacturing Research Center's Environmentally Conscious Design and Manufacturing program on new tools that allow companies to see (real-time) what the economic and environmental impact of their production processes are, analogous to the dashboard of an automobile. Graduate students from Mechanical Engineering, Industrial Engineering, and Management are working with large as well as small and medium-sized Enterprises to model their production facilities.
Dr. Bras is also investigating the role that computer simulation can play in benchmarking and feasibility studies of improved product and process designs. One project sponsored by the National Science Foundation is focused on studying the benefits and limitations of employing virtual reality as well as haptic (force-feedback) tools in prototyping disassembly processes.
He has received funding and donations for his research from the National Science Foundation, the Georgia Research Alliance, the Army Environmental Policy Institute, AT&T, Motorola, Ford, Chrysler, and Interface Flooring Systems, among others.
Distinctions
Georgia Institute of Technology Outstanding Interdisciplinary Activity Award, 2007
Woodruff Faculty Fellow, 2002-2007
Society of Automotive Engineers Ralph R. Teeter Educational Award, 1999
National Science Foundation Faculty Early Career Development Award, 1996-2000
Georgia Society of Professional Engineers Metro-Atlanta Engineer of the Year in Education Award, 1996
American Society of Mechanical Engineers Design Theory and Methodology Conference Distinguished Paper Award (Co-authored with P. J. Newcomb and D. W. Rosen), 1996
Georgia Institute of Technology

Institute of Sustainable Technology and Development Director, 2001-2004
Center for Enhancement of Teaching and Learning/Amoco Junior Faculty Teaching Excellence Award, 1995
Representative Publications
A. S. Coutee, S. D. McDermott, and B. Bras. 2001. A Haptic Assembly and Disassembly Simulation Environment and Associated Computational Load Optimization Techniques. ASME Journal of Computing & Information Science in Engineering 1, 113-122.
J. Emblemsvg and B. A. Bras. 2000. Activity-Based Cost and Environmental Management A Different Approach to the ISO 14000 Compliance. Kluwer Academic Publishers, Amsterdam.
M. McIntosh and B. A. Bras. 1999. Product, Process, and Organizational Design for Remanufacture An Overview of Research. International Journal of Robotics and Computer Integrated Manufacturing 15, 167-178.
S. L. Coulter, et al. 1998. Designing for Material Separation: Lessons from Automotive Recycling. Journal of Mechanical Design 20, 501-509.
B. Bras. 1997. Incorporating Environmental Issues in Product Realization. Industry and Environment, United Nations UNEP/IE 20, 7-13.