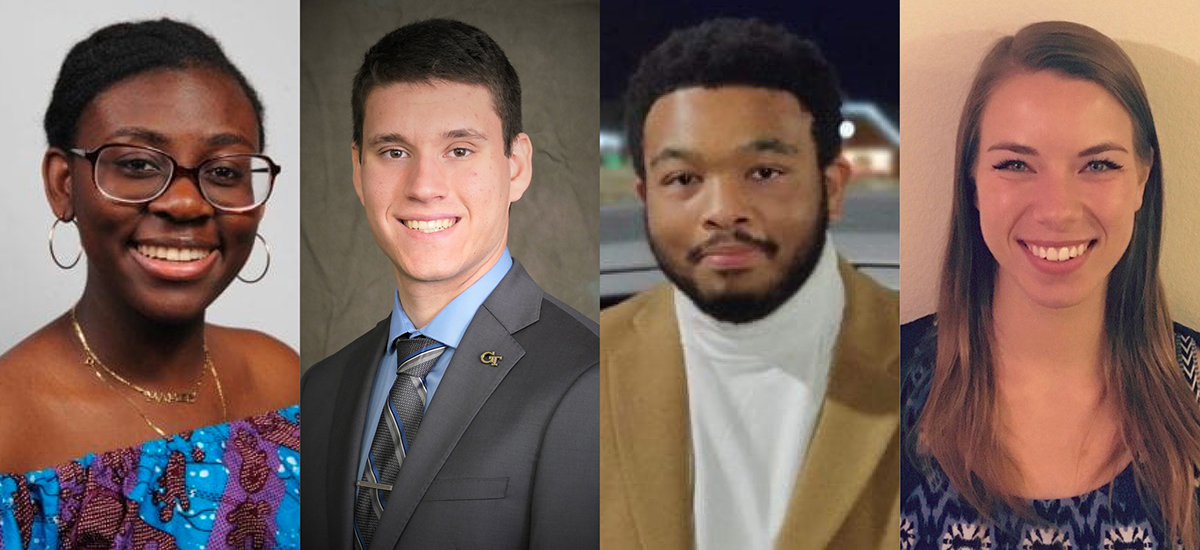 Pictured left to right: Bettina Arkhurst, Daniel Johnson, Walter Parker, Alexandra (Lexie) Schueller 
Woodruff School Students Selected as Novelis Scholars for 2022-2023
January 18, 2023
By Walter Rich
Three graduate students and one undergraduate student from the George W. Woodruff School of Mechanical Engineering have been selected for the Novelis Scholars program for 2022-2023. This is the second year of the Novelis Scholars program.

The Novelis Innovation Hub at Georgia Tech launched the Novelis Scholars program in 2021. The program seeks to recognize and cultivate top graduate students conducting research in various aspects of sustainability, high-throughput materials discovery, surface functionalization, and artificial intelligence (AI)/data science applications in materials, manufacturing, and supply chain technology.
The 2022-2023 Novelis Scholars from the Woodruff School are:
Bettina Arkhurst: Bettina Arkhurst is a Ph.D. candidate in the George W. Woodruff School of Mechanical Engineering at Georgia Tech and an energy equity intern in the Accelerated Deployment and Decision Support Center at the National Renewable Energy Laboratory (NREL). She holds a bachelor's degree in mechanical engineering from MIT and a master's degree in mechanical engineering from Georgia Tech. Bettina strives to create tools and frameworks for mechanical engineers to apply as they design energy technologies for all communities. Her dissertation research seeks to understand how concepts of energy justice can be applied to renewable energy technology design to better consider marginalized and vulnerable populations. Additionally, Bettina is passionate about education, accessibility, and inclusion, and has collaborated with colleagues on NREL's University Partnerships team to create the NREL Student Training in Applied Research (STAR) internship program. She also serves as the technical lead for a research project at NREL dedicated to integrating energy justice in early-stage research. As an undergraduate, Bettina found her passion for community-building and promoting mental health. She is a leader in the mechanical engineering department's graduate student mental health committee, which seeks to improve the culture around mental health among graduate students in the department. Bettina is a National Science Foundation Graduate Research Fellow, Alfred P. Sloan Scholar, and Georgia Tech Brook Byers Institute for Sustainable Systems Graduate Fellow.
 
Daniel Johnson: Daniel Johnson is a fourth-year undergraduate student at Georgia Institute of Technology pursuing his bachelor's degree in mechanical engineering. Daniel has been working with the Enhanced Preparation for Intelligent Cybermanufacturing Systems (EPICS) research group under Dr. Christopher Saldaña since fall 2021, working on multiple projects related to advanced additive manufacturing (AM) systems such as metal 3D printing. His work focuses on using multi-dimensional image processing techniques integrated with machine learning algorithms to automate the detection and visualization of laser powder bed fusion (LPBF) additive manufacturing components. Using computed tomography (CT) devices, he has conducted inspections of complex AM geometries with the ultimate goal of combining quantitative CT data with mechanical testing data for the establishment of quality metrics. More recently, Daniel has also worked with wire arc additive manufacturing (WAAM) technology, a similar process to welding.  He has conducted hardness testing of bead samples to correlate mechanical properties with in-situ process parameters such as linear energy density. He is also working to develop models for predicting bead hardness given in situ-process measurements. Looking forward, Daniel plans to continue his research at a graduate level in pursuit of a Master of Science in mechanical engineering.
 
Walter Parker: Walter Parker is a Ph.D. student in mechanical engineering at Georgia Tech, with a research focus on thermally driven desalination systems for clean water production. He received his B.S. in mechanical engineering at the University of California, Davis in 2018 and his M.S. in mechanical engineering at Carnegie Mellon University (CMU) in 2020. At CMU, Walter worked in The Malen Laboratory where he designed and modeled a dynamic insulation that leverages the external environment to reach desired temperatures. In summer 2021, Walter was a GEM Fellow at the National Renewable Energy Lab, where he developed thermal models for building applications. Walter's hobbies include cooking and dancing (Salsa and Bachata).
 
Alexandra (Lexie) Schueller: Alexandra Schueller is currently a fourth-year mechanical engineering Ph.D. student at Georgia Tech, working under Dr. Christopher Saldaña. She previously received a B.S. in 2019 from The University of Texas at Austin and an M.S. in 2021 from Georgia Tech, both of which were in mechanical engineering. Her research interests include investigations at the intersection of machine learning, process monitoring, and advanced manufacturing systems. Her master's thesis focused on the development and augmentation of ensemble machine learning models to improve tool condition monitoring systems and the efficiency of industrial machining processes using sound, power, and force signals. Her dissertation research focuses on the smart monitoring and control of metal wire arc additive manufacturing processes through processing infrared images in real time, with the aim of improving part dimensional accuracy, decreasing manufacturing time, and reducing scrappage. Her work has been published in The Journal of Manufacturing Science and Engineering and The Journal of Manufacturing Processes.
Novelis has partnered with Georgia Tech to collaborate on research and development and promote the education of the next generation of engineers dedicated to making better products that lead to a more sustainable world. Novelis is headquartered in Atlanta with a global footprint, over 12,500 employees, and recorded $17.1 billion in net sales for its 2022 fiscal year. Novelis expanded its research partnership with Georgia Tech in 2021.
The full list of the 2022-2023 Novelis Scholars can be found here. The Novelis Innovation Hub expects to issue its next call for Novelis Scholars for the 2023‐2024 Academic Year in late Spring/early Summer 2023.