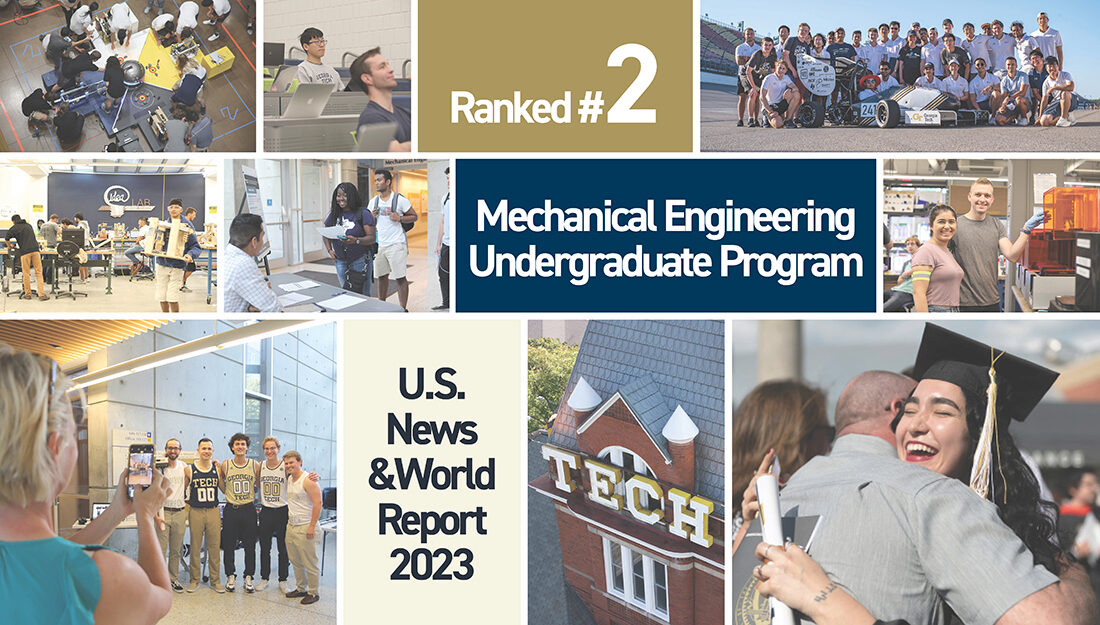 Woodruff School Ranked #2 in 2023 Undergraduate Rankings
September 12, 2022
The George W. Woodruff School of Mechanical Engineering is ranked No. 2 in the nation, according to the 2023 U.S. News & World Report Best Colleges rankings of undergraduate mechanical engineering programs. The position is unchanged from last year, and once again places the Woodruff School first among public universities.
We are incredibly excited to be ranked as the top public mechanical engineering program in the nation and No. 2 overall – again," said Devesh Ranjan, Eugene C. Gwaltney, Jr. Chair. "This ranking confirms that the Woodruff School is delivering on our vision of being an inclusive and equitable community recognized for its preeminent education, the development of leaders, and the creation of innovative technological solutions to advance humanity and our global community. All of our success is a true testament to our outstanding students, faculty, staff, alumni, and friends. I am grateful for their contributions and I look forward to maintaining our high-quality program and commitment to inclusive excellence for years to come.
All 10 of the College's undergraduate programs remain ranked in the top five for the fifth year in a row.
Overall, the College is ranked No. 4 in the country — continuing a seven-year streak in that spot — and again tied with the California Institute of Technology. Among public universities, the College is No. 2 in the country.
Individual engineering discipline rankings are based solely on surveys of deans and faculty members at other universities. The U.S. News rankings are one indicator of the quality of an institution and can influence undergraduates, professors, prospective students, peer institutions, and the media.
U.S. News' graduate program rankings are released each spring. The Woodruff School's mechanical engineering graduate program moved into a tie for 4th (2nd among public universities) in the most recent edition, and Georgia Tech's nuclear engineering program, which is housed in the Woodruff School, is ranked 9th in the nation.