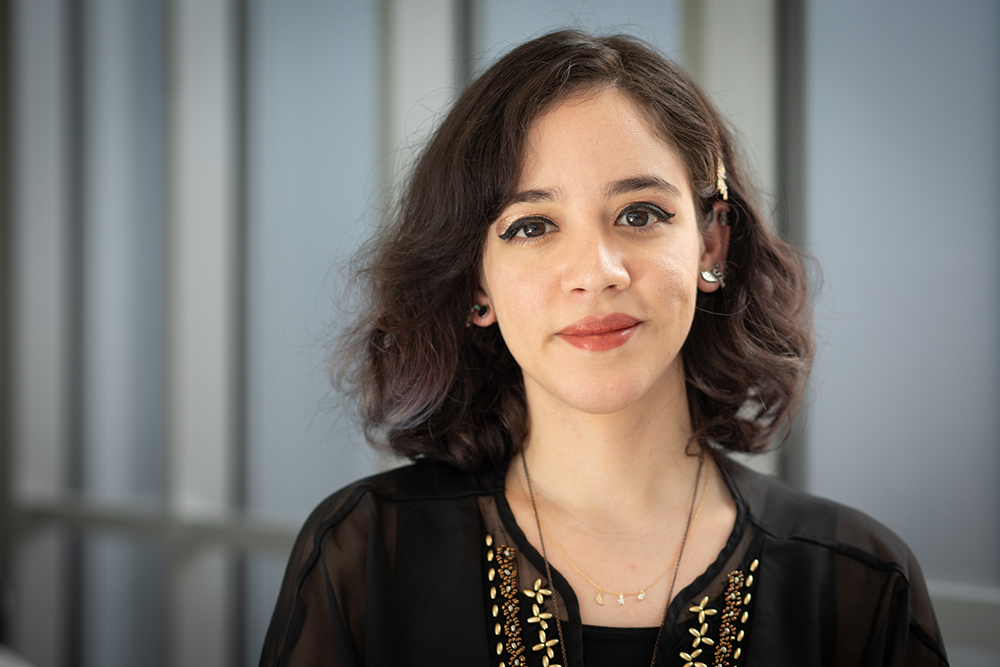 Woodruff School Graduate Student Carolina Colón Named STAR Award Honoree
The first-generation bioengineering Ph.D. student will receive the Role Model Award at the 2023 SHPE National Convention.
September 27, 2023
By Chloe Arrington
Carolina Colón, a graduate research assistant and bioengineering Ph.D. student in the George W. Woodruff School of Mechanical Engineering, has been named a Society of Hispanic Professional Engineers (SHPE) Technical Achievement and Recognition (STAR) Award honoree. She will be recognized with the Role Model Award during the SHPE National Convention being held in Salt Lake City, Utah on November 1-5. 
STAR Awards honor outstanding professionals and students for their dedicated actions and efforts to advance the careers of Hispanics in STEM. Colón, who was born and raised in Puerto Rico, expressed how extremely honored she is to receive such a distinction.  
"I wouldn't be where I am today if it wasn't for the many people I looked up to and guided me to where I am now. For that reason, it is humbling to be recognized as a role model myself, since these words mean so much to me," said Colón. 
Receiving this award is also meaningful for Colón as she is always trying to emulate the support she has received in her career and believes in paying forward anything you are given and working together to help others achieve their full potential. 
"Even if we all have the same experiences, we learn different things from those experiences, and sharing that with others, I believe, is a beautiful and powerful thing," she stated.   
After moving to Florida to complete her last year of high school, Colón began her engineering journey at Valencia Community College before transferring to Florida Tech where she received her B.S. in aerospace engineering.  
During this time, Colón developed a connection with Georgia Tech by participating in multiple Research Experiences for Undergraduates (REU) programs on cell therapy. These programs helped inspire her varying research interests and goal of merging the fields of aerospace and bioengineering. 
Now at the Woodruff School, Colón is the first person in her family to be pursuing a Ph.D. and credits the strong relationships and support she has received for achieving this.
"I have been very fortunate to have gained invaluable knowledge from every single person involved in my life and believe that everyone has something to share that will benefit others," she said.
Colón is co-advised by Todd Sulchek, Regents' Innovator and professor in the Woodruff School, and Jud Ready, principal research engineer at Georgia Tech Research Institute. She is currently researching T-cell mechanics, how they differ between cell phenotypes, and how to use these mechanical property differences as cell therapy potency markers. She hopes to translate this research into the space environment to create cell therapies for astronauts on long-term space missions. 
Last academic year, Colón received the Woodruff School First Generation Fellowship and the inaugural Women of Woodruff Fellowship. She has participated in and presented at various conferences and during her free time, enjoys mentoring and helping others learn about graduate school at her former community college and through SHPE and the Society of Women Engineers (SWE).