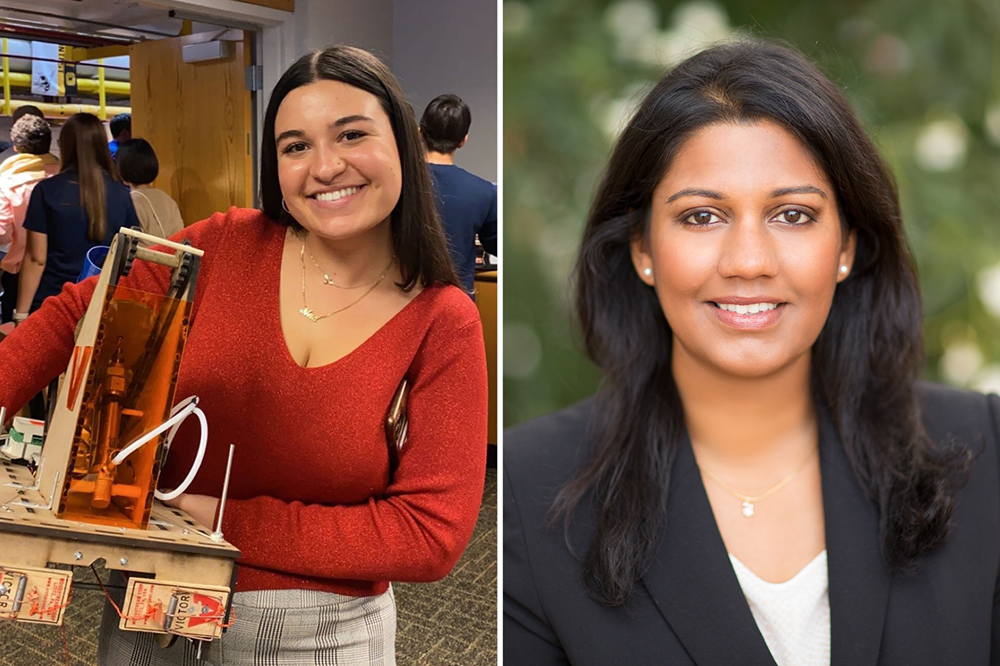 Pictured from left to right: mechanical engineering undergraduate student Ana Pizarro and alumna Shweta (Shay) Natarajan
Women's History Month Spotlight, Part I
March 16, 2023
By Chloe Arrington
The George W. Woodruff School of Mechanical Engineering is celebrating Women's History Month by shining a light on some of the women in our community. March has been recognized as Women's History Month around the world for over three decades. It serves to highlight and celebrate the achievements of and continue the fight for equality for women in every field.  
We asked mechanical engineering undergraduate student Ana Pizarro and alumna Shweta (Shay) Natarajan to talk about their experiences as women in STEM and higher education, what they have learned, and what they hope to pass on and inspire in others. 
 
Introduce yourself! Where are you from and what is your role at the Woodruff School? 
Natarajan: 
My name is Shweta Natarajan, I go by Shay. I grew up in India and came to the U.S. to study at Georgia Tech. I have a B.S. and M.S. in mechanical engineering and my husband, Ashok, also has an M.S. in mechanical engineering, all from Georgia Tech, so I have deep ties to the Woodruff School. I'm also on the Woodruff School Advisory Board and one of the founding members of the Women of Woodruff. 
Pizarro: 
Hi! My name is Ana Pizarro, and I was born and raised in Miami, Florida. I am a third-year undergraduate student in the Woodruff School of Mechanical Engineering at Georgia Tech. 

What drew you to a career in higher education/ STEM? 
Natarajan: 
I loved math and physics in high school. I loved math so much that I would do it for fun, to help me relax after a long day at school. I always knew that I wanted to study either mathematics or engineering, and I chose engineering because the job prospects were broader after graduation. I was initially in the aerospace engineering program at Georgia Tech but switched to mechanical engineering at the end of my sophomore year. Mechanical engineering is a very multidisciplinary field - mechanical engineers learn and use several aspects of mathematics, material science, electrical engineering, computer science, and aerospace engineering, and I found the complex, broad, and ambiguous nature of mechanical engineering problems fascinating. Studying mechanical engineering has made me a good problem solver and laid the foundation for the varied and exciting career that I have been lucky to have.  
Pizarro: 
From a young age, I always took an interest in math and science. My dad is a biomedical engineer and works in the medical devices industry. I loved how engineering allowed him to use his skills in STEM to create something that can change people's lives. I wanted a degree that would give me the assets to use my creativity and think outside the box. Mechanical engineering fit this perfectly. 

Who are some women of history, and present day, that are inspirations to you? 
Natarajan: 
There are so many! Some women in STEM who inspire me are Ada Lovelace, Marie Curie, and Kalpana Chawla. I am also very inspired by the works of Maya Angelou. All these women faced tough personal or professional challenges, but were able to overcome them through their intelligence, perseverance, and love for their work. I also derive a lot of inspiration from the hundreds of thousands of women who have worked in STEM fields globally over the last century. They have paved the way for my generation.  
Pizarro: 
A woman that I admire greatly is Debbie Sterling. She is a mechanical engineer and founder of a toy company called GoldieBlox. GoldieBlox is a book series and construction set that engages kids to build through the story of Goldie, the girl inventor who solves problems by building simple machines. GoldieBlox introduces kids to STEM in a familiar and approachable way – through toys. Many women are not exposed to STEM at a young age. Sterling's company focuses on tackling the gender gap in the STEM field at the root, which is getting young girls exposed to engineering. I am grateful that I was exposed to engineering through my dad and admired the work he did. Hopefully, young girls can be introduced to engineering through Goldie, follow along with her story, and find a passion for STEM. 

Is there a woman that history forgot (perhaps someone in STEM but not necessarily) who you would encourage people to learn about? 
Natarajan: 
I would encourage them to learn about Katherine Johnson. Katherine was one of NASA's "human calculators" - one of the hundreds of mathematically gifted women that NASA employed in the 1940s through the 1960s to perform complex computations before there were computers. Katherine's computations were an integral part of Freedom 7, the USA's first human spaceflight in 1961. Katherine also won the Presidential Medal of Freedom (the USA's highest civilian award) in 2015. The U.S. Army also employed hundreds of such women to perform calculations, and in fact, Eniac - the first general-purpose computer was programmed by a team of such women. 
Pizarro: 
As a girl interested in science and engineering it was hard to find women role models. It would have been very encouraging to have learned about great female scientists like Hedy Lamarr, a woman best known for her work as an actress, but she made great contributions to the STEM field as well. She invented frequency hopping technology which was the first form of wireless communication. She is considered "the mother of Wi-Fi." Lamarr passed in 2000 but was inducted into the National Inventors Hall of Fame in 2014. 

What would you tell young women who want a career in STEM, and is it the same thing you wish someone had told you? 
Natarajan: 
Focus on studying emerging technologies that are still under development and have not yet been commercialized. By the time you graduate, your domain knowledge and expertise will become extremely valuable to employers.  
Pizarro: 
Engineers are creating global solutions. The engineering field needs diverse perspectives and people from different walks of life who can come together to make this world a better place. As women, we bring new perspectives to the STEM field and are a critical component in fostering global change. I wish someone would have told me at a young age how important inclusivity is in the STEM field. 

How would you encourage men to advocate for and amplify the voice of women in higher education/STEM? 
Natarajan: 
Create professional opportunities for smart, capable women and speak up for them when they're not in the room. Connect promising junior women colleagues to senior women executives in your company. Networking opportunities, sponsors, and role models are often limited for women - and the lack of role models is most acute for talented and ambitious women of color.  
Pizarro: 
I would encourage men to understand the importance of equal representation in the STEM field. Diversity should not be something we simply check off our to-do list – there are always new opportunities for learning and growth. Different perspectives should not be viewed as an opposition, but rather as an enrichment. It is important to create safe spaces, so people of all identities feel encouraged to use their voices. 
---
Stay tuned: The Woodruff School will release part II of our Women's History Month Spotlight later this month, featuring faculty member Shaheen Dewji and staff member Ranjini Unnikrishnan.