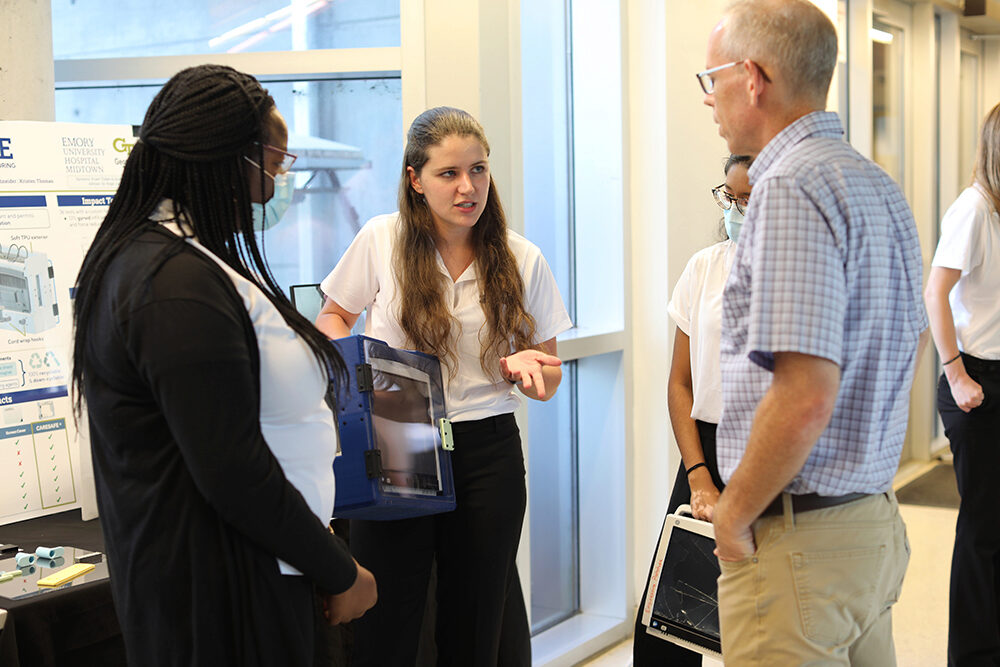 Sponsored Teams Win Top Prizes at Capstone Design Mini-Expo
July 28, 2022
By: Ashley Ritchie
Keep the Beep, a team sponsored by Emory University Hospital – Midtown, and Ball Blockers, a team sponsored by Georgia Tech Athletics, took home top prizes at the summer 2022 Georgia Tech Capstone Design Mini-Expo, held on Tuesday, July 26.
At the Expo, over 30 seniors from mechanical engineering showcased their innovative projects designed during their Capstone Design course.
Team Keep the Beep, made up of Shivani Kundalia, Mark Leggiero, Mofoluwasade Popoola, Sabrina Schneider, and Kristen Thomas, won first place for their invention CARESAFE.
Currently, the General Electric (GE) Carescape B450 physiological monitor is used in the high-stress transport of critical care patients in Emory Hospitals. These monitors often endure rough handling in the form of drops or collisions, which severely fracture the screen and damage the body, rendering the monitor inoperative. These damages cost around $8000 to repair, and in the past 18 months, the Emory Midtown Hospital alone has logged 42 monitor breakages, accruing up to $336,000 in repairs.
Current market solutions do not protect the monitor when being actively operated and fail to be chemically resistant, making them ill-suited for this application. However, team Keep the Beep developed a protective casing that is chemically-resistant and permits in-field use without compromising normal hospital operations.
Blank Space (small)
(text and background only visible when logged in)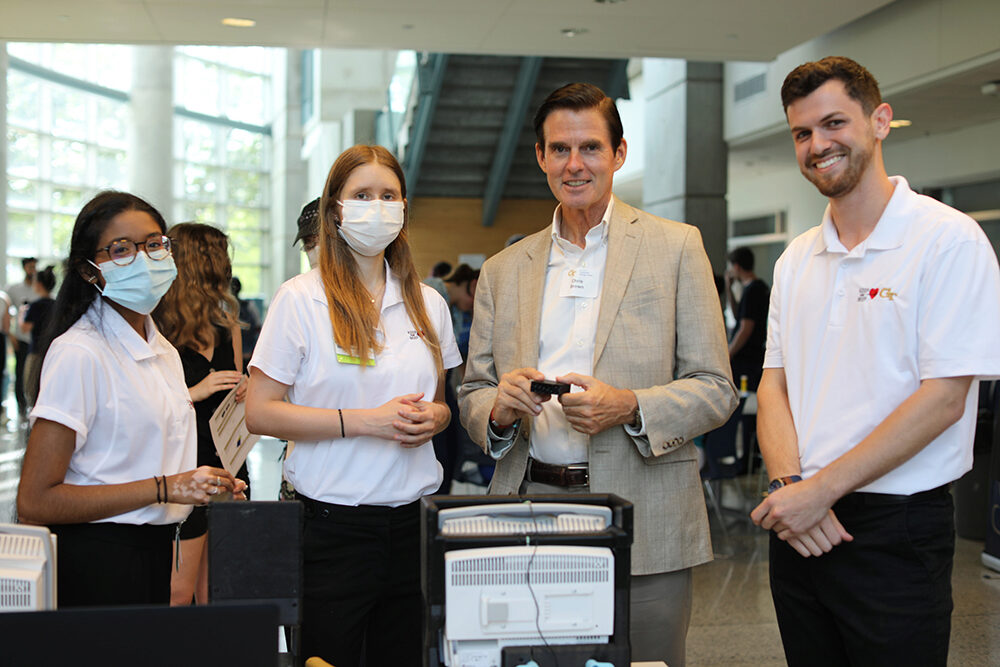 Blank Space (small)
(text and background only visible when logged in)
Team Ball Blockers, made up of Samuel Billand, Matthew Connelly, Jack Lawlor, Reilly Lennon, and Andre Roevens, won second place for their invention Ball Blocker.
Currently, all NCAA volleyball games use close-up shots to create a better viewing experience and a fairer game, but no company has created a mount that is capable of protecting the camera or keeping the camera position moving during the game. However, team Ball Blockers created a mounting and protection system designed for broadcasting cameras that contains innovative and novel features such as camera modularity, 3-dimensional adjustability, and world-class strength.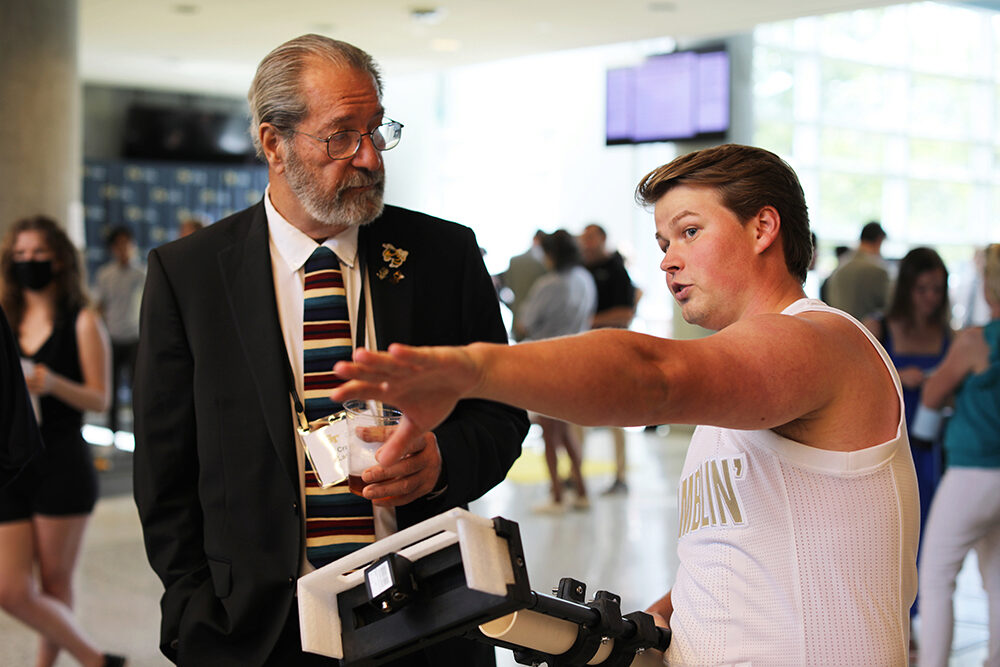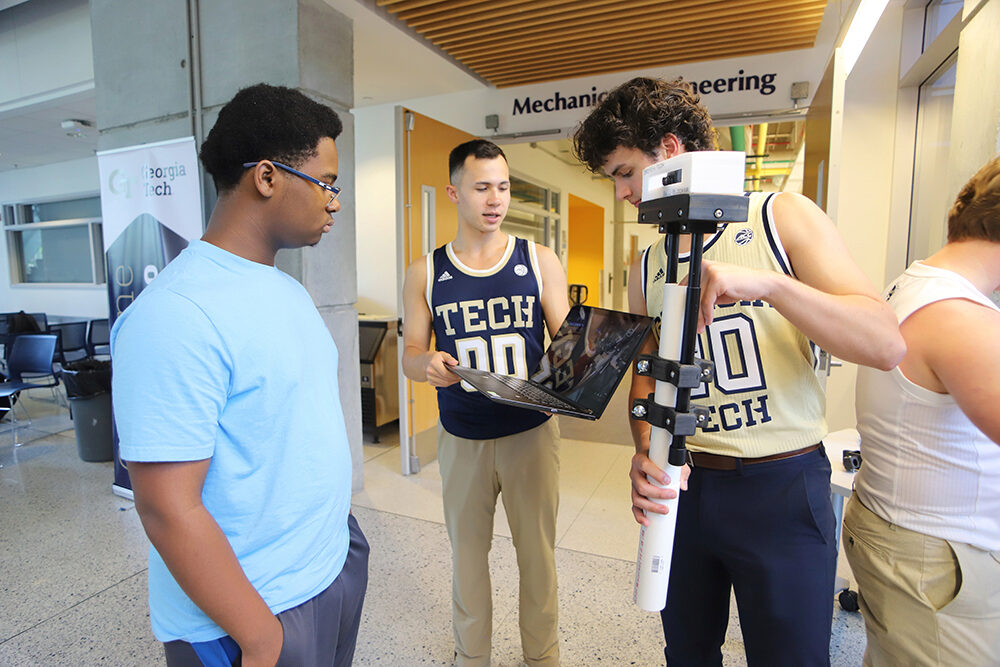 Additional teams who presented their projects at the Expo included:
A photo gallery from the summer 2022 Georgia Tech Capstone Design Mini-Expo can be viewed on Flickr.