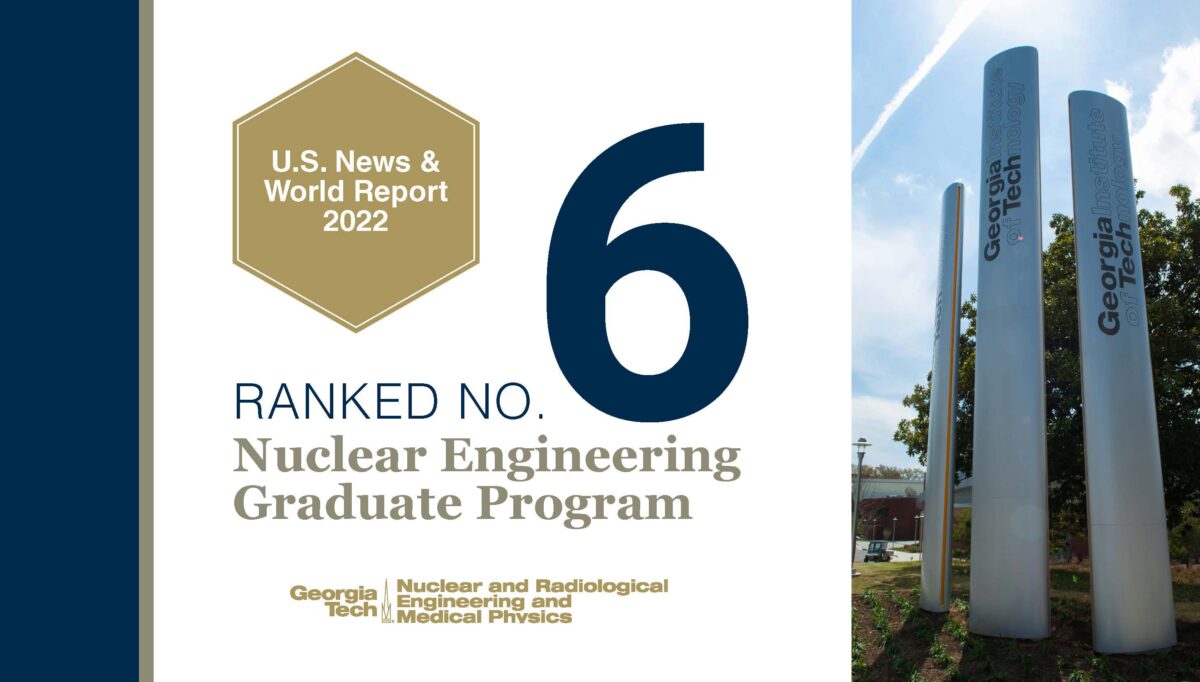 Graduate Programs Among Best in the U.S.
March 30, 2021
The U.S. News & World Report engineering graduate program rankings were released on March 30, 2020, with the George W. Woodruff School's mechanical engineering program ranking fifth (second among public universities) and nuclear engineering moving up from ninth in 2020 to sixth. 
Georgia Institute of Technology continues to usher in the next generation of research and educational developments within the diverse field of nuclear engineering," said Steven Biegalski, Nuclear and Radiological Engineering and Medical Physics Program Chair. "Our faculty, staff and students are eager to tackle the challenging problems within this field to create positive societal impact.
"We are proud to be recognized as one of the top mechanical and nuclear engineering programs in the nation," added Samuel Graham, Eugene C. Gwaltney, Jr. Chair of the George W. Woodruff School of Mechanical Engineering. "We would not be where we are today without the commitment and dedication of our faculty, staff, and students, or the alumni and partners who support us year after year."
Georgia Tech's College of Engineering remains in the top echelons of leading engineering programs across the country. All of the College's graduate engineering programs ranked in the top 10 for schools offering that field of study. Additionally, this is the 31st year in a row that the industrial engineering program claimed the number one spot. The biomedical and civil engineering programs ranked 2nd in their respective programs.
Overall, the College's graduate programs are ranked 8th in the country and 4th among public colleges.
The graduate rankings released today are a testament to the high standards of education, innovation and research happening at the College, which have been recognized by our peers," said Raheem Beyah, Dean & Southern Company Chair of the College of Engineering at Georgia Tech. "We should be especially proud of this given the many challenges over the past year with the pandemic. Through it all, our faculty, students and staff have remained resilient, making the College what it is today.