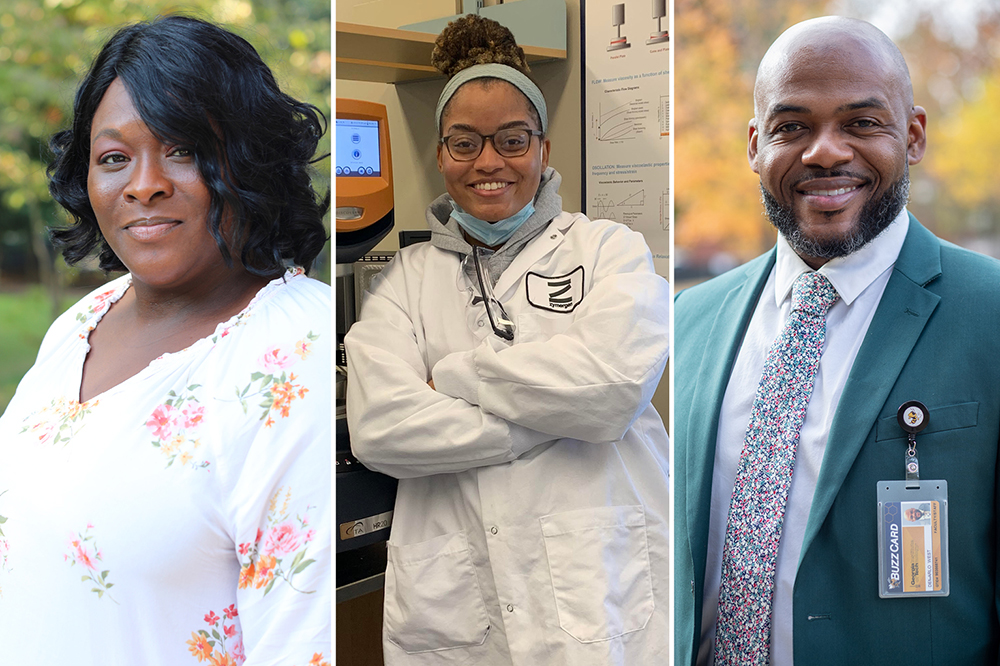 Pictured left to right: Tequila Harris, Talia Thomas, and DeMarlo West
Black History Month Spotlight
February 23, 2023
By Ian Sargent
In recognition of Black History Month, the George W. Woodruff School of Mechanical Engineering celebrates the vital contributions of Black scientists, engineers, and educators. Black History Month began as Negro History Week in 1926, before becoming Black History Month half a century later. Today, Black History Month is observed as a commemoration of the enduring legacy of Black achievements and contributions across society. We asked three members of the Woodruff School, Associate Professor Tequila Harris, staff member DeMarlo West, and Ph.D. student Talia Thomas, to talk about their experiences both personally and professionally, and how we all can help reflect the values of inclusion and diversity in our lives.
 
Can you tell us a little about yourself? Where are you from originally and what's your role at the Woodruff School?
Harris:
I am originally from Arkansas. I am currently an Associate Professor and DEI Chair Fellow at the Woodruff School. In these capacities I conduct research related to manufacturing, teach courses related to design and manufacturing, and support my internal and external professional communities as well as the local community through various service initiatives, such as chairing the 22nd International Coating Science and Technology Symposium, volunteering at Habitat for Humanity, and serving as the incoming Director for Project ENGAGES.
West:
I am a native of Milledgeville, Georgia. I am the Operations and Program Manager for the Woodruff School.
Thomas:
Currently, I am a first year Ph.D student working on sustainable alternative materials for battery and energy storage applications. I'm from Ft. Meade, Maryland and I received my B.S. in mechanical engineering from North Carolina Agricultural & Technical State University. I worked in the chemical industry for about 3 years before deciding to pursue my Ph.D.  
 
What drew you to working in higher education?
Harris:
From high school through my first few years at Georgia Tech, I served as a tutor for math and/or engineering courses for children in K-12 and peers in college. As someone who aims to help others, working in higher education was a natural career choice for me.
West:
Education is my passion and I enjoy working in an environment that fosters learning, development, growth, and achievement.
 
Why did you want to pursue a STEM education?
Thomas:
As a kid, I grew up believing, wholeheartedly, that anything was possible. So much so, that I believed that I was going to be the inventor of the world's first time machine! I've always had a wonderment and curiosity about the world's unknowns and perceived impossibilities. As a little girl, I would carry around an invention journal and just let my imagination and creativity run wild. I eventually married my loves for imagineering and hard-core math and science to pursue a career in STEM with the hopes that maybe one day, I could make one of my crazy ideas come to life.
 
Who are some of your inspirations and mentors? Can you tell us about an early experience that influenced you personally or professionally?
Harris:
Having the opportunity to participate in afterschool programs in high school, such as INROADS, gave me perspective about various career options and opportunities. More importantly, INROADS gave me an awareness that I could do anything with the right mindset. I have never forgotten a quote which we recited at the beginning and end of each meeting, "Success is a state of mind. If you want success, start thinking of yourself as a success!" I am inspired by very prominent women in academia such as Dr. Shirley Ann Jackson and Dr. Ayanna Howard. These women have been pioneers and trailblazers within and outside of the academy.
West:
Former Surgeon General, Dr. David Satcher and world-renowned Ophthalmologist, Dr. Eve Higginbotham have both served as inspirations and mentors to me. These two individuals afforded me the opportunity to have a professional experience that taught me leadership, diligence, and perseverance. This experience not only contributed to my professional life, but my personal life as well.
Thomas:
I've had the pleasure of having a number of exceptional mentors that proved to be absolutely instrumental to me in my life. The power of mentorship and networking is what landed me my second role in the green chemistry industry, which turned out to be a dream job of mine at the time. In this role, I worked as a research associate in a chemistry lab that focused solely on renewable feedstocks and disrupting conventional petrochemical streams. This was the DREAM for me, but my mentors encouraged me to dream even bigger and go after my Ph.D. so that I might direct such a lab one day. The amazing thing about quality mentors and sponsors is that they often see in you what you may not be able to see in yourself. They saw a future for me that I'd previously thought of as unattainable, and for this, I am forever grateful.
 
Have there been personal and professional obstacles you have faced, and if so, how have you overcome them?
Harris:
I have had personal and professional obstacles. Professionally, coming into a space which has lacked diversity and inclusion, has been a major obstacle due to explicit and/or implicit biases. Through persistence and resilience, which I treat as cornerstones in my life, I have been able to persevere, which has allowed me to be a role model and an inspiration to others.
West:
Yes. I have faced many obstacles in higher education being a black male. My parents always taught me that in every environment you may not be welcomed as some of your counterparts, therefore enter every room knowledgeable, project intellect, be intentional about sitting at the table, and contribute to every conversation. These skills allowed me to show up confidently in environments where I'm the minority and not welcomed.
Thomas:
There are a number of personal and professional challenges that I, and many others, have faced but I would like to focus more on why I chose to continue pursuing a STEM degree. I had the privilege of attending an HBCU for my undergraduate degree, thus laying the foundation of Black excellence being the standard – not the anomaly. I developed a heightened sense of self while also being challenged academically and professionally. This unparalleled opportunity gave me the confidence to meet my challenges head on. Despite the adversity, despite the isolating feelings that come with being "the only one," despite tokenism, I know that at the center of it all, I'm still that little girl that dreamt she could invent the time machine. My love for engineering and discovery coupled with my passion for outreach and giving others a platform to reach their dreams supersedes the systemic barriers that have been put in my way. I can only speak about my experiences; but I chose to keep going because I owed it to that little girl with the invention journal.
 
How can we continue to champion the importance of diversity at Georgia Tech and in our personal lives?
Harris:
One of the greatest ways to champion the importance of diversity at Georgia Tech is to participate as mentors and advisors in outreach programs and services that help students who may not have access to advanced educational opportunities, such as the GT SURE program and Project ENGAGES among others. These opportunities provide a gateway for students to not only get exposed to higher education and advanced research, which they often have not been exposed to, but also to develop critical skills that will last a lifetime.
West:
I feel that we can continue to champion diversity by being inclusive in all positions that builds the academic enterprise here at Georgia Tech. It is important for the institution to embrace and appreciate diversity because the greatness of anything lies in the difference of everything.
Thomas:
As academics, we harbor an innate desire for discovery, which encourages curiosity and the advancement of science and humanity. We approach problems systematically; the story is in the numbers. I think we can apply some of these same principles and methodologies to evaluate personal bias and systemic prejudice. At an institutional level, I think that it is critical to continue to evaluate the Georgia Tech talent pipeline and the nature in which Georgia Tech recruits Black students to STEM fields at both the graduate and undergraduate levels, starting with K-12. Perhaps, offering free outreach programs for disenfranchised students and then, really getting into those communities and empowering these students to participate in these programs. Secondly, take a look at the numbers. Perhaps we can reframe our questions to investigate the true root cause of the issues we aim to tackle. I've worked in spaces where bringing in a DEI consultant team proved to be eye-opening for leadership and individual contributors, alike. Lastly, it is imperative that Georgia Tech continues to foster a safe and robust mental health program on campus. Ultimately, to tackle such issues systemically, one might start with individual introspection. This includes self-education, practicing empathy and compassion, and self-reflection.
---
The Woodruff School is committed to fostering a culture of inclusive excellence and promoting the importance of diversity at Georgia Tech and in our personal lives. You can find out more about the positive influence of Black Americans across Atlanta and beyond by checking out Atlanta Change-Makers.