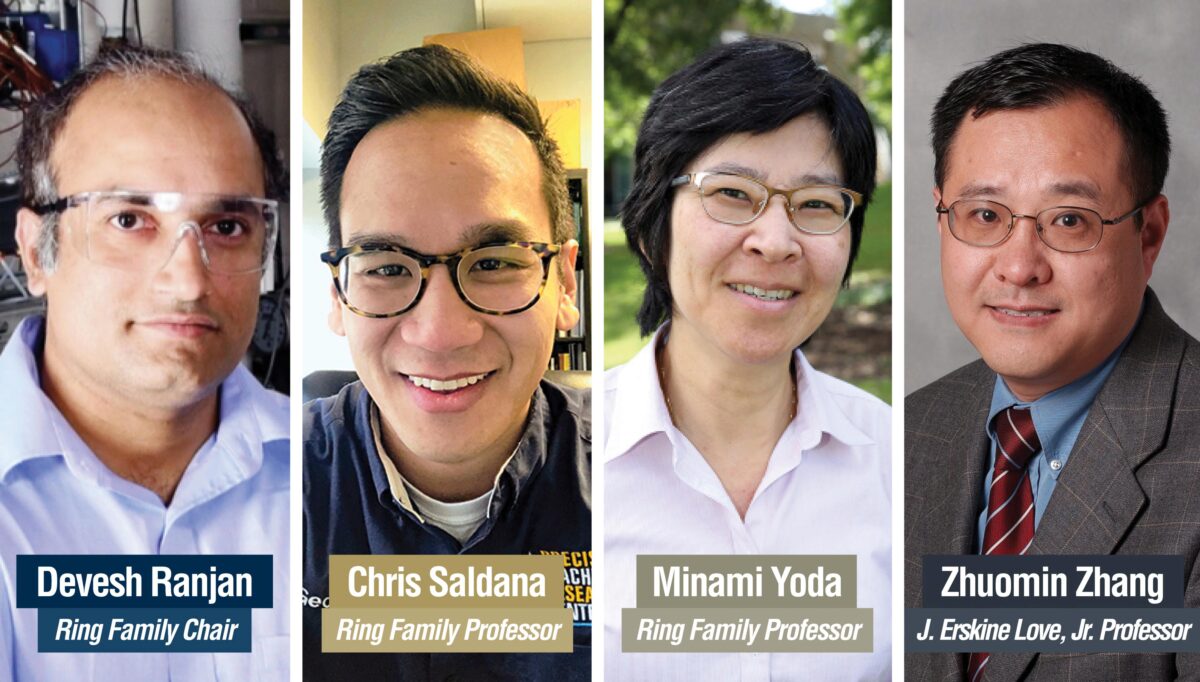 Four Endowed Professors Named
January 22, 2021
Thanks to the generosity of our donors, four professors from the George W. Woodruff School of Mechanical Engineering are receiving endowed positions within the School. Professor Devesh Ranjan, who serves as the Associate Chair for Research, has been named the Ring Family Chair. Associate Professor Chris Saldana and Professor Minami Yoda will serve as Ring Family Professors, and Professor Zhoumin Zhang has been named the J. Erskine Love, Jr. Professor.
I would like to congratulate each one of these faculty members on the outstanding achievements they have attained in their careers," said Eugene C. Gwaltney, Jr. School Chair Samuel Graham. "These professors have distinguished themselves through research and leadership, and we are excited to invest in their futures. This would not be possible without the support of the Ring and Love families, and we are grateful for their ongoing commitments to the Woodruff School.
Associate Chair for Research Devesh Ranjan
Devesh Ranjan began working at Georgia Tech in 2014. He is currently the Associate Chair for Research in the George W. Woodruff School of Mechanical Engineering. His research program focuses on the mixing of materials at extreme conditions, the physics of hydrodynamic instabilities, and advanced power conversion cycles. His research efforts can potentially lead to advances in a number of fields including, energy, environment and most pertinently, inertial confinement fusion devices.
Ranjan has received numerous awards for his scientific contributions, including the DOE-Early Career Award, the NSF CAREER Award, and the US AFOSR Young Investigator award. He was also named the J. Erskine Love Jr. Faculty Fellow in 2015. Ranjan is currently part of a 10-member Technical Screening Committee of the NAE's COVID-19 Call for Engineering Action taskforce, an initiative to help fight the coronavirus pandemic. He also serves on the Editorial Board of Shock Waves and serves as an Associate Editor for the ASME Journal of Fluids Engineering.
I am incredibly humbled to be named the inaugural holder of the Ring Family Chair and grateful for their generous gift to the School," said Ranjan. "The funding provided as part of this chair will enable me to work on cutting-edge projects related to next generation energy technologies as well as the creation of a Georgia Tech Center on Frugal Innovations for Social Equality.
Associate Professor Christopher Saldana
Christopher Saldana began working at Georgia Tech in 2014. Saldana has made significant contributions in the manufacturing sector in two major categories: manufacturing process science and digital manufacturing development, both of which have been identified as critical areas for research by numerous federal organizations. From an educational perspective Saldana leads the second year design and build course, ME 2110 "Creative Decisions and Design." He has brought new concepts from his research in the Internet of things (IoT) into the class, and has updated ME 2110 to incorporate many modern and innovative concepts. Despite his significant teaching and research responsibilities, Saldana has also made significant impacts in the community. Recently, Saldana has taken his technical skill set, the training that he has provided to the students, and his leadership capabilities to work closely with local and regional hospitals as well as the Georgia Emergency Management Agency (GEMA) to provide a wide variety of personal protection equipment (PPE) for numerous hospitals in the area. Furthermore, his efforts have gained national attention and much of what was developed by his team at Georgia Tech is now being leveraged throughout the U.S. PPE supply chain.
The Ring Family endowed funds will provide my research team with resources to pursue high-risk, high-reward manufacturing research," said Saldana. "This support will help us to advance the science of next-generation manufacturing processes and contribute toward enhancing our nation's manufacturing competitiveness.
Professor Minami Yoda
Minami Yoda began working at Georgia Tech in 1995 as an Assistant Professor. Yoda's research is in experimental fluid mechanics and optical diagnostic techniques down to the nanoscale. Yoda has received the Faculty Excellence Award by the Women in Engineering Program and was a Woodruff Faculty Fellow. She has held numerous high positions and been active in premier professional societies such as the American Physical Society Division of Fluid Dynamics. Yoda also chaired the Woodruff School Reappointment, Promotion and Tenure Committee from 2012 to 2014, arguably one of the most important functions of a faculty member.
Yoda plans to use her experience as DFD Chair and a member of the new School Diversity and Inclusion Council to develop and strengthen support and mentoring networks for underrepresented minority and female graduate students and postdoctoral researchers. She will also build upon her existing collaborations with Oak Ridge National Laboratory to expand partnerships between Georgia Tech and their Fusion Technology.
I am honored to have been chosen as a new Ring Family Professor, and look forward to the opportunity to support and expand my group's research. 
Professor Zhuomin Zhang
Zhuomin Zhang began working at Georgia Tech in 2002 as an Associate Professor. Zhang works closely with his graduate students and collaborates extensively with physicists and materials research scientists to conduct research in heat transfer and thermophysical engineering, including measurements of the radiative properties and optical response.
Within Georgia Tech and the Woodruff School, Zhang has served as a member of the Academic Senate and the General Faculty Assembly, President of the Georgia Tech Chapter of Sigma Xi, Chair of the Instructional Lab Committee, Chair of the Periodic Peer Review (PPR) Committee, Chair of the HTCE (Heat Transfer, Combustion, and Energy) Research Area Group, Chair of the Faculty Search Committee, and member of the Reappointment, Promotion and Tenure (RPT) Committee, among others. Furthermore, Zhang has received several distinctions, including the Presidential Early Career Award for Scientists and Engineers (PECASE) in 1999 and the 2015 ASME Heat Transfer Memorial Award - Science.
It is a tremendous honor for me to be named the J. Erskine Love Jr. Professor," said Zhang. "I will do my best to help advance the research and educational programs in the G. W. Woodruff School.