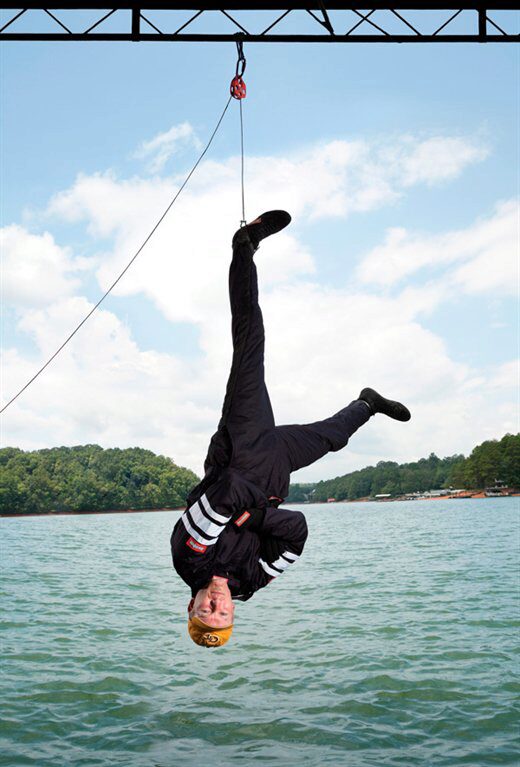 Ian Eyre, ME '95, has been a movie daredevil since his undergraduate days at Georgia Tech.
The Edgar Wright-helmed Baby Driver proved to be not only one of the most critically acclaimed films of the summer, but also a thrilling homage to the city of Atlanta. The movie is built around a few tightly choreographed automobile chase scenes through downtown streets and across metro area highways—where Tech alumnus Ian Eyre, ME 95, had a front-seat view to the motorized mayhem in his role as a stunt driver.
One of the reasons that Baby Driver is so effective as an action film, Eyre says, is because the filmmakers are able to put the stars right into the middle of a dangerous scene. In one set piece, an SUV spins out, and the nose of the vehicle gets trapped underneath an 18-wheeler. Eyre was driving one of the cars in the traffic pattern during that high-speed chase, where lead actors Jamie Foxx and Ansel Elgort appear to be in mortal peril.
This is a far cry from what Eyre expected his career to be while studying mechanical engineering at Georgia Tech in the early 1990s. But one day he found out that the movie RoboCop 3 was filming near campus, and he wanted to see what being on the set of a Hollywood film production would be like. After getting some advice from a film student at Georgia State and making a few phone calls, he took his first step toward breaking into show business.
"They were doing a stunt where they were crashing a jeep on North Avenue heading west under Marietta Street," he says. "I called a Georgia film hotline number and got the name of the extras casting lady."
As a student, Eyre had no detailed resume or professional headshots. He submitted a Polaroid of himself with his contact information on the back to the casting director. A few weeks later, one of the extras canceled and Eyre was in. 
"I wasn't looking to be part of the cast or crew," Eyre says. "But shooting a shotgun during a riot scene turned out to be way more interesting than studying."
After his small taste of being on the set of RoboCop 3, he was hooked—but he knew he wanted to be more than an extra. "I wanted to put all my hobbies and interests to work," he says. "The watching-water-boil moments are tolerable the more responsibility you have."
His mechanical knowhow, relative fearlessness and natural athleticism drew him to stunt work. His first real credit was in the TV show Due South as a stunt double, where he leapt around fire escapes and even jumped an alley two stories high.
"If you happen to look like one of the actors in a show or movie, you might earn a lot of regular gigs," says Eyre, who with his lanky frame has done stunt double work for actors like Matthew Lillard and Michael Gross. "But if not, there's still plenty of opportunities to perform stunts in the background or among the faceless masses of the typical action movie, such as cops in squad cars or evil henchmen." 
During his nearly 25-year career, Eyre has been involved in dozens of movie and TV productions, including blockbusters such as The Hunger Games, AMC's The Walking Dead, The Accountant and HBO's Westworld, as a stunt performer, rigger or coordinator.  He also spent many years in mechanical and pyrotechnic effects. 
His lessons in problem solving at Tech not only included engineering study in the classroom, but valuable hours spent involved with GT Motorsports. In fact, Eyre has since built something of a specialty in creating and executing stunts with vehicles, including the fabrication of an electric camera motorcycle with fellow Yellow Jacket and mechanical engineer Wayne Yawn, ME 95. 
"I can say I regularly apply my Tech education in structural and materials engineering in helping to make movie magic," Eyre says. "That ranges from setting up car chases and crashes to rigging up people to fly through the air (either on purpose or as they're thrown from an explosion) to building temporary structures for stunt use. I work to make the action look good on camera—and to make it look realistic—and then move on to the next stunt."
Like many crew in the filmmaking business, Eyre works as a freelancer who moves from project to project—which means he can pick and choose what he works on and when. And like many behind-the-scenes contributors, during his free time he focuses on writing screenplays and directing short films with the hopes that he can some day earn a more prominent spot in the credits of a major production.
He's long played a critical part in creating the physicality of films; now he longs to contribute to their emotional and intellectual aspects. "After all, most people's favorite movies are the ones that have ideas that stick with them beyond the action and the plot," he says. 
- Brian Hudgins, Georgia Tech Alumni Association