Gegenheimer Lecture Series on Innovation
The Gegenheimer Lecture Series on Innovation was established in 1995 through an endowment from Mr. Harold W. Gegenheimer (Class of 1933) to support student programs that encourage creativity, innovation, and design. Through the lecture series and support of capstone design projects, students are exposed to processes that stimulate creativity and lead to inventions and patents. In 2019 The Gegenheimer Lecture Series was rebranded as the Gegenheimer Trailblazer Lecture Series, bringing in speakers who have exemplify leadership and innovation in their fields.
The Gegenheimer Lectures
2021: Distinguished Professor Ann Karagozian, UCLA's Samueli College of Engineering
Problems Looking for Solutions or Solutions Looking for Problems? Adventures in Research for Propulsion and Energy
2021: Lt. Gen. (Retired) Thomas P. Bostick, 53rd Chief of Engineers and Commanding General of the U.S. Army Corps of Engineers
Lessons Learned Through a Career of Service
2020: Hiroshi Amano, Nobel Laureate and Director of the Center for Integrated Research of Future Electronics (CIRFE), Institute of Materials and Systems for Sustainability (IMaSS) at Nagoya University
En Route to Establishing a Zero Carbon Emission Society
2019: Ellen Arruda, Chair of Mechanical Engineering at University of Michigan
Mechanical Engineering: Challenges Opportunities, and Eight Chains
2019: Yet-Ming Chiang, Kyocera Professor at Massachusetts Institute of Technology
Materials Science, Electrochemistry and the Quest for Impact
2016: Randii R. Wessen, Lead Study Architect for NASA's Jet Propulsion Laboratory
The Innovation Foundry's Architecture Team - Identifying Tomorrow's Space Mission Today
2015: Erik Antonsson, Corporate Director of Technology Northrop Grumman Corporation
Innovation in Aerospace
2014: Deborah Kilpatrick (MSME '94, PhDdME '96), COO CardioDx
Confessions of a Medtech Engineer: How I Learned to Love Marketing in Silicon Valley
2012: Floyd Nation (BME '68), Partner at Winson & Strawn, LLP
The Process of Patent Infringement Litigation
2011: John G. Voeller, Chief Knowledge Officer and Chief Technology Officer for Black & Veatch and ASME White House Fellow.
The Overlooked Innovation
2010: Robin Murphy, Director, Center for Robot-Assisted Search & Rescue, Texas A&M University.
Robots to the Rescue!
2009: David Phelps, President and CEO, CreoSalus, Inc.
No Experience Required: How Lack of Experience and Knowledge of an Industry is an Advantage to Developing Innovative Next-Generation Products
2008:  James E. West, Research Professor, Johns Hopkins University
Noise in Hospitals: Effects and Cures
2007:  Chris Miller, Director, Shrek the Third
An Ogre's Tale:  How To Make An Animated Feature in 1000 Easy Steps...
2006:  Mark D. Jenks, 787 Wing, Empennage and Landing Gear Team Leader, The Boeing Company
Development of the Boeing 787:  Customers, Composites, and Collaboration
2005:  James DeLaurier, Professor of Aerospace Studies, University of Toronto Institute for Aerospace Studies
Development of a Full-Scale Flapping-Wing Aircraft
2004: Malcolm Swinbanks, Chief Scientist, Vibration and Sound, Ltd.
From Mathematics to High-Speed Boats - A Shock to the System
2003:  Steven L. Stice, Professor and Georgia Research Alliance Eminent Scholar, University of Georgia
Cloning Technology at a Crossroad: Raelians or Real Science?
2002: Roger L. McCarthy, Chairman of Exponent, Incorporated
Engineering Disasters: Those who cannot remember [innovation's] past are condemned to repeat it.
2001: Leo Beranek, Co-Founder, Past President, and CEO of Bolt Beranek & Newman (BBN)
Concert Halls of the World and Their Design
2000: Woodie Flowers, Pappalardo Professor of Mechanical Engineering, Massachusetts Institute of Technology
Innovator, Innovatee, or Somewhere Between?
1999: Richard Teerlink, Retired President and Chief Executive Officer, Harley-Davidson, Inc.
Our Learning Journey
1998: George N. Hatsopoulos, Founder, Chairman of the Board, and Chief Executive Officer, Thermo Electron Corporation
Thermo Electron and the Spin-Out Business Design
1997: Jim Adams, Professor, Stanford University
Creativity Versus Control: Their Impact on Innovation
1996: Burt Rutan, President and CEO, Scaled Composites, Inc.
Innovation: Use It Or Lose It
1995: Jerry M. Woodall, Harrison Distinguished Professor in Microelectronics, Purdue University
Inaugeral Lecture:  Necessity Is The Mother of Invention, But Curiosity And Persistence Make It Happen
Harold W. Gegenheimer (Class of 1933)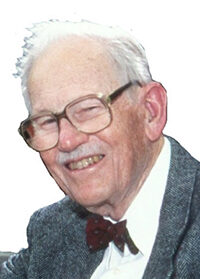 Harold W. Gegenheimer was associated with the printing industry all his life: As a machinist, machine design engineer, inventor, product development manager, and corporate chief executive. He was Chairman Emeritus of the Baldwin Technology Company, an international manufacturer of material handling, press accessory, and prepress equipment for offset printing.
His father, William, started the Baldwin Company in 1918 in a small building next to their house in Baldwin (Long Island), New York. He invented the Baldwin Press Washer and the company emerged as a manufacturer of printing press accessories and controls.
Harold always took an interest in things mechanical, so it was natural that he came to Georgia Tech, where he received his bachelor's degree in mechanical engineering in 1933. Later, he invented the Convertible Offset Perfecting Press, a feature used by most press manufacturers, that allows for one or more colors to be printed on both sides of the paper with just one pass through the press. His inventions, for which many United States and foreign patents have been obtained, were keys to the great growth of the offset printing process after World War II.
Mr. Gegenheimer was President of the National Printing Equipment and Supply Association from 1977 to 1979. He was an officer or director of other industry associations and the recipient of numerous technical and educational awards. In 1983 he was elected Graphic Arts Man of the Year. In 2003, he received the Harold Falk Distinguished Alumnus Award from Chi Psi fraternity for outstanding accomplishments.
Mr. Gegenheimer was a long-time contributor to Georgia Tech's Thousand Club, served as co-chair of his 50th Reunion Committee, and was the recipient of the 1996 Woodruff School Distinguished Alumnus Award.
An endowment given to the Woodruff School in 1995 by Mr. Gegenheimer established the Harold W. Gegenheimer Lecture Series on Innovation.  His endowment supports student programs that encourage creativity, innovation, and design. Through the lecture series and support of capstone design projects, students are exposed to processes that stimulate creativity and lead to inventions and patents. As an inventor, Mr. Gegenheimer expressed an interest in the great advances made at his alma mater through innovative programs that link industry with graduate and undergraduate studies. His endowment supports the School's display, Patents of the Woodruff School Faculty, which features Mr. Gegenheimer's twenty patents and more than 200 U. S. patents of current Woodruff School faculty.
Mr. Gegenheimer died in his home in Mystic, Connecticut on October 4, 2006.