Capstone Design Teams Show Creativity and Promise
The winners of Fall's Capstone Design Expo have been announced, with all projects demonstrating innovation and ingenuity.
The best overall project, as determined by judges' scores, was a training aid to help tennis players identify racket contact and improve swing and overall performance.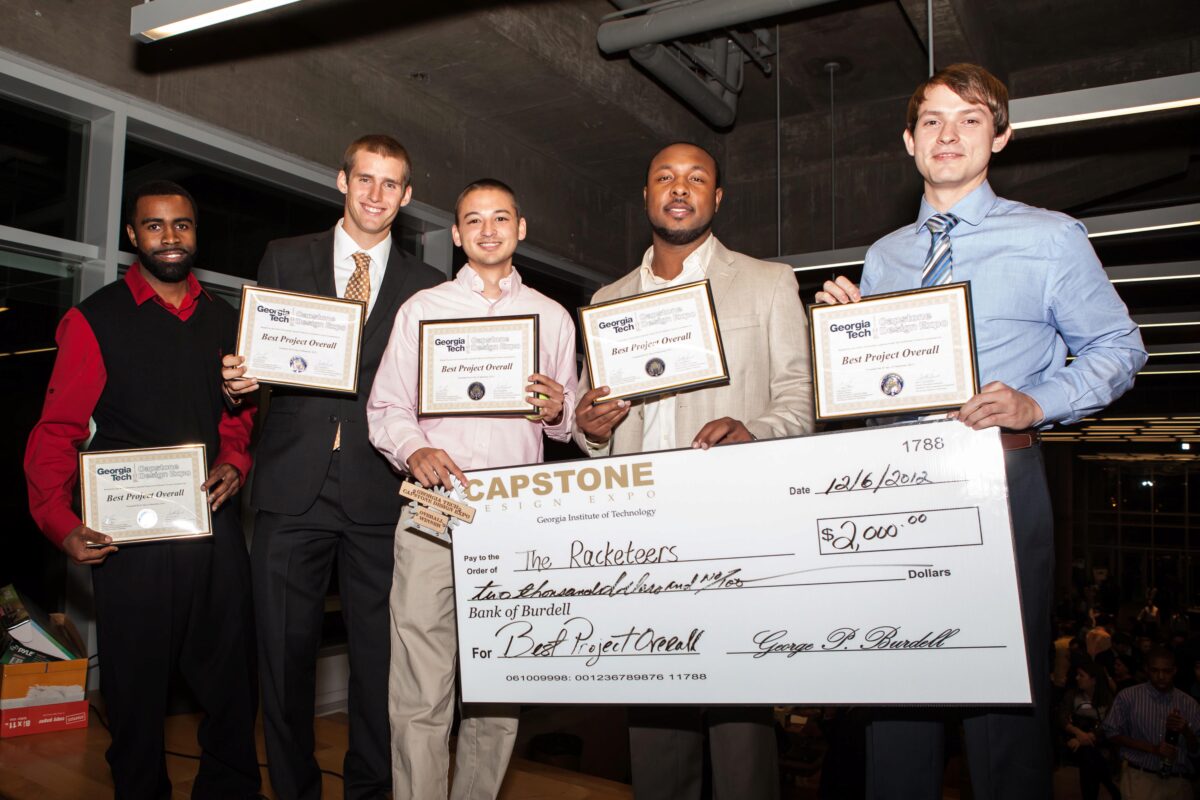 The winning team's name? The Racketeers, of course. The group consists of five mechanical engineering (ME) majors: Chris Armstrong, Ethan Henderson, Dareal Scott, Steven Ranger and Kevin King. They won $2,000.

The Capstone Design Expo is the culmination of many engineering majors' undergraduate careers. Students studying mechanical engineering, biomedical engineering (BME), and industrial design (ID) team up to create projects, which then compete for awards. This Fall, more than 350 graduating seniors presented their work.

"Capstone Design allows engineering students to learn how to function on multidisciplinary teams to solve problems," said Laurence Jacobs, a professor of civil and environmental engineering and associate dean for academic affairs. "It also challenges our students to think, not just learn. Through this course they collaborate, lead and participate in teams experiencing true hands-on activities."

Another winning team was Vertibral Horizon, which was honored for best ME project. The team members (Luke Pollock, Matt Rothberg and Drew Bolduc of ME; Mike Glatzer and Matt Ho of BME) offered a project to reduce effort exerted by surgeons during a spinal corrective procedure.   

The design expo showcases the work of engineering majors, but they're not the only students present. Each year, hundreds of high school students also attend the event to learn from the work and find inspiration.

"To see the culmination of the undergraduate studies of 400 graduating seniors through their hands-on/design/build capstone projects was truly inspiring," said Craig Forest, an assistant professor in ME. "From the invention studio to the makers club to capstone design, Georgia Tech undergraduates are showing us what they can do with the resources and incentives to pursue invention, innovation, and entrepreneurship."
View the many pictures from the Expo.
Award Winners:
K-12 Award (determined by votes from the future engineers in the audience):
EPS
Kathy Dinh, BME
Kate Fiorito, BME
Hannah Gollin, BME

People's Choice (determined by votes from audience members):
Interdisciplinary -
Soneter
Samin Odhwani, ME
Charles Lu, ME
Paul Brideau, ME
Katelyn Vermeyan, ID
Allison Woodward, ID

Monodisciplinary -
Infant Sleep Solutions
Erik Niehaus, ME
Joseph Hickey, ME
David Gregg, ME
Chandan Edirisinghe, ME
Zachary Zalesky, ME
Major Awards (determined by judges' scores):
ID - Soneter
Samin Odhwani, ME
Charles Lu, ME
Paul Brideau, ME
Katelyn Vermeyen, ID
Allison Woodward, ID

BME - Exposer
Binbin Chen, BME
Lu Ling, BME
Freddy Damen, BME
Charlie Bloodworth, BME

ECE - APS
Ryan Palmer, CmpE
Joshua Dunn, CmpE
Allie DelGiorno, EE
Joey Barrick, EE
Derek Tanner, EE

ME - Vertibral Horizon
Luke Pollock, ME
Matt Rothberg, ME
Drew Bolduc, ME
Mike Glatzer, BME
Matt Ho, BME

Best Overall Project (determined by judges' scores):
Racketeers
Chris Armstrong, ME
Ethan Henderson, ME
Dareal Scott, ME
Steven Ranger, ME
Kevin King, ME
Congratulations to all the winners and good luck to all the graduating seniors on their future innovate endeavors.