Education
Ph.D., The Ohio State University, 1990
M.S., The Ohio State University, 1984
B.Tech, Indian Institute of Technology, Kanpur, India 1982
Background
Dr. Garimella began at Tech in August 2003 as an Associate Professor and Director of the Sustainable Thermal Systems Laboratory. Prior, he was an Associate Professor at Iowa State University, an Assistant and Associate Professor at Western Michigan University, a Research Scientist at Battelle Memorial Institute, and a Senior Engineer at General Motors.
Research
Dr. Garimella conducts research in the area of sustainable energy systems, such as absorption and vapor compression heat pumps, natural refrigerant space-conditioning systems, and automotive climate control/propulsion cooling systems. His research also includes phase-change in micochannel and compact heat exchangers, heat and mass transfer in binary mixtures, and supercritical/transcritical fluid flow and heat transfer.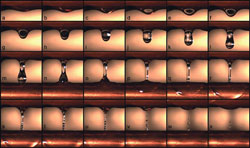 ASME ICNMM 2012 Outstanding Researcher Award at the 10th International Conference on Nano-, Micro- and Minichannels (ICNMM), Puerto Rico, USA

Ohio State University Thomas French Alumni Achievement Award, 2008
Woodruff School Faculty Fellow, 2004-2009
American Society of Heating, Refrigerating and Air Conditioning Engineers

Heat Transfer and Fluid Flow Technical Committee Chair, 2000-present
New Investigator Award, 1998
HVAC&R Research Journal Associate Editor, 2003-present

American Society of Mechanical Engineers

Journal of Heat Transfer Associate Editor, 2009-2012
Fellow, 2005
Best Paper Award (Heat Pump Committee Sessions), 2000-2009
Journal of Energy Resources Technology  Associate Editor, 2000-present
Advanced Energy Systems Division Executive Comittee

National Heat Transfer Conference Best Paper Award, 2000
National Science Foundation Faculty Early Career Development Award, 1999-2003
Iowa State University Miller Faculty Fellow, 1999-2000
Society of Automotive Engineers Ralph R. Teetor Educational Award, 1998
Patents
Perforated-Fin Heat and Mass Transfer Device, U. S. Patent 5,704,417, with R. N. Christensen, Y. T. Kang, and M. A. Garrabrant, January 6, 1998
Heat Pump, U. S. Patent 5,572,884, with R. N. Christensen, November 12, 1996
Hydronically Coupled Integrated Heat Pump and Supplemental Heat Recovery System for Mobile Applications, U.S. Patent 5,289,698, March 1, 1994.
Representative Publications
S. Jeong and S. Garimella. 2002. Falling-Film and Droplet Mode Heat and Mass Transfer in a Horizontal Tube LiBr/Water Absorber. International Journal of Heat and Mass Transfer 45, 1445-1458.
S. Garimella. 2002. Microchannel Gas Coolers for Carbon Dioxide Air-Conditioning Systems. ASHRAE Transactions 108, Part 1.
S. Garimella, J. D. Killion, and J. W. Coleman. 2002. An Experimentally Validated Model for Two-Phase Pressure Drop in the Intermittent Flow Regime for Circular Microchannels. ASME Journal of Fluids Engineering 124, 205-214.
S. Garimella, W. J. Dowling, M. Van der Veen, and J. D. Killion. 2001. The Effect of Simultaneously Developing Flow on Heat Transfer in Rectangular Tubes. Heat Transfer Engineering 22, 12-25.
J. D. Killion and S. Garimella. 2001. A Critical Review of Models of Coupled Heat and Mass Transfer in Falling-Film Absorption. International Journal of Refrigeration 24/8, 755-797.