Education
Ph.D., University of Pennsylvania, 1996
M.S.E., University of Pennsylvania, 1992
B.S., Cornell University, 1991
Background
Dr. García began at Tech in 1998 as an Assistant Professor. Prior, he was a Postdoctoral Research Fellow in the Department of Microbiology at the School of Medicine of the University of Pennsylvania.
Research
Bioengineering; Engineered biomaterials and biotherapeutic/cell-delivery vehicles for regenerative medicine applications, including bone repair, vascularization, and inflammation, including arthritis. Mechanisms regulating cell adhesive forces.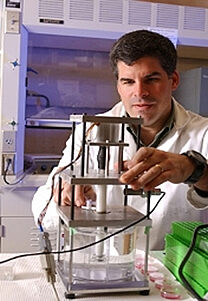 Dr. García's research centers on cellular and tissue engineering, areas which integrate engineering and biological principles to control cell function in order to restore and/or enhance function in injured or diseased organs. Specifically, his research focuses on fundamental structure-function relationships governing cell-biomaterials interactions for bone and muscle applications. Current projects involve the analysis and manipulation of cell adhesion receptors and their extracellular matrix ligands. For example, a mechanochemical system has been developed to analyze the contributions of receptor binding, clustering, and interactions with other cellular structural proteins to cell adhesion strength.
In another research thrust, bio-inspired surfaces, including micropatterned substrates, are engineered to control cell adhesion in order to direct signaling and cell function. For instance, biomolecular surfaces have been engineered to target specific adhesion receptors to modulate cell signaling and differentiation. These biomolecular strategies are applicable to the development of 3D hybrid scaffolds for enhanced tissue reconstruction,"smart" biomaterials, and cell growth supports. Finally, genetic engineering approaches have been applied to engineer cells that form bone tissue for use in the development of mineralized templates for enhanced bone repair.
Clemson Award for Basic Research, Society of Biomaterials, 2012
Fellow of Biomaterials Science and Engineering, International Union of Societies of Biomaterials Science and Engineering, to be inducted at the 2012 World Biomaterials Congress in Chengdu, China, June 1-5, 2012
Georgia Institute of Technology

Hyundai Professor of Excellence, 2011
Outstanding Interdisciplinary Activities Award, 2009
Woodruff School Faculty Fellow, 2004-2009
Center for the Enhancement of Teaching and Learning/BP Junior Faculty Teaching Excellence Award, 2002

American Institute of Medical and Biological Engineering Fellow, 2007
Society of Biomaterials Young Investigator Award, 2004
National Science Foundation Career Award, 2001
Ford Foundation Dissertation and Postdoctoral Fellow, 1995 and 1997
University of Pennsylvania Pollack Award for Excellence in Graduate Bioengineering Research, 1997
American Society of Mechanical Engineers Bioengineering Ph.D. Competition Second Place, 1996
National Science Foundation Predoctoral Fellow, 1991
Patent
Bioactive glass or ceramic substrates having bound cell adhesion molecules. U.S. Patent 6,413,538, with Boettiger, D., and Ducheyne, P., July 2, 2002
Representative Publications
Phelps EA, Enemchukwu NO, Fiore VF, Sy JC, Murthy N, Sulchek TA, Barker TH, García AJ. 2012. Maleimide Cross-linked bioactive PEG hydrogel exhibits improved reaction kinetics and cross-linking for cell encapsulation and in situ delivery. Advanced Materials ; 24:64-70.
Selvam S, Kundu K, Templeman KL, Murthy N, García AJ. 2011. Minimally Invasive, Longitudinal <onitoring of Biomaterial-associated Inflammation by Fluorescence Imaging. Biomaterials; 32:7785-92.
Petrie TA, Raynor JE, Dumbauld DW, Lee TT, Jagtap S, Templeman KL, Collard DM, García AJ. 2010. Multivalent Integrin-specific Ligands Enhance Tissue Healing and Biomaterial Integration.Science Translational Medicine; 2:45ra60.
Wojtowicz AM, Templeman KL, Hutmacher DW, Guldberg RE, García AJ. 2010. Runx2 Overexpression in Bone Marrow Stromal Cells Accelerates Bone Formation in Critical-sized Femoral Defects. Tissue Engineering Part A; 16:2795-808.
Dumbauld DW, Shin H, Gallant ND, Michael KE, Radhakrishna H, García AJ. 2010. Contractility Modulates Cell Adhesion Strengthening Through Focal Adhesion Kinase and Assembly of Vinculin-containing Focal Adhesions. Journal of Cell Physiology; 223:746-56.
Phelps EA, Landázuri N, Thulé PM, Taylor WR, García AJ. 2010. Bioartificial Matrices for Therapeutic Vascularization. Proceedings of National Academy of Sciences USA; 107:3323-8.
Wojtowicz AM, Shekaran A, Oest ME, Dupont KM, Templeman KL, Hutmacher DW, Guldberg RE, García AJ. 2010. Coating of Biomaterial Scaffolds With the Collagen-mimetic Peptide GFOGER for Bone Defect Repair. Biomaterials; 31:2574-82.
Bridges AW, Singh N, Burns KL, Babensee JE, Andrew Lyon L, García AJ. 2008. Reduced Acute Inflammatory Responses to Microgel Conformal Coatings. Biomaterials; 29:4605-15.
Phillips JE, Burns KL, Le Doux JM, Guldberg RE, García AJ. 2008. Engineering Graded Tissue Interfaces. Proceedings of National Academy of Sciences USA; 105:12170-5.
Petrie TA, Raynor JE, Reyes CD, Burns KL, Collard DM, García AJ. 2008. The Effect of Integrin-specific Bioactive Coatings on Tissue Healing and Implant Osseointegration. Biomaterials; 29:2849-57.