2018 Fall Capstone Expo Results
As doctors get better at treating diseases, engineers continue to discover new solutions to medical issues that were previously thought to be impossible to solve. College of Engineering seniors were no different at this year's Capstone Design Expo, with many of the teams concentrating their efforts on preventing, diagnosing, and treating diseases and health concerns.
Teams from nearly every school found ways to improve the well-being of people all over the world. Students from the School of Electrical and Computer Engineering created a device that detects instances of opioid overdose. A team from the Woodruff School of Mechanical Engineering designed and constructed a prototype that scans the skin of a patient's arm to diagnose lymphedema. Interdisciplinary groups did everything from creating a system that provides a modern approach to quitting nicotine, to heating orthopedic implants.
 
At the Capstone Design Expo, 153 teams of graduating students got the chance to display prototypes of their ideas, which are representative of their years of engineering and design learning done while at Georgia Tech. They were judged by more than 150 experts and professionals from around the world, who scored each project and named a winner in each category.
 
This year's winner for best overall project was Supleurative, a biomedical engineering team that created a device that makes lung draining procedures possible and efficient in hospitals.
 
"I'm just blown away in terms of the recognition we're getting for this," said James Wroe, a member of Supleurative. "It's really important to me that we're doing work that's translatable into the real world. I think that's a big factor in why we won, is that it's been recognized how useful this is going to be for people in the next year."
 
The team's members hope to test their product in a small clinical trial in Ethiopia this summer.
 
The award for best mechanical engineering project was shared between two teams- Send It! and W(hole) lotta trouble. 
Send It! produced a system for controlling the air spring characteristics in high performance mountain bike suspension forks. It enables the rider to adjust the spring rate of the fork while riding in order to provide appropriate support and traction across differing terrains. They were not sponsored and hope to make the project commercially viable. 
 
W(hole) lotta trouble, sponsored by Ethicon, developed a tool for analyzing the shape and dimension of laser drilled holes in suture needles for quality control purposes.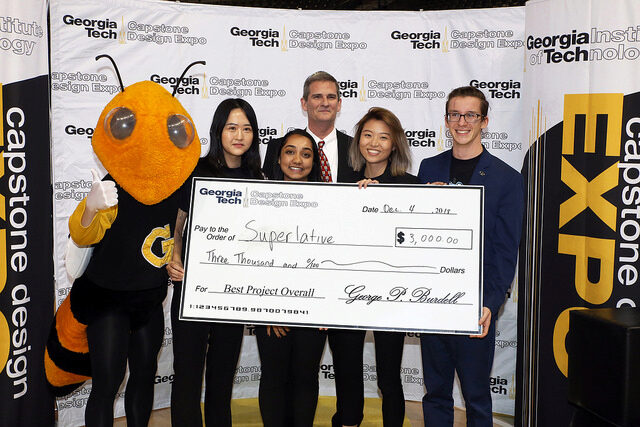 Results
Overall winner: Supleurative
An efficient, reusable, and low-cost lung drain device that is fit for use in developing nations and can replace the current gravity drainage used at Ethiopian hospitals.
James Wroe, Atlanta, Georgia
Yige Huang, China
Hannah Choi, Atlanta, Georgia
Tara Ramachandran, Scarsdale, New York
 
Aerospace Engineering: The Squirrel Works
An unmanned long-range strike aerial vehicle to serve as a replacement for the F-111, F-117, and as a supplement to the B-2. Characteristics of the aircraft include low-observability, ability to access Anti-Access Area Denial airspace, radical maneuver capabilities, as well as being lighter, smaller, and less expensive than current piloted aircraft.
Emily Paxton, Bangkok, Thailand
Jared Mehnert, Lebanon, Ohio
Wesley Gillman, Rogers, Arkansas
Kyle Neville, Lawrenceville, Georgia
Fahraan Badruddin, Duluth, Georgia
Erica Hulette, Acworth, Georgia
Biomedical Engineering: aMAYOnnaising
A device that aids in reconnecting the bladder to the urethra after a prostatectomy.
Nicholas Quan, Richmond Hill, Georgia
Bailey Klee, Alpharetta, Georgia
Madeline Smerchansky, Arlington, Virginia
Rachel Mann, Homer Glen, Illinois
Civil and Environmental Engineering: BAMM Engineering
A project to widen a section of I-20 in Carroll County was temporarily shut down due to the negative safety impacts of the construction staging and traffic re-routing methods.
Michael Nieman, Woodstock, Georgia
Andrew White, Decatur, Georgia
Matthew Gruba, Augusta, Georgia
Bailey Little, Flowery Branch, Georgia
Electrical and Computer Engineering: PulseScan
An electrocardiogram (ECG) wearable that will track a user's ECG signals and monitor them from one's phone or laptop, warning of short-term and long-term heart risk while also providing information on physical fitness.
Joseph Lennon, Fayetteville, Georgia
Derin Ozturk, California
Justin Cheung, Duluth, Georgia
Sehej Ahluwalia, Plano, Texas
Victor Barr, Berkeley Lake, Georgia
Industrial Design and Mechanical Engineering: Chopa
Design a collection of toys that use insights about compensating behaviors of accessibility-limited children to create a more comprehensive, well-rounded experience for all children.
Jae Hyuk Kim, Industrial Design, Seoul, Korea
Max Cohen, Industrial Design, Miami, Florida
Elliot Manassa , Mechanical Engineering, Riverwoods, Illinois
Matias Girardi, Mechanical Engineering, Buenos Aires, Argentina
Kristin Andreassen, Industrial Design, Atlanta
Industrial and Systems Engineering: Cox Automotive
Our team is evaluating Cox Automotive's current process and providing recommendations on controllable decisions, such as vehicle relocating, reconditioning, and holding to reduce loss per vehicle.
Margaret Jennings, Kennesaw, Georgia
Will Olsson, Åhus, Sweden
Meghan Rathie, Johns Creek, Georgia
Siddhartha Meka, Snellville, Georgia
Alan Johnson, Marietta, Georgia
Ashley Paek, Johns Creek, Georgia
Kelly Kronenberger, Suwanee, Georgia
Sarah Stein, Carmel, Indiana
Mechanical Engineering (tie): W(hole) lotta trouble
Analyzing the shape and dimension of laser drilled holes in suture needles for quality control.
Mónica López, Dorado, Puerto Rico
Justin Tai, San Jose, California
Yujung Ryu, Suwanee, Georgia
Adam Garlow, Decatur, Georgia
Zhigen Zhao, Hangzhou, China
Mechanical Engineering (tie): Send It!
TEAR is a system that controls the air spring characteristics in high performance mountain bike suspension forks.
Nicholas Henderson, Flowery Branch, Georgia
Admir Berisha, Bronx, New York
Matei Dan, Atlanta, Georgia
Hunter Brown, Bullard, Texas
Interdisciplinary: PPEeps
This project aims to increase workplace safety by decreasing the number of failures in the PPE required in Central Sterile Processing Units.
Jordan Lo Coco, Mechanical Engineering, Pasadena
Jim Peterson, Mechanical Engineering, Atlanta, Georgia
Maylyn Parsons, Biomedical Engineering, Greenville, South Carolina
Kendra Simpson, Biomedical Engineering, Cumming, Georgia

For more photos from Capstone, visit our Flickr gallery.