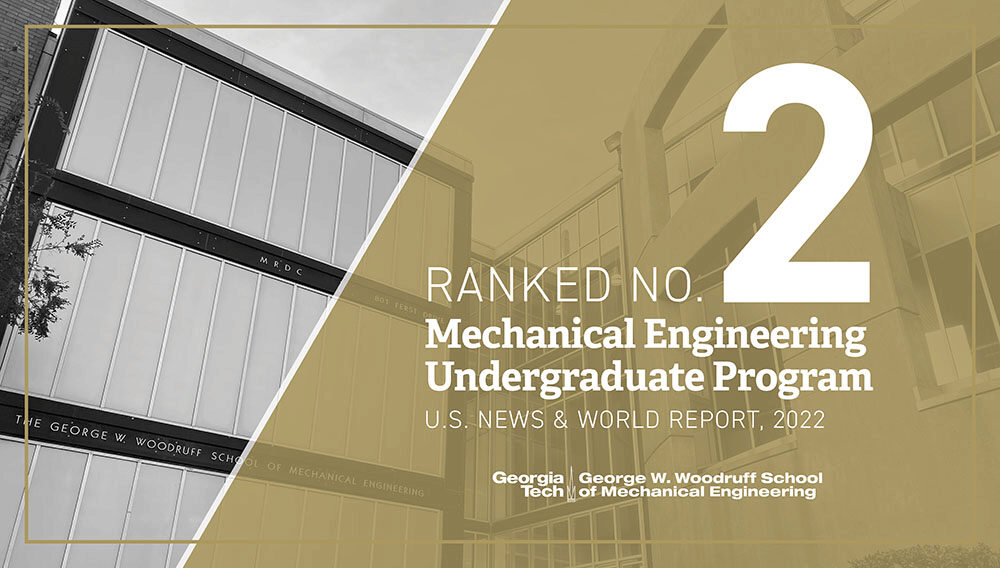 Woodruff School Ranked 2nd for Undergraduate Mechanical Engineering
September 13, 2021
The George W. Woodruff School of Mechanical Engineering is ranked second in the 2022 U.S. News & World Report Best Colleges rankings of undergraduate mechanical engineering programs released today.  The position is unchanged from last year, and once again places the Woodruff School first among public universities.
"We are proud to once again be ranked the top public mechanical engineering program in the nation and #2 overall," said Samuel Graham, Eugene C. Gwaltney, Jr. Chair. "The Woodruff School has a distinguished history of academic excellence combined with experiential learning dating back to our founding and our outstanding faculty, staff, and students have kept that tradition alive for more than 130 years. From undergraduate research to Capstone Senior Design to the opportunities offered through student competition teams, VIP, Create X, and maker spaces, our students learn how tackle problems head on, even under the most challenging of circumstances. We are grateful to our alumni and friends for their continued support of the School and its mission to develop the engineers and technologies that will change the world."
All of the undergraduate programs in Georgia Tech's College of Engineering are ranked fifth or higher in their fields, with the College as a whole ranking fourth in the country behind the Massachusetts Institute of Technology, Stanford University, and University of California—Berkeley and tied with the California Institute of Technology.