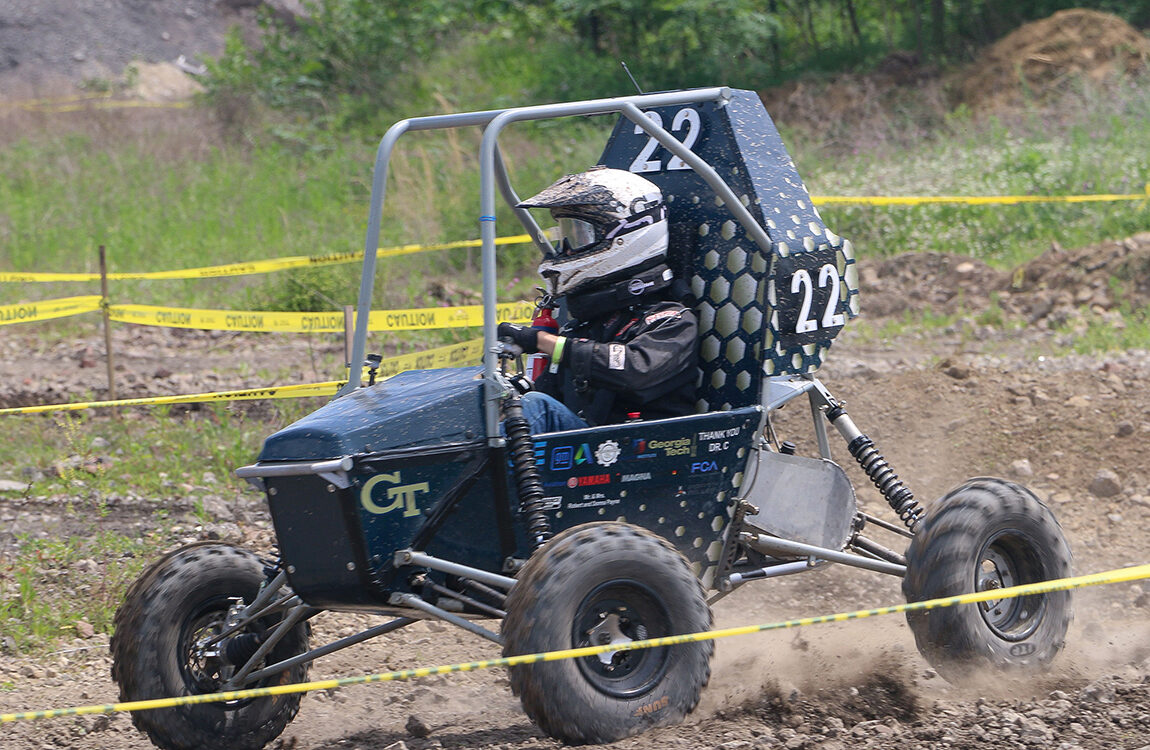 GT Off Road's OR-6 Rebirth 2021 competition vehicle
GT Off-Road Develops First-Ever Four-Wheel Drive Vehicle for 2021 Season
August 31, 2021 | by Dyrol Forbes
After the cancellation of the 2020 season, Georgia Tech Off-Road, a student-led team founded in 1998 that participates in annual Baja SAE competitions, was forced to make an important decision: build upon an existing product, one that was entirely unused that they had worked on the previous year, or develop something new. After consideration, for the first time in their 20-year history of competing, the team decided to develop their first-ever four-wheel drive vehicle for the 2021 season.
The process for developing the four-wheel drive vehicle required a heavy emphasis on design, fabrication, and validation as well as an extensive amount of effort from each member of the team. In the beginning, Covid-19 caused barriers. Workshop limitations were established and weekly meetings were moved online, affecting communication amongst the team. When GT Off-Road moved onto the testing phase, they faced new problems. Car parts buckled and snapped, but after months of continual effort and improvement, the team was ready to take their four-wheel drive vehicle, the OR-6 Rebirth, to competition.
But where did their motivation to develop a four-wheel drive vehicle come from? The team's determination to win. Newly implemented Baja SAE rules stated four-wheel drive vehicles would be awarded bonus points over two-wheel drive vehicles, which meant in order to do better than the competition, GT Off-Road needed to step-up to the challenge – and they did.
In 2021, GT Off-Road placed second in the Baja SAE Design competition and won the Polaris 4-Wheel Drive Award in Kentucky. They also placed in the top 10 at competitions in both Arizona and Louisville. In addition to those accomplishments, the team did what they thought was impossible: they lasted all four hours of the endurance race in Louisville without having to leave the track a single time.
"While we may have excelled with durability, we lacked speed. Our car was heavy, and it held us back from reaching our full potential. Despite the downsides, this was our most successful season to date, and it gives us a foundation to improve upon in the upcoming year," said third-year Finance Lead Dyrol Forbes.
The development of the four-wheel drive vehicle meant additional design, manufacturing, assembly, and testing of new drivetrain components including a custom transfer case, a Yamaha differential (with multiple selectable modes for four-wheel drive), and a longitudinal driveshaft to deliver power to the front wheels and rear wheels. The team also implemented an all-new driver dashboard that displays speed and engine RPM information to the driver developed by the Data Acquisition and Electrical teams.
Furthermore, the past season saw fundamental improvements in the ergonomic design process. Ergonomics at the surface level may not seem critical; however, in a four-hour endurance race, having a comfortable driver allows the driving team to race harder, take jumps faster, and switch drivers fewer times.
"In a situation where every lap counts, a comfortable driver can make the difference between first and second place or worse, a stress-related injury from sitting in an uncomfortable position," said Team President, Wasiq Kabir.
A final but critical new aspect was in the design and analysis phase of GT Off-Road's vehicle development. The team heavily utilized ADAMS Car, a full-body vehicle dynamics modeling and simulation software. In the software, based on data and information collected about the car and the design, the team could run dynamic simulations of their vehicle in different situations, which paved the way for their second-place finish in the Design Event.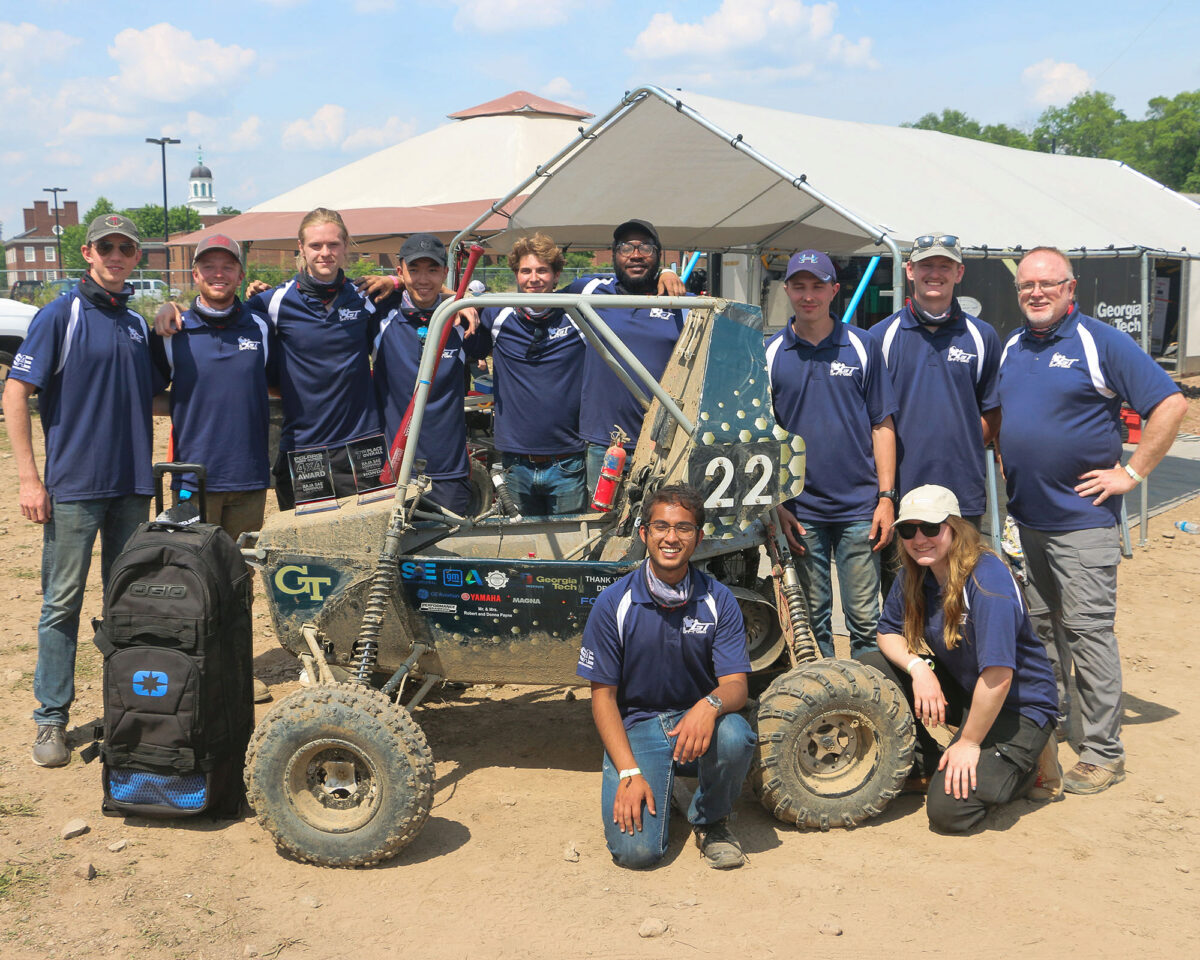 Now that the 2021 season has come to an end, GT Off- Road is focusing on the future. For the upcoming season, the team's newest iteration will focus on weight reduction, proper CVT tuning, and tighter turning.
"A key starting point for the team is a custom front differential which will give us reduced weight, lower gear ratios, and improved top speed and acceleration," said Chief Engineer, Jacob Tommey. "While this will add to the design and manufacturing time of the car, this will avoid the many pitfalls that out-of-the-box parts are usually known for."
GT Off-Road currently has 40+ undergraduate members with students majoring mostly in some form of engineering. Students on the team are provided with an opportunity to work on a large scale and time-constrained engineering project. They learn to not only design and analyze vehicle components, but also to develop communication and teamwork skills in ensuring proper integration between designs. Kenneth Cunefare, professor in the George W. Woodruff School of Mechanical Engineering has served as the faculty advisor and is retiring September 1. Thank you for everything Dr. C.!