Fall 2019 Capstone Design Expo Winners
143 teams from seven schools and two colleges competed for prizes at this year's Fall Capstone Design Expo as students showcased their senior projects. As the largest student design competition of its kind, Capstone is attracting sponsors from all over Georgia, from local fixtures like the Atlanta Hawks, the CDC, Cox Automotive, Emory Hospital, Georgia Department of Transportation, and Southwire, to national brands including Camelbak, Cisco, General Electric, General Motors, Lockheed Martin, the United States Air Force, and Under Armour. Each of these organizations was looking for students to take on a challenge and help them improve their operations, whether it was redesigning a smart medicine ball for the Hawks, maximizing traffic flow on I-85 for GDOT, or coming up with a better way to process bitter leaf for cooks in Africa.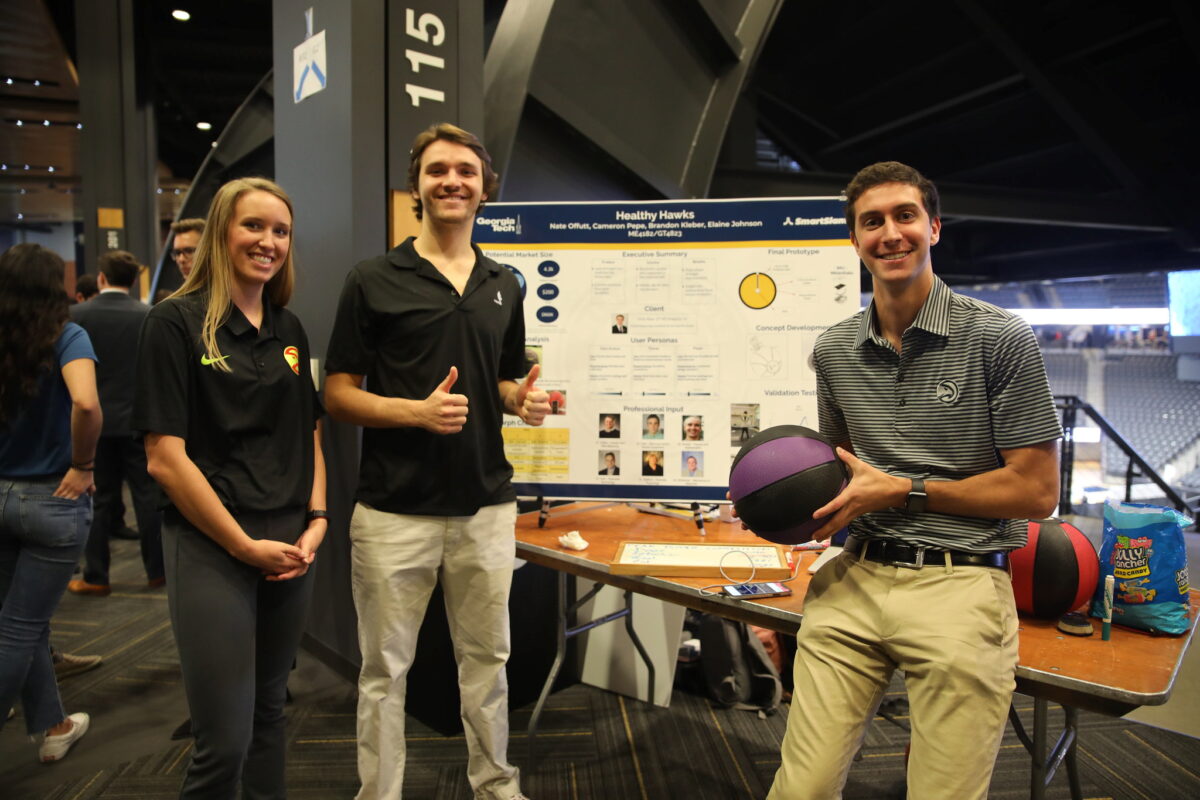 The teams who did not pursue sponsored projects came up with their own problems to tackle, designing firefighting robots, an automated tamper-proof pill dispenser, a range of medical devices, and a device for turning any writing tool into a smart device. 
After several hours of judging the winners were a mix of sponsored projects and individual pursuits, with the award for best overall project going to "Sky's the Limit," a Delta-sponsored project that examined the airline's warehousing methods. The team of industrial and systems engineering majors looked at how Delta stores and transports materials that get packed on their planes for routine flights, from pillows and blankets to snacks and soft drinks. They discovered that these items were stored in a range of warehouses and were delivered by partially filled trucks. The students found that there was a tremendous amount of money to be saved by optimizing the storage facilities and reducing the number of trucks needed to deliver items.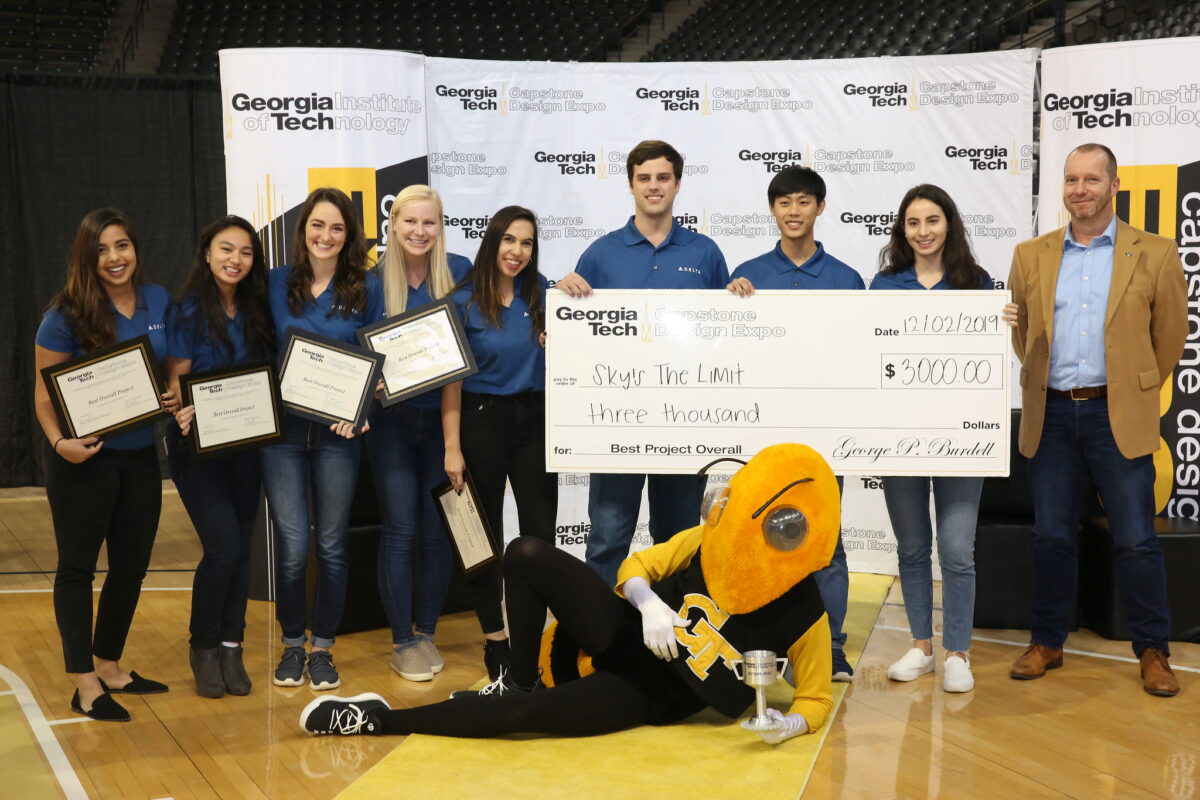 "The biggest challenge was working with all the different data sets," said senior and New Jersey native Afreen Fahad. "We had a lot of different data and different places that we had to consolidate together."
By combing through that data and finding a way to improve Delta's warehousing system the students came up with $750,000 in annual cost savings for Delta. They plan to pitch their proposal to the airline giant later this week.
While "Sky's the Limit" found a way for one of Atlanta's largest employers to trim costs, the top mechanical engineering team took on a social problem and developed a blood alcohol content (BAC) detector that renders a drinker's car keys unusable unless their BAC drops below a safe and legal level. The project wasn't sponsored, but caught the attention of InVenture Prize organizers, who gave Team Drink and Thrive a golden ticket that gives them a spot in the semifinals of Georgia Tech's annual invention competition. The team is also waiting to find out if their project will be accepted into the CREATE-X startup competition. 
"The idea behind our project was to combat drunk driving, and to give people who know they have a problem, but haven't necessarily been arrested or convicted for it, kind of a voluntary option, so that they could police themselves in a way to be proactive," said Acton, Georgia native Thomas Malchodi.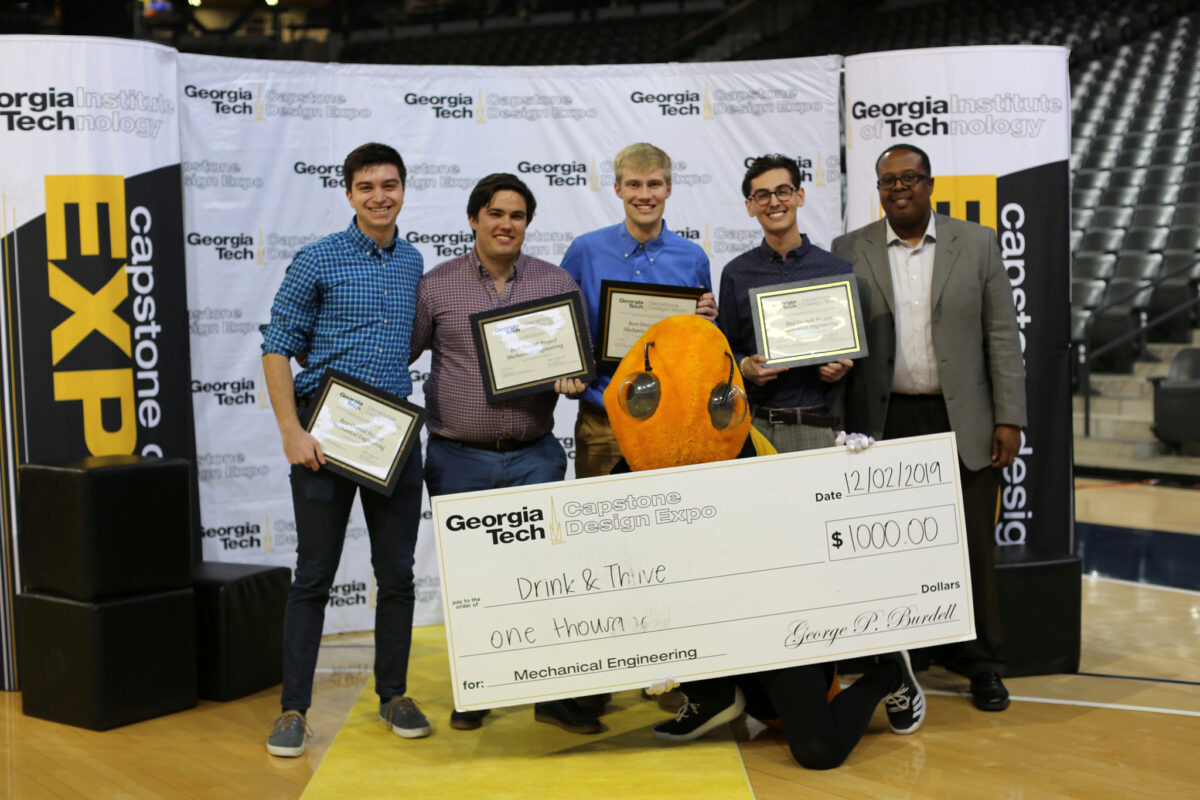 Malchodi's team was one of four with mechanical engineering students on it to earn awards, marking another strong showing for the George W. Woodruff School of Mechanical Engineering. A combined indstrial design and mechanical engineering team designed a largely automated package sorting system for delivery trucks based on UPS data that they think could result in reduced delivery times and susbstantial cost savings. Mechanical engineering was also represented on both interdisciplinary project winners, with Calibration Nation finding a way to automate some of the work in calibrating car sensors on behalf of Cox Automotive and TempTEC developing an instantly warming and cooling device that an be used for pain management. Both teams included students from electrical engineering and mechanical engineering, as well as some computer engineering and computer science majors.
In the end Capstone competitors showed why Georgia Tech students are renowned for their ability to hit the ground running and making an impact, whether they're working on behalf of sponsors and employers or pursuing passion projects for their own interest in the hopes of starting their own companies.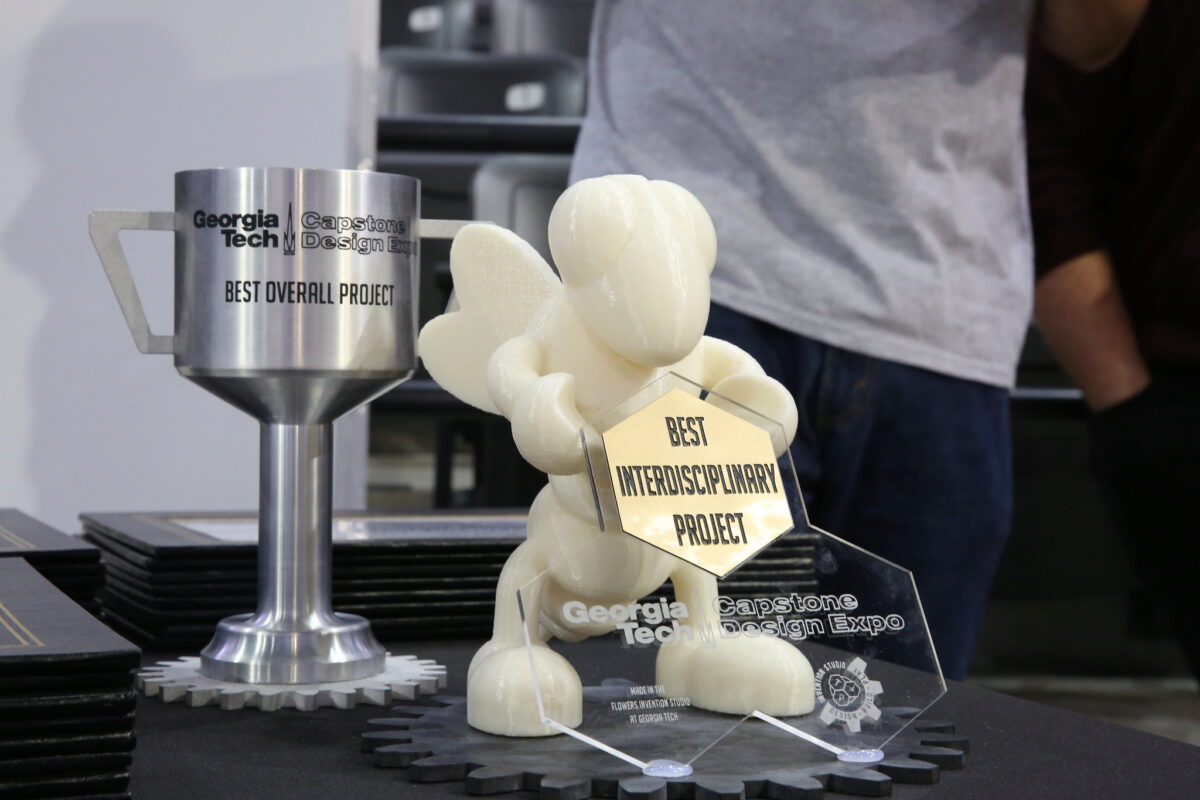 Results
Best Overall Winner - Sky's the Limit, sponsored by Delta Airlines
Carolina Llerena (ISYE) - San Mateo, CA
Thomas Suh  (ISYE) - Augusta, GA
Kelsey Keith (ISYE) - Woodstock, GA
Mack Hathaway  (ISYE) - Atlanta, GA
Afreen Fahad (ISYE) - Mount Olive, NJ
Valerie Cristobal (ISYE) - Charlotte, NC
Madison Messier (ISYE) - Atlanta, GA
Priya Sharma (ISYE) - Alpharetta, GA
 
Aerospace Engineering - Flyright
Zivan Bholai (AE) - Orlando, FL
Denise Woode (AE) - Damascus, Maryland
Vikas Molleti (AE) - St. Pete Beach, Florida
Hamidreza Nazemi (AE) - Houston, TX
Emily Glover (AE) - Lawrenceville, Georgia
 
Biomedical Engineering - Bullseye*, sponsored by Dr. Anand Sagar Jain, Emory Healthcare
Oscar Gutierrez (BME) - Doraville, GA
Ahmed Alnamos (BME) - Watertown, MA
Nishani Kanthasamy (BME) - Alpharetta, GA
Sondos Alnamos (BME) - Watertown MA

Civil and Envronmental Engineering- Still Design Group, sponsored by Georgia Tech's Office of Capital Planning and Space Management
Kimmie Hernandez (CE) - Sandy Springs, GA
Rachel Still (CE) - Ponte Vedra Beach, FL
Poonam Patel (CE) - Palm Harbor, FL
Danielle Kronowski (CE) - Augusta, GAystems 
Matthew Riley  (CMPE) - Decatur, GA
Maddy Parnall(EE) - Charleston, SC
Kee Hong (CMPE) - Seoul, South Korea
Michael Brzozowski (CMPE) - Manhasset, NY
Trenton Bruno (CMPE) - Warner Robins, GA
Reid Barton (EE) - Los Gatos, CA
Michael Lewis (CMPE) - Gainesville, FL

Industrial and Systems Engineering- Authority Life, sponsored by GWCCA
Peyton Skinner (ISYE) - Atlanta, GA
Mayke Vercruyssen (ISYE) - Atlanta, GA
Daniel Alayo-Matos (ISYE) - Miami, FL
Yihua Xu I(ISYE) - Hangzhou, China
Yunsang Kim (ISYE) - Seoul Korea
Brandon Kang (ISYE) - Duluth, GA
Emily Kornegay (ISYE) - Thomasville, GA
Hailun Chang (ISYE) - Taiwan

Industrial Design and Mechanical Engineering- Last Mile
Seunghyun Choe (ME) - Seoul, South Korea
Kai Zhang  (ID) - Qingdao, China
David Xu (ME) - Johns Creek
Francis Lin (ID) - Shenzhen
Uyen My Tran (ID) - Lilburn, GA
Ryan Bogan (CS) - Libertyville, IL
Eric Ricci (CS) - Long Beach, NY
Sean Fitzpatrick (ME) - Yardley, PA
Alexander Gibson (ME) - Roswell, GA
Thomas Malchodi (ME) - Acton, GA

Best Interdisciplinary (Tie)
Alex Schwartz (CMPE) - Manhasset, NY
Oguzhan Yilmaz(EE) - Istanbul, Turkey
Caroline Eckrote (ME) - Suwanee, GA
Lionel Jones (CMPE) - Fayetteville, GA
Eric Hsieh (EE) - San Diego, CA
Beatriz Dias(ME) - Roswell, GA
Nick Zhao (EE) - Mason, OH
Izaan Kamal (CS) - Rochester, NY
Vibhav Bhat (CS) - Andover, MA
Jared Canty (EE) - Johnson City, TN
Mark Saleh (ME) - Charlotte, NC
Ryan Yeung (ME) - Roswell, GA
Alex Butterwick (ME) - Alpharetta, GA
*Received tickets to compete for the Georgia Tech InVenture Prize, along with 28 other teams