Education
Ph.D. (Industrial Engineering), Hong Kong University of Science and Technology, Hong Kong, 1998
M.E. (Intelligent Manufacturing), Tianjin University, China, 1993
B.E. (Mechanical Design), Tianjin University of Science and Technology, China, 1988
Background
Dr. Jiao joined the Woodruff School in December 2008. Prior, he was an Assistant Professor and then Associate Professor in the School of Mechanical & Aerospace Engineering at Nanyang Technological University, Singapore. Before his career in Singapore, he was a Visiting Scholar in the Department of Industrial Engineering and Engineering Management at Hong Kong University of Science and Technology from 1998 to 1999. From 1993 to 1994, he was a Lecturer of Industrial Engineering in the School of Management at Tianjin University, China, and from 1988 to 1990, he worked as an Associate Lecturer in the Department of Industrial Design at Tianjin University of Science and Technology, China.
Research
Computer-Aided Engineering and Design and Manufacturing; Enterprise and industrial systems engineering, information engineering for complex engineered systems, production and operations management, affective design, decision-based design, and human-machine interfaces
Dr. Jiao's research activities are geared toward a good leverage of practical relevance and academic rigor. He is interested in a number of investigations related to an extended enterprise, involving engineering design and product development (design theory and methodology, product family and product platform, customer requirement management, affective design and Kansei engineering, design project management, service modeling and service delivery system design), enterprise engineering and industrial systems (reconfigurable manufacturing systems, production planning and control, supply chain management and engineering logistics, system modeling and simulation, sales/marketing manufacturing interface, global manufacturing and operations, mass customization), as well as manufacturing and management information systems (artificial intelligence in design and manufacturing, industrial applications of e-commerce, virtual enterprise).
His research is motivated by the current trend of manufacturing companies to move toward global manufacturing in order to better leverage capabilities and resources worldwide. Product realization then becomes globally distributed and necessitates collaboration that transcends geographic boundaries. Strategic engineering with a focus on product creation suggests itself to be of primary importance for companies to gain competitive edges. Product design has to address individual customer needs along with diverse market niches, while maintaining low costs and near mass production efficiency. Build-to-order and reconfiguration have become common norms. The traditional spectrum of product fulfillment therefore must be expended to encompass marketing, design, production, as well as supply and value chains; and must be aligned with the self-adaptability of a learning organization. Dr. Jiao's vision is that the product creation horizon will be shifted from a physical product perspective to a total life cycle experience. Product creation should be more than just dealing with pieces of hardware, but rather should be enacted as the co-design of an entire ecosystem, including fulfillment, services, experiences and human satisfaction at the individual and the community levels.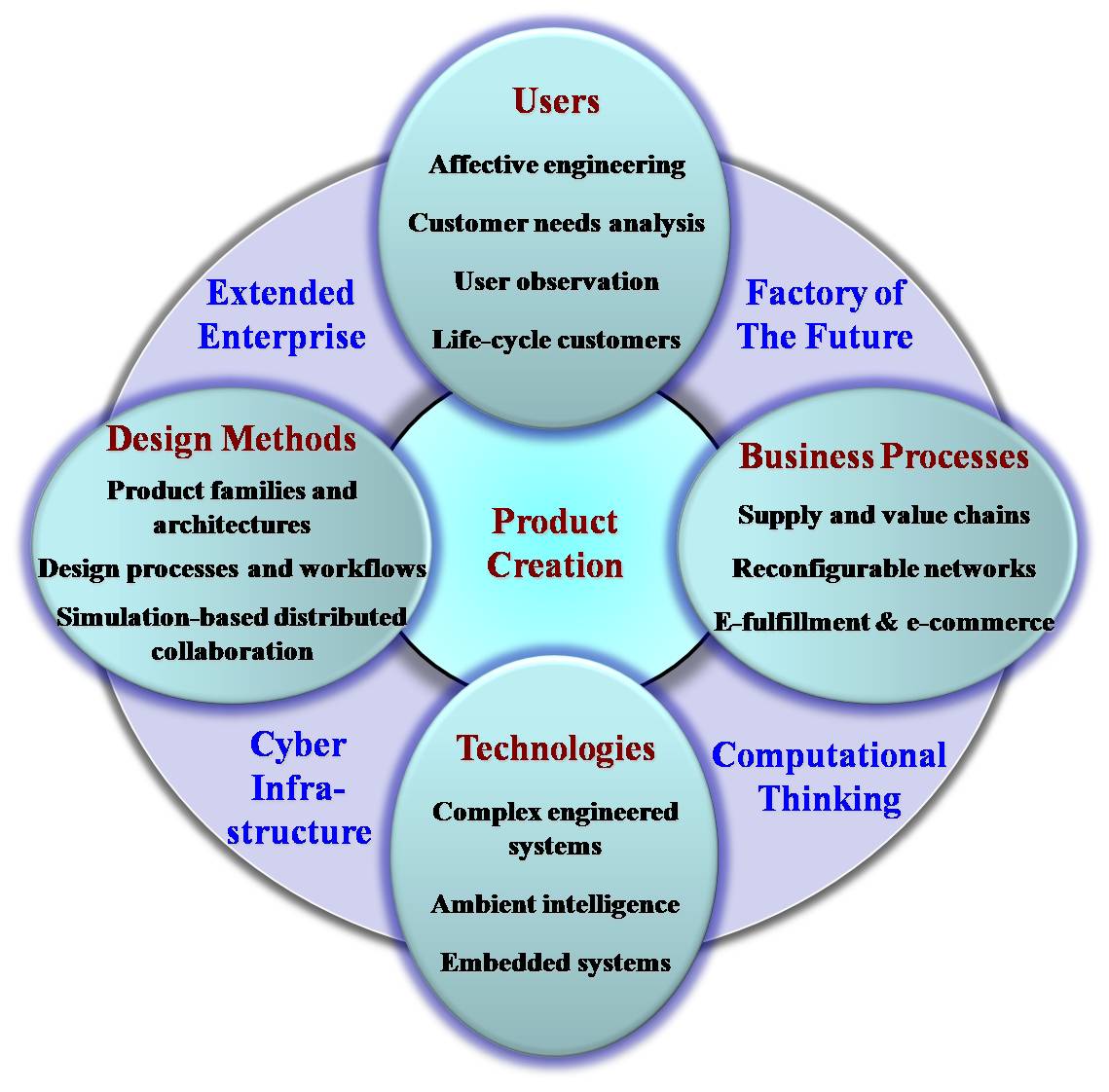 Core elements of strategic engineering with focus on product creation.
Emerald LiteratiNetwork Highly Recommended Award (United Kingdom), 2009
Emerald LiteratiNetwork Highly Recommended Award (United Kingdom), 2008
Nanyang Technological University Research Output Award and Recognition, 2007
National Institute of Education (Singapore) Postgraduate Diploma of Teaching in Higher Education, 2001
Journal of Intelligent Manufacturing, Associate Editor, 2008-present
International Journal of Innovation and Technology Management, Founding Area Editor for Manufacturing Systems, 2003-2009
Flexible Services and Manufacturing Journal, Editorial Board Member, 2010-Present
Concurrent Engineering: Research and Application, An International Journal, Editorial Board Member, 2006-present
International Journal of Internet Manufacturing and Services, Editorial Board Member, 2006-Present
Journal of the Chinese Institute of Industrial Engineers, Editorial Board Member, 2006-Present
IEEE Engineering Management Society/Technology Management Council, Singapore Chapter , President, 2007-2008
Representative Publications
Q. Xu and J.R. Jiao. 2009. Design Project Modularization for Product Families. ASME Journal of Mechanical Design, 131(7), 071007/1-10.
Q. Xu and J.R. Jiao. 2009. Modeling the Design Process of Product Variants with Timed Colored Petri Nets. ASME Journal of Mechanical Design, 131(6), 061009/1-9.
J.R. Jiao, Q. Xu, Z. Wu and N.-K. Ng. 2009. Coordinating Product, Process, and Supply Chain Decisions: A Constraint Satisfaction Approach. Engineering Applications of Artificial Intelligence, 22(7), 992-1004.
J. Jiao, L. Zhang and S. Pokharel. 2007. Process Platform Planning for Variety Coordination from Design to Production in Mass Customization Manufacturing. IEEE Transactions on Engineering Management, 54(1), 112-129. 
R.J. Jiao, Q. Xu, J. Du, Y. Zhang, M. Helander, H.M. Khalid, P. Helo and C. Ni. 2007. Analytical Affective Design with Ambient Intelligence for Mass Customization and Personalization. International Journal of Flexible Manufacturing Systems, 19(4), 570-595.