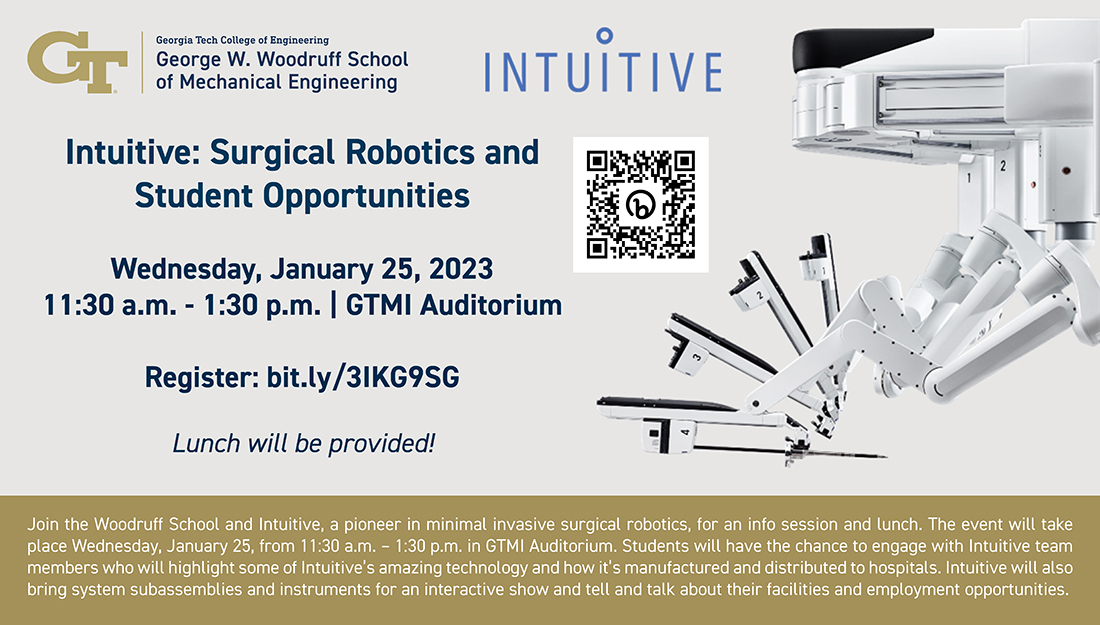 Join the Woodruff School and Intuitive, a pioneer in minimal invasive surgical robotics, for an info session and lunch. The event will take place Wednesday, January 25, from 11:30 a.m. – 1:30 p.m. in GTMI Auditorium. Students will have the chance to engage with Intuitive team members who will highlight some of Intuitive's amazing technology and how it's manufactured and distributed to hospitals. Intuitive will also bring system subassemblies and instruments for an interactive show and tell and talk about their facilities and employment opportunities.
Intuitive's product portfolio ranges from the da Vinci surgical system which has been used by thousands of surgeons to deliver a less invasive approach to many types of surgeries, and the endoluminal system which enables biopsies of small, hard-to-reach nodules in the lungs. Every day Intuitive is working with physicians and hospitals around the world to solve difficult problems in healthcare.
Speakers include:
Daniel Olivero, a Sr. Manager of Manufacturing Engineering at Intuitive leading engineering organizations supporting the manufacturing of da Vinci Xi systems in Peachtree Corners, GA, and the remanufacturing of da Vinci X systems in Durham, NC. He received is B.S. degree in Mechanical Engineering from the University of Florida in 2009 and his M.S. in Mechanical Engineering from Georgia Tech in 2011. He has been in the medical device industry for over a decade in a variety of roles. At Intuitive, Daniel has spent his time in the Process Engineering organization working on advanced technology instruments, new product introduction for Intuitive's first remanufactured system, and establishing east coast production facilities in both Durham and Peachtree Corners
Sarah Wheeler, a Manager of Manufacturing Engineering at Intuitive, leading the team responsible for expanding production of the da Vinci Xi Surgeon and Vision consoles in Peachtree Corners, GA. Sarah earned her B.S. and M.S. degrees in Mechanical Engineering from the University of Tennessee. She has over a decade of experience at Intuitive in a variety of roles, having worked on da Vinci systems, advanced energy and stapling instruments, and launching Intuitive's first in-house generator.
Jaikp Mallory, PE, a Manager of Supplier Engineering at Intuitive leading the team supporting the bring up of injection molding, CNC, sheet metal, and other suppliers in the Southeast to support the production of da Vinci systems in Georgia. He is also involved in the production part qualification process of supplier-provided electro-mechanical assemblies. Jaikp has his BS  in Mathematics from Morehouse College (2009) and an MS in Mechanical Engineering from Georgia Tech (2012), and is a certified Professional Engineer in the state of Georgia. Prior to his time at Intuitive Jaikp worked in various industries working in additive manufacturing, semiconductor, medical, and aerospace.
Eileen McCarty, a Sr. University Recruiter Based in Oregon. Eileen joined Intuitive in 2021. She recruits Mechanical, Biomedical, Electrical, Robotics & Controls Engineering students for summer internships and co-ops across the U.S.
Register to attend the event at bit.ly/3IKG9SG.
For questions, contact Courtney Sykes at courtney.sykes@me.gatech.edu.
Event Location
GTMI Auditorium