Former Georgia Tech President Named Chair of Kummer Institute Foundation Board
August 31, 2021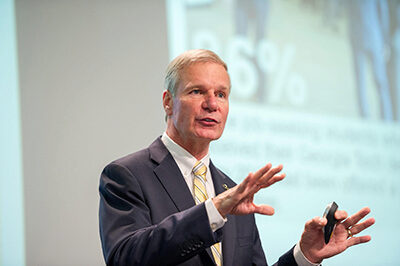 G.P. "Bud" Peterson, president emeritus of Georgia Tech, has been named chair of The Kummer Institute Foundation Board of Directors. Board members unanimously elected Peterson during their meeting Wednesday, Aug. 11. He succeeds the late Fred Kummer, the organization's founding chair, who died earlier this year.
Last October, Kummer and his wife, June, donated $300 million to Missouri University of Science and Technology to establish the Kummer Institute for Student Success, Research and Economic Development to support Missouri S&T. The Institute seeks to transform Missouri S&T by cultivating leadership and technological innovation, nurturing an entrepreneurial mindset, fostering expansion of academic-industry partnerships to address the emerging needs of industry, and creating economic growth for the region, state and nation.

"Bud Peterson is the right person to lead this board as we move from the planning phase to the implementation phase of the Kummer Institute," said Missouri S&T Chancellor Mo Dehghani, who also serves as president and chief executive officer of the Kummer Institute and a member of the board. "Bud brings a wealth of leadership experience at some of the nation's leading universities, including Georgia Tech, as well as a strong track record with national funding agencies such the National Science Foundation. He led Georgia Tech during a time of transformational growth and innovation, and his experience there will prove to be greatly beneficial to S&T as we move forward. We are thankful to Bud for taking on this new assignment, and I know that the late Fred Kummer would be very happy with our selection."
"It is an honor and privilege to be asked to serve as chair of the The Kummer Institute Foundation Board of Directors," Peterson sid. "I had the good fortune to meet with Mr. Kummer several times during the planning stages of his incredible gift, and the vision he had for how he might help transform Missouri S&T into one of the leading scientific, technological research universities was truly remarkable. I look forward to working with university leadership, faculty, staff and alumni and to help that vision become a reality."
Peterson served as Georgia Tech's 11th president from April 2009 to August 2019 and is now President Emeritus and Regents Professor in the Woodruff School of Mechanical Engineering at Georgia Tech. Before joining Georgia Tech, he served as chancellor of the University of Colorado at Boulder, and provost of Rensselaer Polytechnic Institute. He has held several national leadership positions, including serving for 12 years as a member of the National Science Board, which oversees and advises the president and Congress on science and engineering policy. He also served as chair of the NCAA Board of Governors for three years. Earlier in his career, he held positions at Texas A&M University, including serving as associate vice chancellor for engineering for the Texas A&M University System. He was a visiting research scientist at NASA-Johnson Space Center and held faculty positions at Kansas Technical Institute, Shawnee Mission South High School and Wabaunsee (Kansas) County High School.
Peterson has helped establish national education and research agendas, serving on numerous industry, academic and congressional task forces, research councils and advisory boards, including the Office of Naval Research, NASA, the Department of Energy, the National Research Council, the National Academy of Engineering, the American Institute of Aeronautics and Astronautics, the National Science Board, the Association of Public and Land-grant Universities, and the U.S. Council on Competitiveness.
Peterson's research interests include the fundamental aspects of phase change heat transfer, including the heat transfer in reduced gravity environments, boiling from enhanced surfaces, and some of the earliest work in the area of flow and phase change heat transfer in microchannels.
Story is based on announcement written by Missouri A&T.