Health Projects Shine at Fall Capstone Expo
With a project offering a new way to fix drooping eyelids, a team of biomedical engineering majors won the top prize at the Fall 2014 Capstone Design Expo.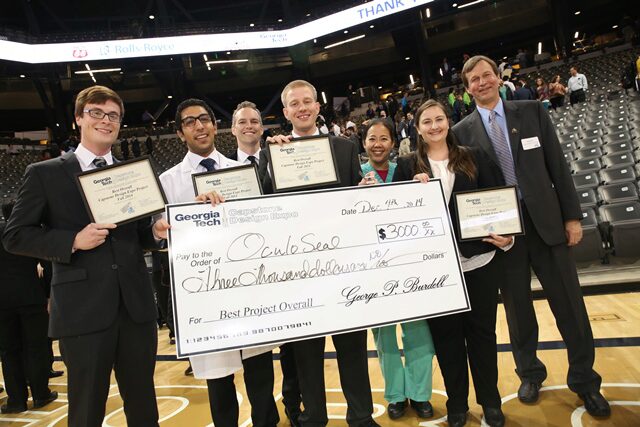 The OculoSeal team – Mohamad Ali Najia, Jackie Borinski, Drew Padilla and Andy Kolpitcke – designed a device that seals and cuts to correct ptosis, the drooping of the upper eyelid. The group's project, sponsored by Dr. Denise Kim at Emory University Hospital, could also have implications for aparoscopic, gastrointestinal and biopsy procedures.

Health was a common theme among Thursday's winning concepts, drawn from the 105 teams competing in the expo. The biannual event showcases work from senior design courses, in which undergraduates research problems, create prototypes, and offer solutions. Previous winners have gone on to receive patents and found companies based on their research.

Held at McCamish Pavilion, the fall edition featured students majoring in mechanical engineering (ME), biomedical engineering (BME), electrical and computer engineering (ECE), industrial and systems engineering (ISyE), and industrial design.

"You taught each other; you learned from each other," Professor Bill Wepfer, chair of the Woodruff School of Mechanical Engineering, reminded participants during the awards ceremony. "The sky's the limit."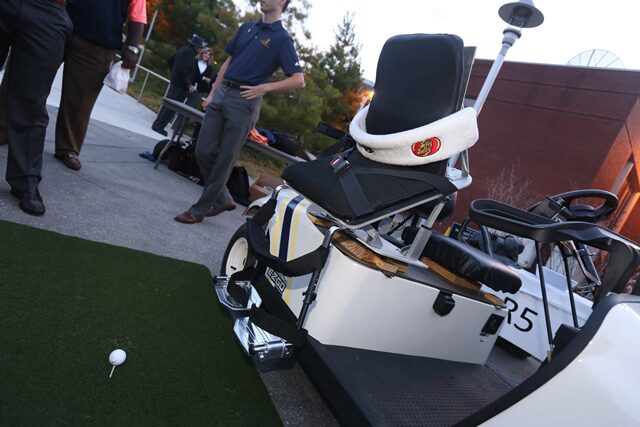 As judges, volunteers and families swirled through McCamish, the event took on an air of pageantry. Several teams coordinated outfits or wore costumes to match their work's theme, with Home Depot aprons, CSX hard hats, and bright yellow suspenders standing out among the crowds.

The Stroke of Genius team, another health-focused group, earned accolades for a golf cart that allows children with paralysis to participate in golf. Sponsored by the Bobby Jones Foundation, the Chiari & Syringomyelia Foundation, and E-Z-GO, the team won for best interdisciplinary project.

E-Z-Go also sponsored the RED Team, which took home the award for best mechanical engineering project. The group focused on transporting injured people to medical centers via off-road vehicles, and they designed a prototype for much cheaper than anything now being sold.

"We saw a big market gap," said team member Michael Brown.
That's part of what makes the Capstone Design Expo a singular event: Some of the students carry their work beyond the semester, applying for patents and sculpting ideas into realities.

"We filed a provisional patent this morning," said Jackie Borinski, part of the winning OculoSeal team. "Two of us are graduating and accepted offers at companies, but we hope to continue working on the OculoSTAPLE."   

Another health-centric concept came from an interdisciplinary team, made up of two BME majors and an ECE major. They proposed using Google Glass in emergency medicine, which could help emergency medical technicians and doctors communicate more effectively.

Watching a fellow group member don Google Glass to demonstrate the idea's potential, BME major Marnie Williams said that "seeing it actually come to life has been amazing."

Ryan Helm, who worked with a group of BME majors on an at-home cervical cancer detection kit, expressed a similar sentiment.

"It's great to actually be able to share how it works," he said.

Real-life applicability and results are key to many Capstone ideas – even if the work itself is all about milkshakes.

Team Chick-fil-A, an ISyE group sponsored by its namesake company, developed a tool to more effectively forecast demand for seasonal peach and peppermint chocolate chip milkshakes. The tool could have saved the company $280,000 last year, the group said.

Team member Jordan Avery has worked at Chick-fil-A, and he asked if there were any projects available for his team. Presenting the results Thursday night, he said he was glad for the chance to apply his skills in a corporate setting.

"It made me use what I learned in the classroom in real life," he said. "It also clarified for me that I did choose the right major."
Story by Lyndsey Lewis
Contributions by Jennifer Tomasino and Jordan Shields
Photos by Candler Hobbs
Fall 2014 Capstone Design Expo Winners
Overall: OculoSeal; Sealing and Cutting Device to Correct Ptosis
Mohamad Ali Najia (Biomedical Engineering)
Drew Padilla (Biomedical Engineering)
Andy Kolpitcke (Biomedical Engineering)
Jackie Borinski (Biomedical Engineering)
ME: RED Team; E-Z-GO Off-Road Rescue Vehicle
Pedro Goncalves
Michael Brown
Matt Bales
Nicole Thomas
Shawn O'Toole
BME: BioDeliver
Victoria Geiser
Tarrah Herrmann
Estiban Ongini
Steven Touchton
ECE: PV2; Hybrid Aerial Rover for Mapping
Oliver Moreno (Electrical Engineering)
Hector Rodriguez (Computer Engineering)
Patrick McAuliff (Electrical Engineering)
Zhiwei Chen (Computer Engineering)
James Morrison (Mechanical Engineering)
Interdisciplinary:Stroke of Genius; CSF Bobby Jones Children's Golf Cart
Joshua Newton (Biomedical Engineering)
Brian Leach (Biomedical Engineering)
Tre'vorski Garrett (Mechanical Engineering)
Kaitlin Kates (Mechanical Engineering)
Douglas Wisser (Mechanical Engineering)
Jeffrey Pettyjohn (Electrical Engineering)
ISyE (final winner will be selected later):
UPS (Peak)
Interface
CDC
Emory Winship
Industrial design: Ground Nuts; Peanuts and Peanut Butter
Catherine Meschia (Industrial Design)
Yun Ju Oh (Mechanical Engineering)
Ashley Barnes (Mechanical Engineering)
Michael Lehman (Industrial Design)
Lindsey Schwartz (Industrial Design)
Michael Braun (Mechanical Engineering)