Das' Startup Helps 3D Printing Take Flight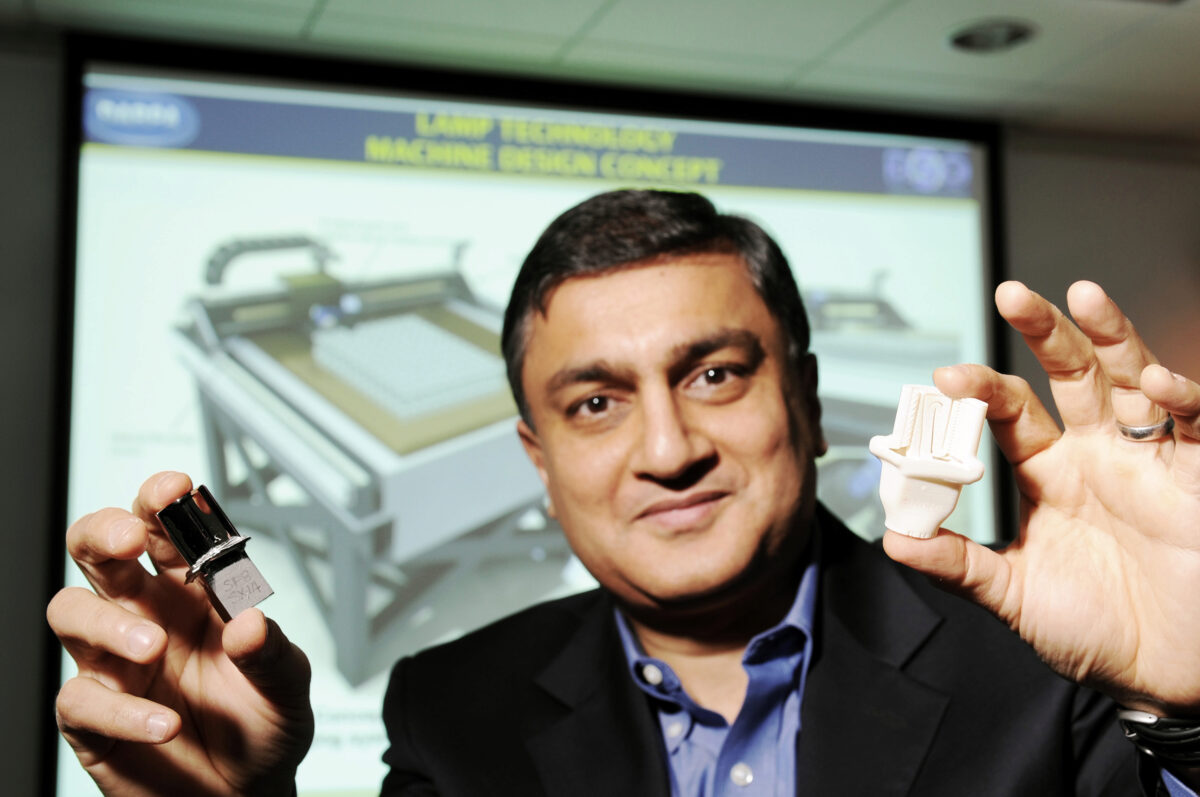 A Georgia Tech startup has developed a 3D printing technology to transform the way costly metal parts, such as aircraft engine turbine blades and vanes, are designed and made. 
DDM Systems Inc.'s new casting method makes possible faster prototype development times, and more efficient and cost-effective manufacturing procedures after a part moves to mass production.
Using additive manufacturing or "3D-printing" technology, DDM Systems can reduce the time it takes to make first castings of prototype turbine engine components from two years to three months or less. It eliminates 90 percent of material waste and reduces manufacturing cost by up to 65 percent, said Suman Das, professor of George W. Woodruff School of Mechanical Engineering who developed the technology and is DDM's CEO. 
The VentureLab company's core technology is licensed from Georgia Tech and is based on $4.65 million in funding from the Defense Advanced Research Projects Agency (DARPA) awarded to Georgia Tech in 2008 through its Disruptive Manufacturing Technologies program. DDM also expects to raise $3 million from private investors.
DDM aims to alter a manufacturing process (investment casting) from the way it's been done for the last 3,000 years, Das said.
Investment casting, a $11.6 billion industry worldwide, involves placing precision molded ceramic cores inside a wax replica of the final component. A ceramic coating is applied around the wax creating a shell. The wax is then melted out and the resulting mold is filled with liquid metal which solidifies to create the final component. The ceramic cores are removed to produce intricate objects with complex internal passages.

Investment casting is used to create precision parts in multiple industries, including aerospace, energy, biomedical, automotive, space, and electronics. DDM Systems' current  focus is on parts used in aircraft engines. DDM is working with turbine-engine airfoils – complex parts used in jet engines.
The most sophisticated parts made by investment casting are high-pressure turbine blades and vanes, said Das, who directs the Direct Digital Manufacturing Laboratory in the Georgia Tech Manufacturing Institute (GTMI). "That's what we got funded by DARPA to develop the technology for," he said.
To read more about how the DDM technology works, see full article in the Atlanta Business Chronicle by Urvaksh Karkaria.
Photo by Gary Meek.