Ph.D. Grad Turns Machine Learning Research into Startup
Ph. D. graduate David Montes De Oca Zapiain didn't plan to be an entrepreneur, but a great experience in Georgia Tech's TI:GER program encouraged him to turn his research into a business plan that he is pursuing while working as a postdoc at Sandia National Laboratory. In this Q&A he talks about how he ended up staying at Tech for three degrees, and how he found a surprising level of support for taking his idea to market.

Where are you from and how did you end up at Georgia Tech?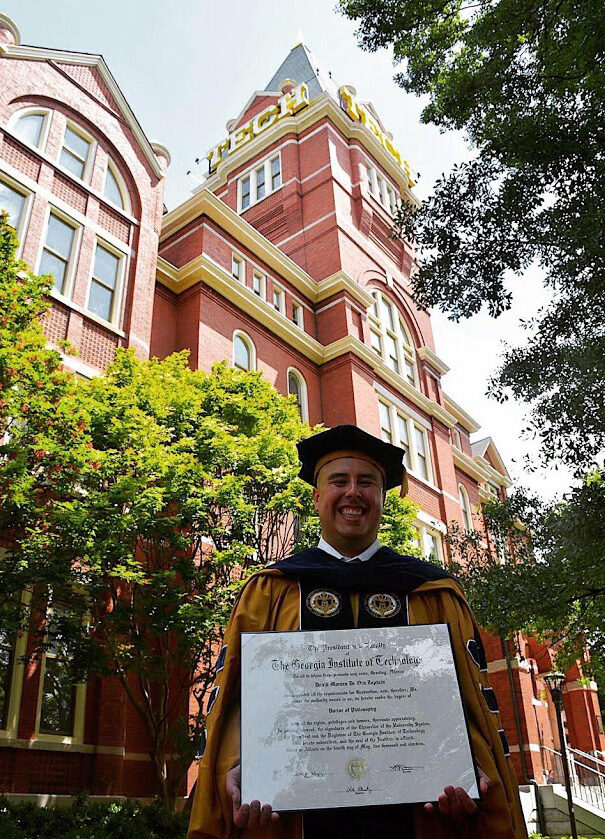 I was born and raised in Mexico City, Mexico. I went to school there all the way through high school and I first came to Georgia Tech to pursue an undergrad in Mechanical Engineering.
The main reason I decided to come to Georgia Tech, aside from it being a great school, was thanks to my granddad (the father of my mother) since he studied at Georgia Tech back in 1957-58. Therefore, I've always had a strong connection to Georgia Tech.
 In 2011 I applied and got accepted, three years later I graduated with my bachelor's degree in mechanical engineering. I then decided to pursue my master's in mechanical engineering at Georgia Tech-Lorraine ni France. While I was over there, I was fortunate enough to meet Dr. Kalidindi since he was co-teaching a class called Micromechanics of Materials. At the end of the semester, he offered me a Ph.D. position in Atlanta and that is how I ended up back in Atlanta again.

What was the focus of your research as a Ph.D. student?
The main focus of my research is how to deploy new materials into the market faster. I address this challenge by optimizing the screening process of new materials.
My main research project consists of developing a computational tool that can enable engineers and material developers to optimize the rate at which they can perform crystal plasticity finite element  simulations. This type of simulation enables material developers to predict accurately how a metal will deform during a forming process without the need to perform capital intensive and time consuming experiments.
As a matter of fact, this research project is the basis for the company I launched through Georgia Tech's TI:GER program. The vision we have for the company is to  be a robust standalone software simulation suite that enables material developers and material scientists to obtain accurate numerical simulations at the fraction of the computational cost, and 1,000 times faster.

What need is your business addressing?
One of the problems we're addressing is that it takes a lot of time and money to make a new material. As an example, it took Boeing more than 20 years and over $32 billion in funding to develop the alloy that they use in the 777. This long lead time is needed since the materials designers and engineers need to be very very sure of how the material will behave and perform under the operating conditions. Especially, if this material is going to be used in an airplane.
The most accurate  way to do that is to do physical experiments. Having said that, you can't build a new airplane every time you want to test something. For this reason, they leverage computational analysis which gives them insight into how the material will perform without the need to perform expensive physical experiments. However, at this point they face a typical engineering dilemma- do I want to wait for more accuracy, or do I want to obtain results quickly?
Because if you want to get a really accurate prediction of how the material will behave you have to incorporate more physics into your model and you're almost getting back to the same amount of time and cost as if you were doing a physical experiment.
So that actually leaves a really well defined market that has been under-served by the incumbents. The market wants results that are fast and also accurate. Our company will come in and sell results that are fast and accurate, and we will do it using our proprietary machine learning and data-driven solution.

How has the process played out for you to turn your research into a business plan?
I started working to commercialize my research through the Georgia Tech TI:GER program. They paired me with three MBA students from the Scheller College of Business. They were Matthew Davis, Raymond Chu, and Andrew Bunch. They also paired us with two JD students from the Emory Law School- Landon Smith and Tylor Espy. We worked on developing a business plan for three semesters.
During this process we identified the market and quantified how much money exists to be made. Then, we identified potential customers, through a comprehensive process of customer discovery, validation of hypotheses, and finally integrating everything into a concise business plan with a robust financial model that would enable us to get attention.
The lawyers from the group were able to secure jobs in law firms, and the MBA students have received other jobs. I'm currently working with Matthew Davis. He graduated from his MBA program in December and is working at GTRI. He and I are working together to get this running. The company is called SwiftMat LLC.
The TI:GER program was very helpful in helping us navigate all of that process. We decided to do an LLC because it offers you the most freedom and is the easiest to incorporate.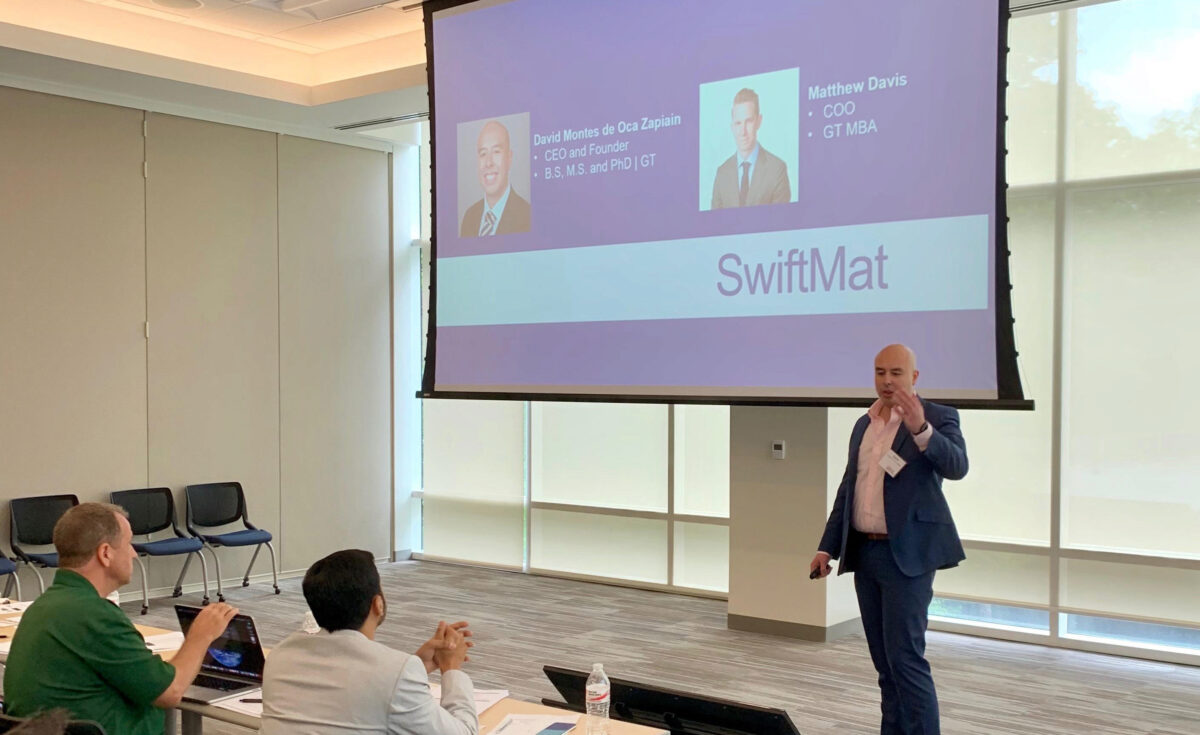 Who is your target market for this service?
We have talked to many people in the industry and we have some potential customers in mind thanks to the enormous support  of the Georgia Tech VentureLab since they funded us to attend the Materials Science and Technology conference in October of 2018. This conference hosts over 2000 material developers and more than 100 companies.
During this conference, we validated many of our business hypothesis and zeroed in on the business need we are addressing. The feedback obtained through this conference coupled with the market research we previously performed allowed us to identify three major markets, or customer segments that we are going to address.
One would be private industry, such as aerospace companies or automotive companies, as well as oil and gas and other energy companies.
The second customer segment we identified was higher education and research institutes.
Finally, another segment that was very interested in our approach was national labs, specifically the Department of Energy Labs like Sandia.

What is the next step for getting SwiftMat up and running?

The next step is to seek out grant and seed funding. We've been actively applying through the Georgia Research Alliance (GRA). It's a good amount of money and best of all it is non-equity since it is a grant, which is exactly the kind of funding we we're looking for at this stage. We're also applying to a lot of entrepreneurship and business case competitions.
One of the main things we're looking for right now is an injection of cash to fully commercialize our software since at this point it's still a research code with a high degree of complexity and not as user friendly as it will need to be. Someone would need me to run the software.
With an injection of cash, we could turn it into a product. We envision sending it out as through a software as a service (SaaS) model in the cloud, or locally. That's what we're looking for and why we need funding.

What business competitions did you participate in this year?
We participated in the TYE Atlanta Young Entrepreneurs business case competition in which 50 university startups competed. The preliminary round was in February and we advanced to the finals with the top eight teams. In the finals we presented a 10-minute pitch to an industry panel of four different judges. They were from industry, venture capital, and local startups in the Atlanta area. They wanted to see a demonstrated need for our business, the viability of our business, and our plan to monetize it. We were fortunate enough to land in second place, and that secured us $3000 in funding for the company. It also exposed us to the environment of entrepreneurship in Atlanta. We were given a scholarship to join their organization and be able to leverage their services for a year. They also have an investment side that we are exploring applying to.

Was that your first competition?
It was the first one where we had to deliver a pitch. We applied to three- Baylor's business competition where we made it to the top 20 or 30 teams, and the Rice University competition where we also finished in the top 20 or 30.
 
Did you envision launching a company when you came to Tech?
Not really. Not at all actually. For me it has been a huge opportunity. The opportunities that Georgia Tech has given me have been incredible. I'm so grateful. I came here as an undergrad and took advantage of everything that I could. I did the co-op program, internships, study abroad. I did a co-op with Toyota of North America my junior year. I interned with Nissan North America my senior summer. I studied abroad at Georgia Tech-Lorraine for a summer and I did the China summer program. Then I did my master's at Georgia Tech Lorraine. When I came back and started my Ph.D I had two more internship experiences- one with Sandia Labs and another one with Schlumberger in Texas. Georgia Tech has put me on many different paths and opened so many doors for me. The fact that I have had such a great school behind me has helped me a lot.
 
What were your priorities when you were looking for jobs after graduation?

One of the main things I looked for when I interviewed is how open the organizations are to entrepreneurship. When I interviewed with Sandia for a postdoctoral opportunity they were completely open. They offer a leave from work to pursue a startup, and if it works out it works out, and if it doesn't, they are able to rehire you. So that's a great opportunity.
I want to push this forward. We're trying to get grants and seed funding. I was pleasantly surprised how many resources Georgia Tech has for new ventures. Specifically, the VentureLab and ATDC, and the Georgia Research Alliance.
 
If a current or future Ph.D. student was interested in commercializing their research what advice would you give them?
One of the main resources that every Ph.D. student should take a look at is the TI:GER program. The TI:GER program is one of the best initiatives Georgia Tech has because it allows you to get exposure to the business side. When you're getting your Ph.D. you're normally thinking about science, and you're not thinking about translating it into business. In my class there were seven different projects all the way from cancer cures to novel drug deployments to machine learning. They prepare you very well. Georgia Tech consistently places teams in first and second place in these big business competitions, and they all come from the TI:GER program. If any Ph.D. student thinks their research could have commercial impact they should look into it.
Editor's note:Since this conversation, a provisional patent has been filed through the Georgia Tech Research corporation based on David's research.