ME Alumnus Receives Three Prestigious Awards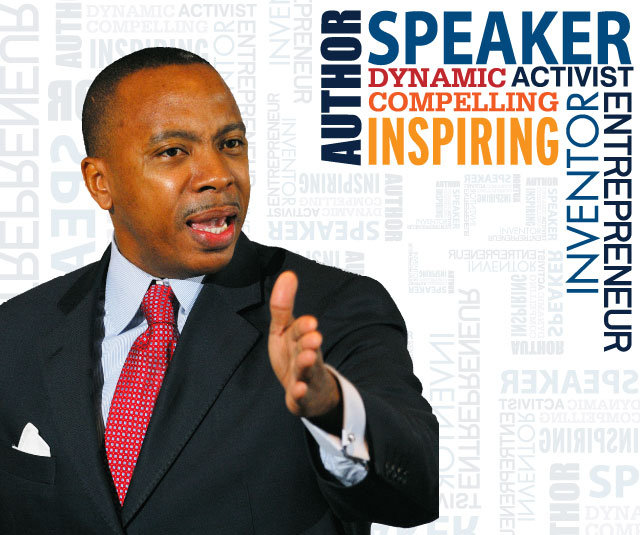 Dr. Calvin Mackie, STEM Leader Extraordinaire  and Woodruff School alum (BME '90, MSME '92, PhDME '96), recently received three highly-acclaimed awards from three top education, leadership, and community service organizations. The mechanical engineer, motivational speaker, bestselling author, award winning mentor, and entrepreneur received the United Negro College Fund's Legacy Award, Morehouse College's Bennie Award in Achievement, and the Jack Leadership and Community Service Award from the New Orleans Chapter of Jack and Jill of America. These awards commend Dr. Calvin Mackie for his notable character attributes and laudable actions toward improving the community and world around him.
The United Negro College Fund (UNCF) is the country's largest minority education organization, and the Legacy Award is the highest award an alumnus of an UNCF college can earn. The Legacy Award honored Dr. Mackie for his long-standing record of encouraging students to realize their full potential. The Legacy Award was presented to Dr. Mackie on Friday, February 15, 2013 during the UNCF Alumni Recognition Event at the Atlanta Marriott Marquis. "It's a true honor to receive the Legacy Award," says Dr. Mackie. "Having experienced the challenges that many minority students face today, I take great pride in helping them overcome adversity and grow into successful men and women."
 
In addition to the UNCF, Morehouse College, Dr. Mackie's alma mater, honored Mackie with the 2013 Bennie Award in Achievement. He was presented with the award during the "Candle in the Dark" Gala on February 16, 2013, as part of Morehouse's annual Founders Week. The black-tie gala event highlighted the talents of current Morehouse students, while simultaneously celebrating nationally acclaimed African Americans who are leaders within their respective fields.
 
Dr. Mackie was accepted to Morehouse College under the condition that he undertake remedial classes first. Surpassing everyone's expectations, he went on to graduate Magna Cum Laude and as a member of the prestigious Phi Beta Kappa National Honor Society. Over the course of the next 11 years, he earned four STEM degrees, reaching the peak of educational success with a PhD in Mechanical Engineering from the George W. Woodruff School of Mechanical Engineering at Georgia Tech. In 2003, he was presented with the Presidential Award for Excellence in Science, Mathematics and Engineering Mentoring in a White House Ceremony. The 2013 Bennie Award in Achievement served as a profound reminder to Dr. Mackie of his modest beginnings and the power of hard work.
 
As if winning two esteemed awards within ten days was not enough, Dr. Mackie hit the trifecta when the New Orleans Chapter of Jack and Jill of America presented him with the 2013 Jack Leadership and Community Service Award on February 24, 2013. The non-profit African American organization supports future leaders by enriching children ages 2-19 through chapter programming, community service, legislative advocacy and, philanthropic giving. Dr. Mackie was honored and celebrated as a professional, leader, father, and dedicated member of the New Orleans community, especially in areas that were devastated by Hurricane Katrina back in 2005.