ME Alumnus, John B. Boy, Passed Away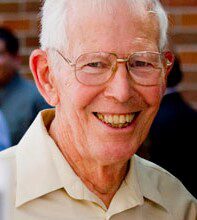 John B. Boy (BME '38) passed away peacefully July 16, 2013 in Lehigh Acres. During his time at Georgia Tech, John was on the Honor Roll, a member of the Omicron Delta Kappa and Tau Beta Pi, Phi Eta Sigma, Bulldog Club, Pi Delta Epsilon, ASME, Skull and Key, Intrafraternity Council, Technique Editor in Chief, Yellowjacket, Blue Print, Student Council, ANAK Vice-President, and Athletic Association Student Member.
During World War II, John enlisted in the U.S. Navy. In 1946, after the war, John went to work for the United States Surgar Corporation, where he improved the efficiency and productivity of the sugar cane harvesting by converting/redesigning track mounted tractors to rubber tires which was combined with his successful redesign of sugar can loading machines. Those redesigns allowed the Florida sugar cane industry to begin a process of mass production in the fields and factories  which ultimately led to the size and efficiency of today's industry.
Read John Boy's obituary.