Joe Smith, ME Alumnus and Advisory Board Member, Passed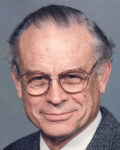 Joseph L. Smith, Jr. (BME '52 and MSME '53) passed away peacefully on May 7, 2013 in Wayland. Joe went on to earn his doctorate degree from MIT in 1959 and became a professor in the Department of Mechanical Engineering at MIT until his retirement in 2008. Throughout his career, Joe remained a valued friend in the Georgia Tech community and served as an Advisory Board member at the Woodruff School of Mechanical Engineering.
Read Joseph Smith's obituary.