Alumnus, Stan Connally, Named Gulf Power President
Gulf Power Company is getting a new president.  Stan Connally (BSME '93 and Woodruff School Advisory Board member), a senior vice president at Georgia Power, will be the company's 16th president, succeeding Mark Crosswhite who has been named executive vice president and chief operating officer of Southern Company, Gulf Power's parent firm.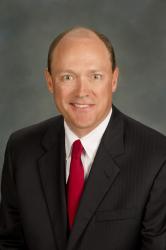 Connally, who has headed up Georgia Power's fossil and hydro generation operations since 2010, began his career with Southern Company in 1989 as a co-op student at Georgia Power's Plant Yates. He has held positions of increasing responsibility in various areas, including Customer Operations, Sales and Marketing, and Power Generation at Georgia Power, Alabama Power, and Mississippi Power. 
"Gulf Power has a reputation in the utility industry of great employees, great customer service and innovative programs," Connally said. "I look forward to joining the team and my family and I are excited about living in Northwest Florida."  
A native of Newnan, Ga., Connally graduated in 1993 with a bachelor's degree in mechanical engineering from Georgia Institute of Technology. He completed the Goizueta Executive Education Program at Emory University in 2004 and the Southern Company Senior Leadership Development Program in 2009. He has served on the boards of the Lynn Meadows Discovery Center in Gulfport and United Way of Jackson/George counties in Mississippi.
Read More from Southern Company Pressroom.