Entrepreneurial Upstarts
ME alumni stand poised to disrupt with innovation-driven businesses.
---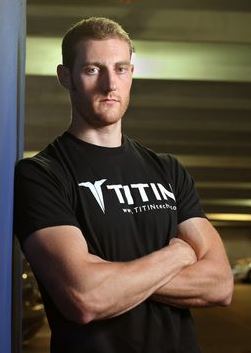 Upstart: Patrick Whaley, ME 10, Founder and CEO of TITIN
TITIN Overview: It's been a challenging road to success for Whaley and TITIN, one that started with a near-tragedy when Whaley was shot during an armed robbery in 2009 while still a student at Tech. He used a prototype of his weighted training shirt—which distributes eight pounds of gel inserts strategically across the upper body—to gain strength and accelerate his recovery. He entered TITIN into the 2010 InVenture Prize competition, won it, graduated from Tech the same year and then focused on turning his idea into a viable company. Today, TITIN sales average about $1 million a month, and there's seemingly no shortage of opportunities. "Our shirts and shorts are now widely sold at Dick's Sporting Goods," Whaley says. "And we just finalized a deal to be the official training sponsor with the Pittsburgh Steelers." The training gear, however, is not just for serious athletes, Whaley says. "Weekend warriors don't have a lot of time to train, and they're even wearing TITIN under their business suits during the work week." There are medical applications, as well. "The weighted gel inserts can be heated or frozen, meaning they're perfect for thermal therapy," he says. "They can be like a mobile ice bath after a therapy session." Even chiropractors are interested in TITIN since it promotes postural alignment, Whaley says.
Startup Path: Whaley built TITIN upon an idea he had in his youth, when he used to fill up his backpack with books to build strength. At Tech, TITIN won $20,000 from InVenture Prize, and later another $30,000 of in-kind services from the Georgia Tech Business Plan competition, both of which helped pay for patent and early-stage manufacturing expenses. His weighted shirt system, which retails for $249, was so successful he couldn't keep up with demand. That's why he went on ABC's Shark Tank last year to secure additional funding to optimize his supply chain and manufacturing efficiencies.
Words of Wisdom: "Sometimes you have to do it virtually all on your own," Whaley says of being an entrepreneur. "Ultimately it's your drive and determination that will be the keys to success. Follow your gut. Try to drown out the naysayers—treat them as nothing but white noise. At the same time, value your support system: your friends and family. Starting a business is a roller coaster ride with a few ups and lots of downs, and you'll need their support and optimism to help you overcome your business failures and learn from them."
---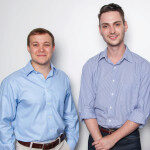 Upstarts: Stanley Vergilis, ME 13, Co-founder and CEO; and AJ Alix, EE 13, Co-founder and COO, of Hux
Hux Overview: Hux wants to do for housecleaning—and other local services—what Uber has done for transportation. "The process of booking a local service provider like a housecleaner or handyman is very time consuming and inefficient and frustrating," says Alix. "We built Hux to fix that." At the Hux.com website, consumers can see local service providers, read their reviews, check their schedules, book them, pay them and then provide feedback after the service is complete. The company has started in the Atlanta market focusing initially on housecleaning services with ambitions to expand into other areas in the near future. In just one year, Hux is now the No. 1-ranked provider for housecleaning services locally on Yelp, he says. The company is also piloting service providers in the Charlotte, S.C., market and hopes eventually to extend the Hux marketplace throughout the U.S. In addition to offering a painless process for consumers, the Hux model delivers more affordable prices while providing more income for its service providers. "Big cleaning services like Molly Maid charge $40 an hour, but much of that money goes toward corporate overhead while the actual cleaners get paid minimum wage," Alix says. "Hux removes a lot of these hidden costs, consumers pay $20 to $30 an hour, and the cleaners get to take home more." Hux has more than 35 cleaners on its roster in Atlanta, serving thousands of customers. "Our housecleaners are making an average of $3,000 a month—much more than they'd do on their own or by working for a big cleaning company," he says.
Startup Path: Stanley Vergilis got the idea for Hux when he was in high school. He had started his own tutoring service and realized that he spent way too much time trying to manage his quickly growing business on his cellphone. So he built a simple website that touted himself and his business, listed his tutoring availability and fees, and even posted reviews from customers. Parents could even pay for tutoring sessions online using PayPal. Later during a Tech internship, he met co-founder James Loper—who had built up his own Apple computer repair service—and the two struck a deal to grow Vergilis' business model. They formed Hux in 2014, and Alix quickly joined to help the duo scale the business.
Words of Wisdom: "It's important not to forget about startup opportunities that aren't easily apparent," Alix says. "The personal services industry is ready for disruption—even Amazon is entering the space via Amazon Home Services. We never thought as engineers that we'd be running a housecleaning company, but here we are and we're excited."
---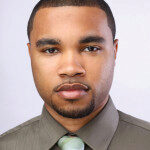 Upstarts: Barry Givens, ME 08, Co-founder and CEO; Mario Taylor, Mgt 08, COO; and Donald Beamer, Econ 05, President, of Monsieur
Monsieur Overview: Monsieur has been described as a robotic bartender, but it's perhaps more equivalent to a Coca-Cola Freestyle machine that can serve a perfect martini. The brainchild of Barry Givens, Monsieur not only expertly mixes alcohol with fresh ingredients inside a high-tech, wirelessly connected cabinet, but also can make your drinks just how you like them. It's available in both commercial and home models, but it's in the commercial market that it's starting to take off. A partnership with Levy Restaurants put it into a trial at Atlanta's Philips Arena last summer—which proved to be such a success that the foodservice company rolled it out to other locations, include nine machines at Churchill Downs just in time for the 141st running of the Kentucky Derby this year. Sports and entertainment venues, hotels and upscale movie theaters seem to be the sweet spot for Monsieur. "We have orders and inquiries from 42 countries, but we're staying focused on the U.S. market for now," says COO Mario Taylor. "We've grown to nine full-time employees, mostly Tech alumni, and we're trying to grow even more. Last winter, we closed our seed round and raised $2 million." Alumni will be able to test Monsieur this fall, as machines will be installed at Tech Terrace during the upcoming Florida State and University of Georgia football games.
Startup Path: Monsieur currently holds a slot in Tech's Advanced Technology Development Center (ATDC) and maintains offices in the Centergy Building at Tech Square. The Institute helped Monsieur's executive team to connect with serial entrepreneur and investor, Paul Judge, MS CS 01, PhD CS 02, who serves as the company's chairman and the team's mentor.
Words of Wisdom: "Being able to attract, motivate and retain talent to build a company is a lot of work," says President Donald Beamer. "Some people take it for granted, but it's not easy to find the right people at the right time. Luckily, we have found some great people from Georgia Tech that have joined us on this journey—which is not for the faint of heart. Our education at Tech certainly has helped us prepare for it."
---
Written by Roger Slavens
Full article on Georgia Tech Alumni Magazine