ME Alumni, Coca-Cola Freestyle Winning Formula
If the curvy, racy red Coca-Cola Freestyle drink dispenser reminds you of a Ferrari, it's with good reason. Their sleek-and-stylish exteriors are both designed by Pininfarina, the legendary Italian sports car design firm. However, it's what lies under their hoods that should really get you excited.
The Freestyle machine debuted in Atlanta in late 2009, and just five years later there are more than 27,000 dispensers deployed worldwide in more than 16,000 restaurants, movie theaters and retail stores. But far before critical mass took hold, it took considerable Georgia Tech knowhow to build that first unit—which perhaps borrows more from the consumer electronics and medical industries than the traditional beverage world—and bring it to market.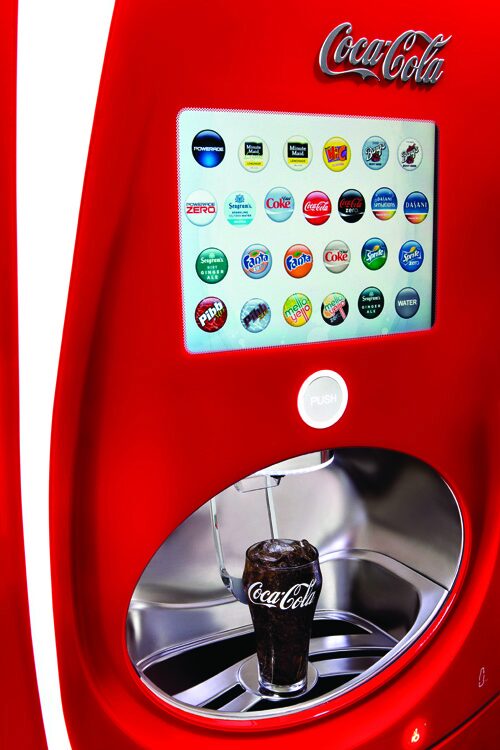 Of the six engineers who created the original touchscreen machine, two are Yellow Jackets: David Newman, MS EE 86, Coca-Cola Freestyle director of engineering, and Gregg Carpenter, BS ME 85, global program director of engineering. In addition, three Tech alumni played instrumental roles in spearheading the Freestyle business engineering and IT strategy.
This trio recently gave the Alumni Magazine a tour of their startup-like headquarters located near Tech campus, but separate from the main Coca-Cola campus. "The Freestyle project was one of the largest internal innovation projects in the 128-year history of the company," says Jim Sanders, IE 88, Coca-Cola group director of business development. "And so in many ways, we approached the challenge much like a high-tech startup would. And that doesn't just mean we have a ping-pong table in the break room."
With Freestyle, Coca-Cola made a big-bet investment in a cutting-edge innovation, Sanders says. "We had to operate in a quick and nimble environment," he adds. "In this building, we house dozens of cross-functional associates—all 100-percent focused on Freestyle."
The genesis for Coca-Cola Freestyle came in the mid-2000s when company leaders recognized consumers wanted a better fountain-drink experience in restaurants and retail locations. "First off, they wanted more variety," Sanders says. "Typically they could only order six to eight flavors, and usually only one of them a no-calorie option. Consumers also wanted more consistency in the taste of  dispensed drinks. And younger consumers wanted a more engaging and personalized experience."
Charged with these demands, the soft-drink giant launched the Coca-Cola Freestyle project (code-named JET)—and handpicked some of its top technical minds to start working on the considerable engineering issues at hand.
"One of the most obvious obstacles was being able to deliver what they asked for in a limited footprint," says Marc Katz, ME 94, Coca-Cola Freestyle VP of global operations. "Restaurants and retail stores don't have a lot of extra space to spare."
Regular soft-drink dispensers use boxes of syrup and water, which typically take up considerable space in a storage closet. Adding more flavors to this already unwieldy situation would only exacerbate the problem.
So the Coca-Cola Freestyle engineers had to think small—really small. They found inspiration in the micro-dosing technologies used in the U.S. healthcare industry to administer medicines. "We contracted with Dean Kamen's DEKA, probably best known for developing the Segway, to tap into their specialized expertise in this area," Sanders says.
Adapting micro-dosing for beverage dispensing, the Freestyle machine employs printer toner-sized cartridges filled with highly concentrated ingredients. When a specific beverage brand or mix of flavors is selected by a consumer, these ingredients combine according to proprietary recipes with either soda water or still water in precise, accurate amounts to deliver the perfect-tasting drink.
"And flavors like vanilla or cherry aren't added like you add a flavor shot to your coffee," Sanders says. "They are added at the appropriate ratios to provide a consumer-preferred consistent taste. For example, Sprite Orange and Coke Orange have different levels of orange that are unique to their recipes."
To illustrate how complex the Coca-Cola Freestyle micro-dosing and dispensing technology is the dispensing nozzle itself boasts three patents, Katz says. "To make sure flavors don't mingle from drink to drink, only pure still or soda water touch the plastic part of the nozzle—the flavor ingredients are mixed mid-air," he says.
In effect, each Freestyle dispenser behaves like a mini, ultra-high-tech, personalized bottling plant, Katz says. He should know—he spent nearly 20 years in bottling and engineering operations for years before joining the Coca-Cola Freestyle team. "And each of these machines can dispense up to 125 different beverages plus consumers' custom recipes," he says.
The combinations are mind-boggling. A single vending-machine-sized unit can serve up sparkling soft drinks (Coke, Sprite, etc.), flavored waters (Dasani), sports drinks (PowerAde) and even other categories such as lemonades. There are approximately 70 low- or no-calorie options, and up to 90 caffeine-free options. And that's not even getting into international, country-specific offerings.
A new wrinkle being rolled out in 2015 is replacing the plastic flavor cartridges with something more sustainable, Sanders says. The company projects that its recyclable, paperboard SmartPAK will have the same carbon benefit as taking 430 cars off the road or planting 1,700 acres of forest.
While Coca-Cola Freestyle's dispensing technology marks a groundbreaking achievement for the beverage industry, its automated systems, wireless connectivity and touchscreen interface are equally impressive. The machines boast powerful internal CPUs that not only can provide analytics and consumption data, but also can monitor component performance and repair needs, says Chris Dennis, Mgt 95, Coca-Cola Freestyle group director of platform management. "What's more, every Freestyle unit is wirelessly connected to the Internet and can provide this information back to us, as well as to restaurant and retail owners," Dennis says. "The dispenser 'calls' in every night and updates its operating status and needs."
In fact, the Freestyle dispensers are capable of automatically ordering new beverage cartridges and other supplies when they're running low. "All of its automated processes makes a manager's job that much easier," he says. "It's end-to-end, global and closed loop network integration."
A huge benefit of such seamless integration is the ability to roll out new products and even a new brand with relative ease. "In many cases, all it takes is an overnight software update and customers are able to enjoy a new beverage the next day," Dennis says.
Dennis is currently overseeing a rollout of a new touchscreen interface. The current version is relatively simple and intuitive to use, though it can be overwhelming to browse through a Freestyle machine's 125-plus possible flavors. "The new interface draws upon our analytics and testing that shows how consumers use Freestyle to make drink selections, and groups them into top-menu categories such as 'Low-Calorie' or 'Fruit-Flavored'," Dennis says.
In addition, Freestyle fans can download the Coca-Cola Freestyle app onto their smart devices where they can mix and save personalized flavor combinations. Then they can use the app to find the location of the nearest machine, walk up to it, connect via a quick QR code "virtual handshake" and upload their favorite drinks for a speedy, personalized experience. "In the future, we'd like to make this interaction even faster," Dennis says.
Though Freestyle is an unqualified success, the management team isn't satisfied. "One thing Georgia Tech taught us was to always be thinking about how we can make it even better," Sanders says.
In the near-term pipeline are even smaller Coca-Cola Freestyle machines for locations that can't accommodate a large floor-standing unit. Currently, the primary models in the market are the Freestyle 9000 for self service in fast food and retail locations and the Freestyle 8000 for wait staff crews to use in full-service restaurants. Both are the size of a large vending machine.
"Smaller units are a technical challenge," Sanders says, "but they provide an opportunity for Freestyle to be in places it couldn't be before. And while they do offer fewer beverage choices—they can sit on countertops and still provide all the interactivity and connectivity of the top versions.
There's much more to come from Coca-Cola Freestyle, Sanders says. "Like every Georgia Tech graduate knows, barriers are simply problem-solving opportunities for an engineer.
Georgia Tech Alumni Magazine
Written by Roger Slavens