New Solar Car Concept Shines at Electronics, Cars Shows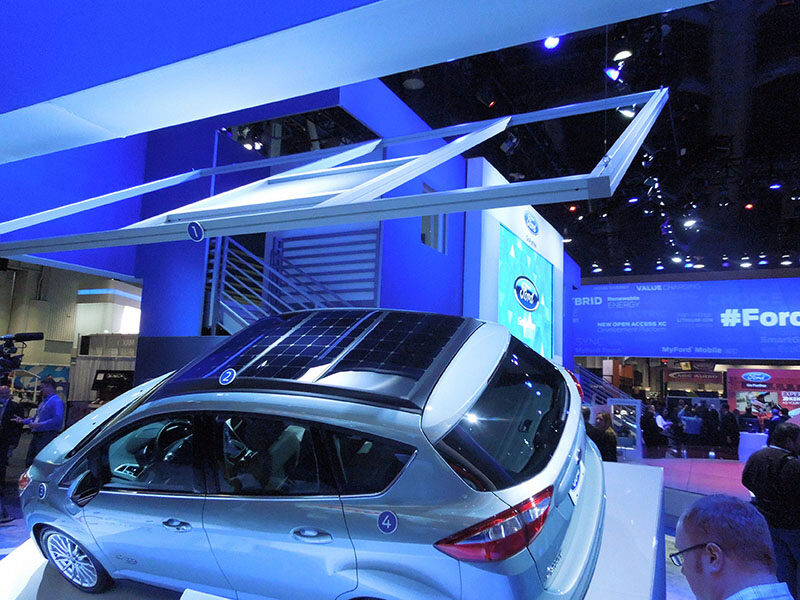 Ford Motor Company, in collaboration with Georgia Tech, debuted a new solar car concept earlier this month at the 2014 International CES in Las Vegas.
The C-MAX Solar Energi Concept is a first-of-its-kind hybrid electric vehicle with the potential to free drivers of their dependence on the electric grid. Instead of recharging its battery from an electrical outlet, C-MAX Solar Energi Concept harnesses the power of the sun by parking under a special concentrator that acts like a magnifying glass, directing intensified rays from the sun onto solar panels on the parked vehicle's roof below.
The result is a car that takes a day's worth of sunlight to deliver the same performance as Ford's conventional C-MAX Energi plug-in hybrid, which gets combined miles per gallon gasoline equivalent (MPGe), with EPA-estimated 108 city/92 highway/100 combined MPGe.
"Ford didn't just want to build an electric car, but a plug-in hybrid electric car that actually uses green electricity," said Bert Bras, a professor in the George W. Woodruff School of Mechanical Engineering at the Georgia Institute of Technology in Atlanta. "Just putting photovoltaic cells onto a car is not going to do it, so they reached out to us to help progress the concentrator idea."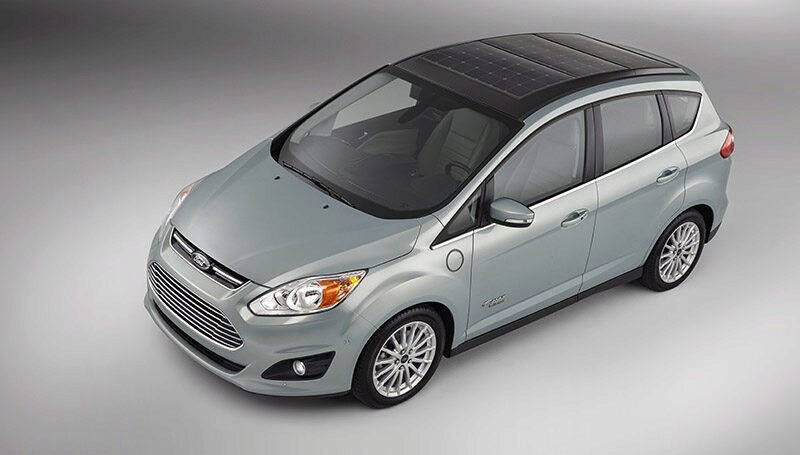 The car is continuing its media tour this week at the North American International Auto Show in Detroit. The concept car is a Ford-led collaborative project with Georgia Tech and San Jose, Calif.-based SunPower Corp.
Ford and SunPower co-developed the solar panel-based roof specifically for C-MAX Solar Energi Concept. Because of the time that would be needed for conventional solar panels to absorb enough energy to fully charge the vehicle, Ford turned to Prof. Bras' Sustainable Design and Manufacturing lab at Georgia Tech for ways to amplify the sun light to make a solar-powered hybrid feasible for daily use.
His lab helped develop a car port type solar concentrator that uses lenses similar to what lighthouses use to amplify a small light. Special Fresnel lenses in the car-port direct sunlight to the solar panels on the vehicle's roof, so the concentrator acts "like a magnifying glass, but it's squished," Bras said. Grooves in the thin glass reflect the sunlight down to the car, boosting sunlight's impact by a factor of eight.
The patent-pending system tracks the sun as it moves from east to west, drawing enough power from the sun daily to equal an 8 kilowatt hour battery charge. The car has a self-parking feature that automatically moves the car to keep the sunlight focused on the rooftop panels.
Bras's lab modeled the size and dimensions of the concentrator needed to get to 8 kWh per day. That charge is possible in the concept car, but much work remains before this off-the-grid car can hit the streets.
"There is more work to do, but the basic principle, can you charge a car with 8 kilowatt hours per day using pure sunlight? Yes, you can," Bras said. "The next step will be to test it in practical situations."
By using renewable power, Ford estimates that the C-MAX Solar Energi Concept will reduce the annual greenhouse gas emissions (GHG) from a typical car owner by four metric tons.
Internal Ford data suggests the sun could power up to 75 percent of all trips made by an average driver in a solar hybrid vehicle. This could be especially important in places where the electric grid is underdeveloped, unreliable, expensive and dirty.
"We like to do these concepts that push the boundaries, like Ford does also," Bras said. "They want to boost sustainability and get off of the electricity power grid. That's what we're really after."
Research News
Georgia Institute of Technology
Media Relations Contact and Writer: Brett Israel (404-385-1933) (brett.israel@comm.gatech.edu)
Photography: Ford and Bert Bras