The Need for Speed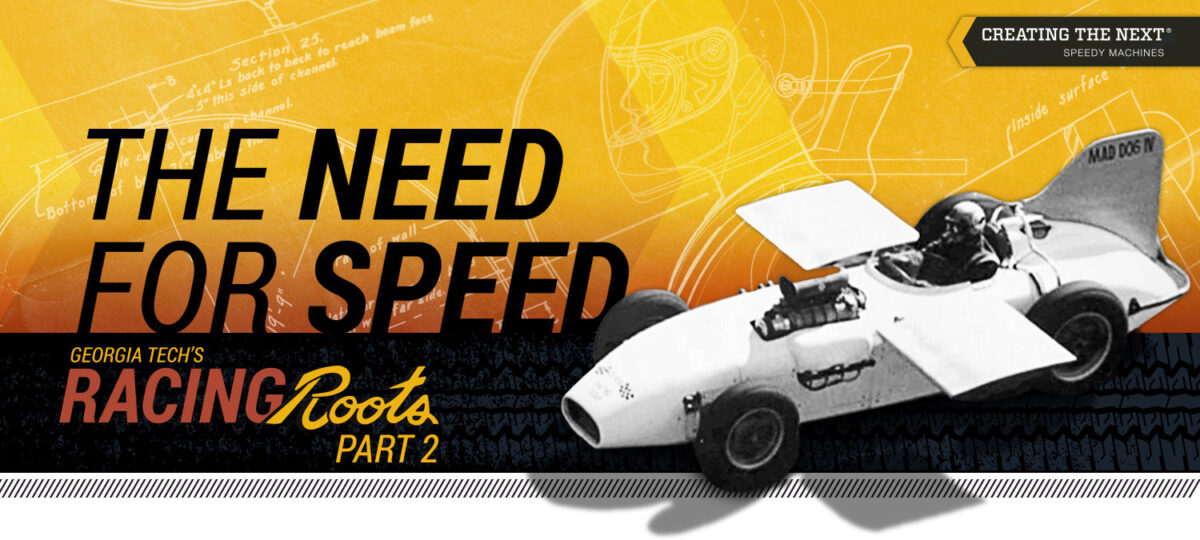 In the decades following World War II, as cars became an American obsession and racing grew ever more popular, countless Tech students, alumni, and faculty continued to gravitate to all things automotive. Drivers, builders, designers, engineers, executives, and even academics with ties to Georgia Tech made their mark on the worlds of stock car and drag racing.
For the uninitiated, stock car racing involves customized race cars styled after passenger vehicles, with drivers pursuing the top finishing position in endurance races on closed-circuit tracks. NASCAR, the sport's sanctioning body founded in 1948, operates three major national series — the premier-level Monster Energy Cup Series, the second-tier Xfinity Series, and the developmental Camping World Truck Series. While the series names have changed frequently over the years as corporate sponsorships evolved, the family-run governing body has sanctioned the sport for seven decades. 
The shift from dirt to asphalt tracks such as Darlington Raceway in South Carolina helped the sport grow wildly in the 1950s. The Daytona International Speedway, a 2.5-mile track with high banks that made for high speeds, opened at the end of the decade, and in 1961, the Firecracker 250 from Daytona Beach was the first major race to be televised, on ABC's Wide World of Sports, bringing stock car racing to a truly national audience.
Drag racing experienced similar growth during the same era. An evolution of early automotive time trials on beaches and desert flats, drag racing pushes drivers to compete for the fastest straight-line speed on long, asphalt or concrete strips. The National Hot Rod Association (NHRA) was founded in 1951 to provide structure and safety rules, and now governs five professional classes of top-level drag racing.
As both forms of American motorsports evolved, three Georgia Tech men were instrumental in advancing technological innovations that enhanced not only speed, but also its all-too-necessary counterpart, safety.
- Stacy Braukman and Dog Goodwin