Almost 200 Teams Particpate in Largest Capstone Design Expo Ever
The Capstone Design Expo has become the largest academic event on the campus calendar and perfectly sums up what Georgia Tech is all about - studen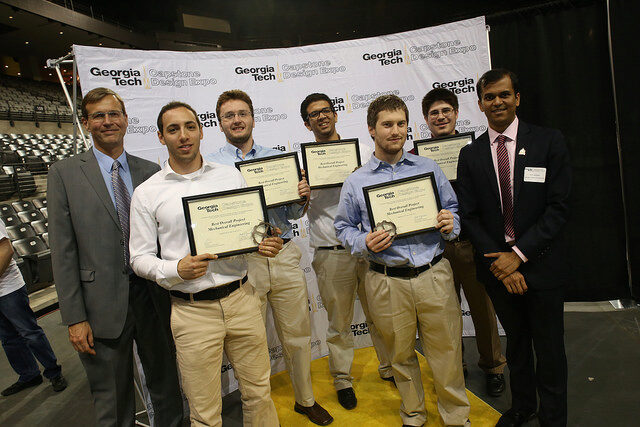 ts using hands-on knowledge to tackle real world problems. The 2015 spring edition took place on April 23 in McCamish Pavilion and included 198 projects designed by 1040 students from 11 disciplines across three colleges - the College of Engineering, the College of Architecture, and the Ivan Allen College of Liberal Arts. More than 75 sponsors funded projects with Coca-Cola generously sponsoring the expo itself.
Teams competed for awards within their discipline, as well as an overall best project award. Five Guys!, comprised of Woodruff School seniors Mohammed Nasr, Mohamed Shafik, Charles Hughes, Ilya Kovalenko, and John Kaveney, took home the ME award. Sponsored by Newell-Rubbermaid, the team designed, built, and tested a baby swing with an alternative motion to what is currently on the market.
Hear what Dr. Bill Wepfer and the other Chairs of each participating School had to say about the value of the capstone design course and the Expo.
The Spring 2015 Capstone Design Expo winners are:
Aerospace Engineering
Back-Country Emergency Air Responder (sponsored by Boeing)
Biomedical Engineering
Better Storage for BioMedical Samples
Electrical and Computer Engineering
Mechanical Engineering-Industrial Design
Mechanical Engineering
Five Guys (sponsored by Newell-Rubbermaid)
Materials Science and Engineering
GIW Reinforcers (sponsored by Georgia Iron Works)
Nuclear and Radiological Engineering
Team D2 (sponsored by Dr. Anna Erickson)
​Public Policy
Farmaceuticals (sponsored by Centers for Disease Control and Prevention)
​Industrial & Systems Engineering
HDSea (sponsored by The Home Depot)
ISYE21 Ebola Modelers (sponsored by Centers for Disease Control and Prevention)
ISYE16 Phillips 66 (sponsored by Phillips 66)
ISYE03 UPS (sponsored by UPS)
Interdisciplinary
Kids on the Move (sponsored by CSF)
Best Overall Project
Shunt Doubles (sponsored by Ian's Friends Foundation)
View pictures of the Spring 2015 Capstone Design Expo here: http://bit.ly/1aWT9AB